As temperatures rose this summer in the Eastern Mediterranean, a simmering maritime dispute between Greece and Cyprus on one side and
Turkey
on the other came to a boil, culminating in a naval standoff between Turkish and Greek warships. That triggered a flurry of talks at the EU and NATO to de-escalate the conflict. EU leaders will meet at a summit next week to try to lay the groundwork for a more lasting resolution.
Longstanding rivalries fueled by gas
Natural gas finds by Israel, Egypt, and Cyprus over the past decade have raised the economic stakes of unresolved maritime claims in the Eastern Mediterranean. The ensuing regional race to develop hydrocarbon resources, coupled with tectonic political shifts, has altered traditional alliances.
Cyprus, Greece,
Israel
, and Egypt have begun deepening energy and defense cooperation over the past three years, with backing from the EU and the US. The four countries' nascent alliance is fueled by a desire to establish a lucrative energy hub, which would capitalize on natural resources with gas exports primarily catering to
Europe
. Ankara is concerned these developments will isolate Turkey in its corner of the Mediterranean.
A lack of US leadership in the region under
President Donald Trump
's administration, despite growing support from Congress for the Eastern Mediterranean energy and security alliance, has further exacerbated brewing tensions by allowing regional actors to chart their own courses.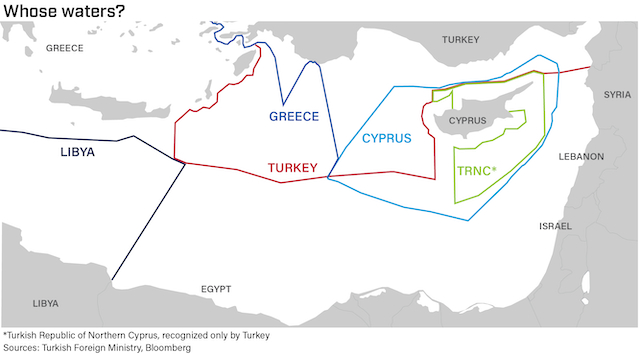 Turkey's "Blue Homeland"
During this period, President Recep Tayyip Erdogan put into practice a 2006 navy doctrine—called Blue Homeland—to project power beyond Turkey's shores. Since the gas finds in the Eastern Mediterranean, Turkey began investing heavily in exploration vessels, an effort that was complemented by an ongoing defense industry build up. Ankara has arrived at a good position to advance its maritime interests in the last couple of years.
Turkey's goals are clear: decrease the country's energy dependence and become a regional gas hub, protect its maritime claims against those of Greece and Cyprus, and safeguard Turkish Cypriots' interests. There's also a personal element for Erdogan: bolstering his sagging popularity with interventions abroad as he struggles to contain economic pressures and the coronavirus at home.
The EU's conundrum
But Ankara's stance has created significant tensions with Greece and Cyprus and contributed to a rapid deterioration of relations with France.
For Athens and Nicosia, the threat from an assertive Turkey borders on the existential. Greece is primarily concerned about losing its maritime claims in the Aegean Sea and beyond. Cyprus wants to maintain its leverage as an EU member with rich energy resources to dictate the terms for the divided island's reunification. Both countries have been lobbying their EU partners to sanction Turkey and force Erdogan to relinquish maritime ambitions, though with limited success.
Paris, on the other hand, has been angered not only by Turkey's posture in the Eastern Mediterranean—where France has energy investments—but also
Turkish military interventions in Syria
and Libya. President Emmanuel Macron has responded by deploying more military assets to the Eastern Mediterranean while seeking to pressure Ankara through NATO and the EU.
Yet most EU members desire no escalation of tensions with Turkey. Despite the distrust of Erdogan felt in many European capitals, EU states also recognize the need to maintain a working relationship with Turkey.
Given its deep economic ties with Turkey, more than three million citizens with Turkish roots, and a leading role on migration issues, Germany has emerged as the natural mediator in EU-Turkey relations. That has helped create paths to de-escalation in recent weeks, with Erdogan responding to Chancellor Angela Merkel's diplomatic efforts by halting hydrocarbon exploration activities in the Aegean.
A respite to tensions
At the 1–2 October meeting of the European Council, Merkel will lead calls for dialog with Ankara and press EU member states, particularly Cyprus, to drop demands for more sanctions on Turkey. EU leaders will seek to reassure Cyprus, including by issuing a stark warning to Ankara that if it does not halt hydrocarbon exploration in contested waters it will face additional sanctions—building on travel bans and asset freezes imposed on two Turkish state-energy company officials in February.
There will also be incentives on offer to secure Turkish cooperation. The most significant will be a proposal for an international conference on the Eastern Mediterranean to settle disputes. Ankara will be ready to engage; it is already talking with Athens.
But sustaining the momentum will likely prove hard. The challenge will be maintaining room for dialog to tackle decades-old disagreements. For that, both Erdogan and EU leaders will have to take confidence-building steps while keeping a lid on domestic pressures fueling antagonism—a big ask even in the best of times.
Learn more: