PRESIDENT RECEP TAYYIP ERDOGAN HAS ENTERED A PERIOD OF STEEP POLITICAL DECLINE. Erdogan has a long history of provocative behavior in response to threats, sparking confrontation with both foreign and domestic critics. This year, his weakness will lead him to lash out. The response will further damage Turkey's already ailing economy.

It's in the arena of foreign policy, especially relations with the United States, that Turkey will fall to new lows. US congressional sanctions will likely take effect in the first half of this year, undermining the country's reputation and investment climate for corporates and putting further pressure on the lira. Measures will include a mandatory reduction in military sales to Turkey and actions against some Turkish officials. In addition, the trial of Halkbank in New York state will pose major financial risks. It could result in a fine of billions of dollars and will almost certainly involve the release of embarrassing details about Erdogan or those around him.

On the political front, Erdogan's popularity is slipping, especially among young people, and his ruling coalition is shaky. The president is suffering defections from the ruling Justice and Development Party. Popular former party officials are in the process of establishing two new political movements. The partnership with the Nationalist Movement Party may not last given the poor health of its leader.

Erdogan will take tough stances to try to bolster his political support. Internationally, he will refuse to cooperate with US authorities if Halkbank is fined, putting Turkish state assets in the United States at risk. He could enact countersanctions on the US, provoking an escalatory cycle. Erdogan may also expand drilling in the eastern Mediterranean, further exposing him to European sanctions and potentially risking military conflict with Greece.

Erdogan's popularity is slipping, especially among young people.
Erdogan's reaction in the economic sphere will lead to another set of risks. As sanctions further strain the Turkish economy, he will turn to his bag of unorthodox economic tools and dig an even deeper hole. Erdogan will use unconventional means to defend the currency, which will backfire and hurt investor confidence. The president is inclined to order state-owned banks to intervene in the market with sales of foreign currencies, and Turkey will face a significant risk of capital controls this year.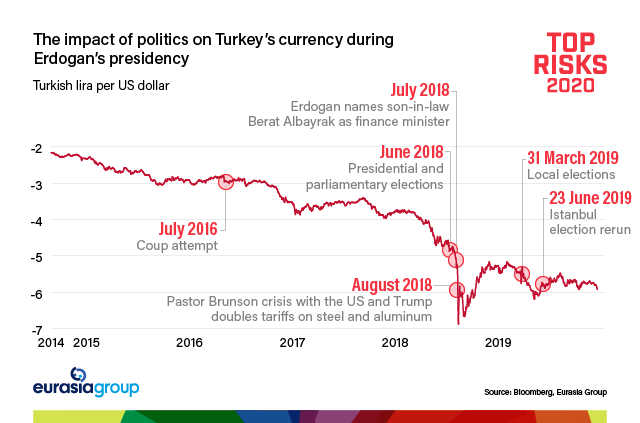 Erdogan will maintain high levels of repression at home to undermine the strength of rival political parties and cooperation between them. That in turn will prompt harsher sanctions and further political and economic instability. Turkey gets worse before it gets better.