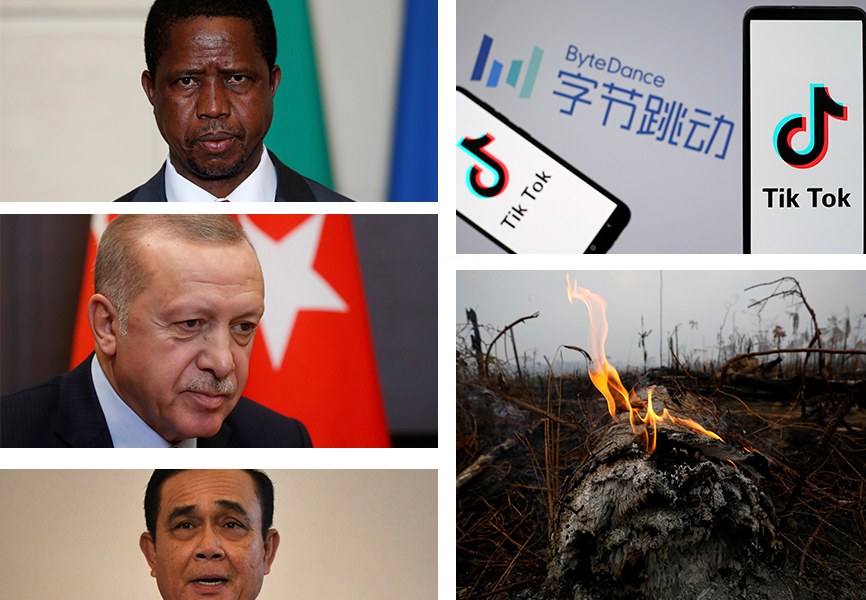 From UNGA to climate change, here are some of the top stories Eurasia Group's analysts are following this week.
United States
Top story: Fires and hurricanes make climate a campaign issue
Why it matters: With fire burning across the west and a record number of hurricanes in the Atlantic, climate change is becoming an issue in the presidential campaign. President Donald Trump continues to deny evidence of a warming climate, catering to the Republican base, while Democratic challenger Joe Biden is using ambitious climate proposals to appeal to young voters for whom the issue is a top concern.

For more news and analysis of US politics, follow Jon Lieber on Twitter.
Top story: 24–25 European Council meeting
Why it matters: Tensions in Eastern Mediterranean will be on top of the agenda as the EU tries to de-escalate; we will be watching out for likely token sanctions against Turkey, as well as the feasibility of an international conference on the East Med.

For more news and analysis of Europe, follow our team on Twitter: Mij Rahman, Naz Masraff, Emre Peker, and Federico Santi.
South & Southeast Asia
Top story: The largest pro-democracy protests in Thailand in several years took place over the weekend, though without violence.
Why it matters: In addition to calling for the ouster of the military-backed government headed by Prime Minister Prayut Chan-o-cha, protesters are demanding reforms to the monarchy, a hugely sensitive topic in Thailand. This significantly raises the political temperature, with student-led protest groups calling for rallies on 24 September and 14 October.

For more news and analysis of South & Southeast Asia, follow Akhil Bery on Twitter.
Top story: On Saturday, 19 September, President Trump announced his approval over a partnership proposed by Chinese social media giant ByteDance and US cloud services provider Oracle to operate the viral video app TikTok in the US. The blessing came a day before the Commerce Department's order banning downloads and updates of TikTok took effect. On Monday, the President appeared to rescind his blessing for the deal, saying he won't approve it if ByteDance retains control of TikTok, adding to the confusion over who will own and operate the new entity, the AI algorithm, and the app.
Why it matters: The Commerce Department also announced delay of its prohibition order until 27 September, allowing the negotiation parties to iron out final details of the partnership. As the relevant parties aim to close the deal within a week, the national security concerns around TikTok remain controversial. These concerns center on alleged censorship of the app, its potential use by the Chinese government for influencing the 2020 US presidential election, and how TikTok handles the data of its active US users, numbering over 100 million. Evidence for the first two concerns is limited, and the companies have crafted a strategy—which has not been made public—designed to protect US user data. The presidential order banning TikTok represents an unprecedented use of the arcane sounding International Emergency Economic Powers Act (IEEPA). TikTok is pursuing two lawsuits challenging the legality of the ban, and it is possible that a court injunction could halt the ban process. Separately, President Trump's personal involvement—including comments in tweets and at news conferences—has also been a major source of drama throughout the negotiations. ByteDance and Oracle have promised to build a new TikTok global headquarters and create 25,000 new jobs in the US to sweeten the deal. But some officials at the US Departments of Commerce, Defense, State, and Treasury remain concerned about the structure of the deal and want further guarantees about how the new commercial entity will protect US user data. To that end, the Electronic Privacy Information Center—a privacy group—has sent letters to both TikTok and Oracle signaling its intention to sue, citing insufficient data protection measures under the DC Consumer Protection Procedures Act. Finally, Beijing has to approve the deal because foreign ownership of ByteDance's AI algorithm could fall under China's new export control rule. The episode represents one of the highest profile and complicated chapters in the US-China Tech Cold War.

For more geo-technology analysis, follow our team on Twitter: Paul Triolo, Kevin Allison, Xiaomeng Lu, and Clarise Brown.
Top story: US-Iran tension escalates around disputed return of UN sanctions
Why it matters: The US tried to trigger the return of UN sanctions against Iran over the weekend, escalating tensions with both Iran and Washington's European allies who dispute the US ability to do so. Washington has pledged to impose its own unilateral sanctions to bolster the disputed snapback, although these new measures will likely be duplicative of existing restrictions. Iran will likely declare victory, citing the US effort as evidence of its global isolation. The UN General Assembly this week will elevate these disputes on the world stage.

For more news and analysis of the Middle East and North Africa, follow our Practice Head Ayham Kamel and Henry Rome on Twitter.
Top story: Brazil's environmental track record on the spotlight during UNGA
Why it matters: Unprecedented wildfires over the past days in the world's largest wetlands, the Pantanal, is the latest environmental disaster being mismanaged under the Bolsonaro administration. In 2020 alone this ecosystem had around 15% of its area burned, raising international concern beyond the Amazon, which also faces an increase in fires from last year and where the government still struggles to curb deforestation. In his speech on 22 September at the United Nations General Assembly, we do not expect Bolsonaro to depart from his confrontational rhetoric from last year, criticizing scrutiny from abroad over Brazil's environmental policies and track record. Though such a posture is targeted at his internal audience, it will nonetheless add risks to the country's foreign relations and put further strain to move forward on trade deals like the EU-Mercosur agreement.

For more news and analysis of Brazil, follow our team on Twitter: Christopher Garman, Silvio Cascione, and Filipe G. Carvalho.
Top story: Zambia's National Assembly began its session on 18 September following a Covid-19 induced closure earlier in the year. On the agenda for this sitting are next year's budget and a vote on various constitutional amendments, colloquially known as Bill 10.
Why it matters: Bill 10 clears some key hurdles to President Edgar Lungu's prospective election bid in 2021 by preventing legal challenges to his nomination on the basis that it would amount to an illegal third term. Meanwhile the national budget, to be introduced on Friday, will provide clues to how the Patriotic Front, Lungu's party, will finance its re-election. The budget and Bill 10 will define the shape of next year's general elections.

For more news and analysis of Africa, follow Amaka Anku on Twitter.
Energy, Climate & Resources
Top story: The rise of battery and hydrogen sectors post Covid-19
Why it matters: Batteries and hydrogen will receive abundant government and corporate investment in the coming years via ambitious green stimulus programs to support economic recovery from Covid-19. The boom will be global but focused in Asia and Europe. The spread of electric vehicles and hydrogen will significantly dent fossil fuel demand growth, including for oil in transport, natural gas and thermal coal in power generation, and coking coal in steelmaking. Meanwhile, the rise of these two sectors will change geopolitical dynamics, as both will require new supply chains and strategic partnerships.

For more energy and climate analysis, follow our team on Twitter: Mikaela McQuade, Coco Zhang, and Gerald Butts.
See each edition of World in a Week.