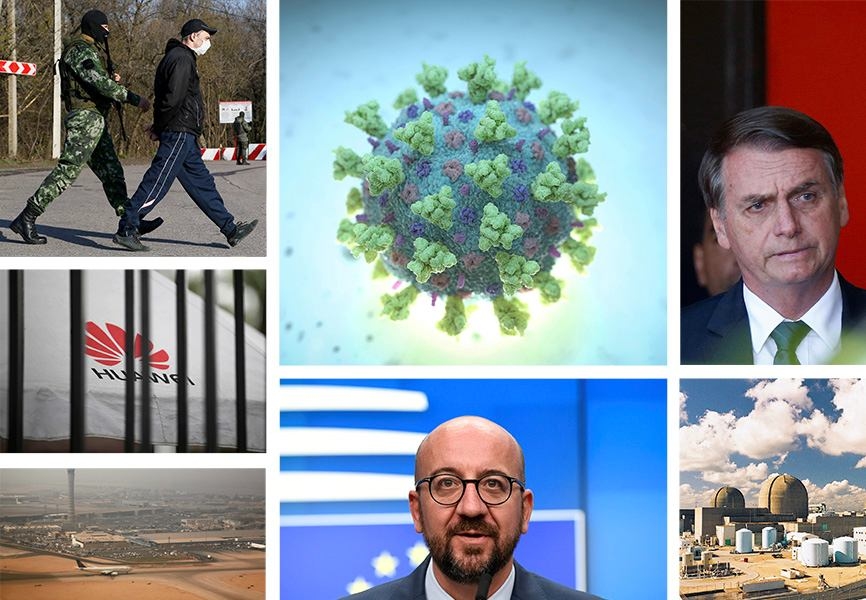 From a change of the guard in Brazil to controversy with a Thai internet model, here are the top stories Eurasia Group's analysts are following this week.
Northeast Asia
Top story: Taiwan Can Help
Why it matters: Taiwan Can Help, a crowdfunded campaign, is raising Taiwan's profile by promoting its willingness to help the international community in fighting coronavirus, much to the irritation of China.
Latin America
Top story: Debt negotiations in Argentina and Ecuador
Why it matters: Bondholders rejected Argentina's offer, but government could offer some additional compensations. In Ecuador, bondholders accepted the government's proposal on 17 April.
Eurasia
Top story: Ukraine-Russia prisoner exchange
Why it matters: People freed in a prisoner exchange between the Ukrainian government and Russia-backed separatists in the country's east will continue their 14-day coronavirus-related quarantine. The swap is a sign of lower tension between Ukraine and Russia, but the two governments are still far apart on how to stop the ongoing fighting in parts of Donetsk and Luhansk regions.
Healthcare
Top story: Europe tentatively eases restrictions.
Why it matters: Germany, Italy, Spain, Austria, and other European countries have tentatively begun to open up parts of their economy for business. Their ability to minimize local transmission during this phase will be a harbinger for things to come in other countries looking to reopen.
Energy, Climate & Resources
Top story: Decisions on state-level production cuts expected
Why it matters: The Texas Railroad Commission is due to make a decision on whether or not it will intervene in the market and prorate oil production from the state in the face of mounting pressure as a global OPEC-led deal has done little to slow falling prices, especially in the highly distressed North American crude market.
South & Southeast Asia
Top story: Chinese nationalists face off with Thai internet model.
Why it matters: Nnevvy (Thai internet model Weeraya Sukaram) was accused of sharing a Twitter message suggesting coronavirus originated in a Chinese laboratory and, in a subsequent Instagram post, that Taiwan was not part of China. The controversy has united pro-democracy activists in Taiwan, Hong Kong, and Southeast Asia against pro-China cyber campaigners and raised long-held tensions.
Europe
Top story: EU Council on 23 April
Why it matters: It will pick up from the 9 April Eurogroup and focus on the EU's economic policy response to the crisis.
North America
Top story: Debate to reopen the US
Why it matters: With increasing economic anxiety and protests in some states, we may see some governors move to align with the first phase of President Trump's plan to reopen the United States; Texas may be a signpost as far as relaxing restrictions.
Africa
Top story: How power is redistributed following the death of Nigeria's president's chief of staff from Covid-19.
Why it matters: As President Muhammadu Buhari's closest aide, Abba Kyari was incredibly influential, and his absence may leave a leadership vacuum in the short term.
Geo-Technology
Top story: US government officials are increasingly pointing to China's handling of the pandemic, including the origins of the virus, as an issue that should impact how other countries deal with China, including in sectors such as technology. For example, Secretary of State Mike Pompeo recently said countries should rethink the use of equipment by Chinese telecom giant Huawei in light of the pandemic.
Why it matters: US officials over the past year have painted many leading Chinese technology companies as untrustworthy, too close to Beijing, and willing to act at Beijing's behest, even including engaging in malicious cyber activity. Mistrust generated by Beijing's handling of the pandemic has added to this narrative, furthering the downturn in bilateral relations. This will likely drive the two countries' technology sectors further apart. See Risk 2: The Great Decoupling in our Top Risks 2020: Coronavirus Edition report.
Brazil
Top story: Change of the guard in the Health Ministry
Why it matters: The replacement of Minister Luiz Henrique Mandetta and other senior officials after rifts with President Jair Bolsonaro will deal a temporary setback to coordination with local governments, right at a time several cities see their hospitals close to full capacity. States and municipalities will probably hold the line on containment measures, but the new team at the Health Ministry will try to walk a fine line between curbing the outbreak and allowing the economy to breathe.
Middle East & North Africa
Top story: Trajectory of coronavirus cases in Egypt and the government's ability to keep the crisis under control
Why it matters: Egypt is the region's most populous country, and many people live off daily wages. The government has imposed a partial curfew but has sought to keep the economy running. Authorities have displayed optimism that they can keep the spread under control, but if cases start to rise, they will be forced to make some very difficult decisions to control the spread.
See our previous editions of World in a Week.