THE DECISION BY CHINA AND THE UNITED STATES TO DECOUPLE IN THE TECHNOLOGY SPHERE IS THE SINGLE MOST IMPACTFUL DEVELOPMENT FOR GLOBALIZATION SINCE THE COLLAPSE OF THE SOVIET UNION.
After a series of escalatory US policy moves in 2019, Beijing has concluded that decoupling is inevitable. Caught off-guard by US actions, President Xi Jinping has called for a new "Long March" to break China's technological dependence on the US. At the same time, China will expand efforts to reshape international technology, trade, and financial architecture to better promote its interests in an increasingly bifurcated world.
This decoupling, already disrupting beneficial flows of technology, talent, and investment between the two countries, will move beyond the handful of strategic technology sectors at the heart of the US-China dispute (semiconductors, cloud computing, and 5G) into a broader array of economic activity. It will affect not just the entire $5 trillion global tech sector, but a host of other industries and institutions from media and entertainment to academic research, creating a hard-to-reverse business, economic, and cultural divide.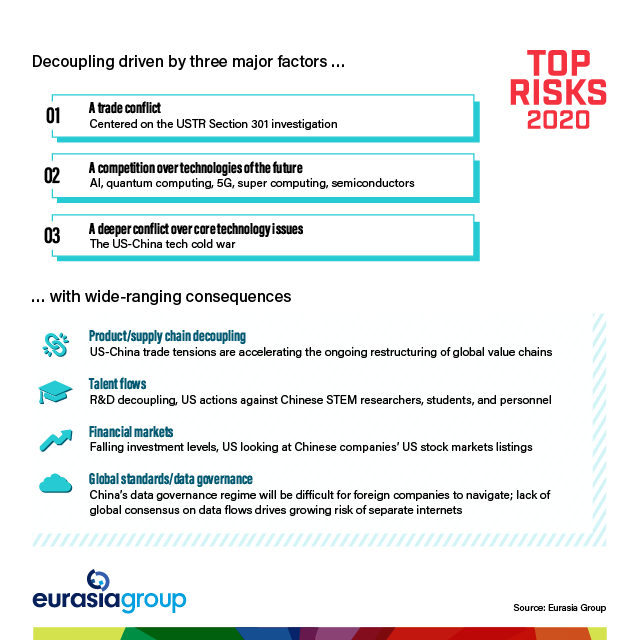 In the tech sector, Xi's focus on building "resilient supply chains" will raise the stakes of the US-China technology competition. That's bad news for US tech companies with big China footprints. Huawei has already started manufacturing base stations that will power next-generation 5G mobile networks that it says do not contain US-sourced technology, and this process of the US and China "designing out" each other's technologies will continue. Huawei and other Chinese companies will also develop alternative software ecosystems, chipping away at US leadership in mobile operating systems and enterprise software.
Markets are braced for tougher controls on US technology exports to China and the use of Chinese components in IT systems that help run US critical infrastructure. But they're not prepared for the effects of China's response, a dramatic increase in support for indigenous innovation through initiatives such as its new $29 billion national semiconductor fund and its effort to foster the creation of a new Silicon Valley in the sprawling 100-million-person Greater Bay Area in southern China (including Hong Kong, but that's another story).
The big question: Where will the new virtual Berlin Wall go up? Which side will countries choose?
Taiwan will take on increased strategic importance to China as a key source of non-US-origin equipment, especially the cutting-edge semiconductors that Chinese companies such as Huawei rely on to compete at the global cutting edge. South Korea will increasingly tilt toward China for the same reason. The shift toward China will be most palpable in Southeast Asia, sub-Saharan Africa, eastern Europe, and Latin America, in that order. Countries in all these regions will become battlegrounds where the US and China compete to decide who will supply consumers with tools to navigate the 21st-century economy—not just smartphones and the networks that power them, but mobile payments, e-commerce, and financial services, too.