For all the horrors of Covid-19, it boosted Merkel's political fortunes. It saved the German chancellor from becoming a lame duck and set the stage for the European Union to secure its landmark €750 billion recovery fund, a game-changing development that represented the best (and perhaps only) use of the pandemic as a political opportunity for strengthening multilateralism.
Without Merkel's deft political skills, the EU would have faced an unprecedented internal split, between Poland and Hungary, on the one hand, and the remaining 25 member states on the other; also at risk was the unity of France and Germany, with their competing visions for Europe's future. The continent's economic recovery would have hung in the balance, with far more pressure on the European Central Bank.
In short, Merkel has been Europe's most important leader. Her departure later in 2021 after 15 years as chancellor drives the continent's top risk.
After finishing her EU presidency at the end of last year, Merkel and her government will now turn their focus inward to ensure a strong result for the Christian Democratic Union (CDU) in September's elections. This will leave France's Macron, already weakened by the pandemic, alone at center stage of Europe. The conclusion of German elections will do little to strengthen the bloc's leadership, as the resulting German coalition of the CDU with the Christian Social Union and the Greens will take time to settle in. Macron will not view the new German chancellor as his equal and will become preoccupied with domestic affairs of his own, with next year's French elections on the horizon and a difficult economic situation to manage. The French president will be less capable of leading the EU ... and there will be challenges aplenty.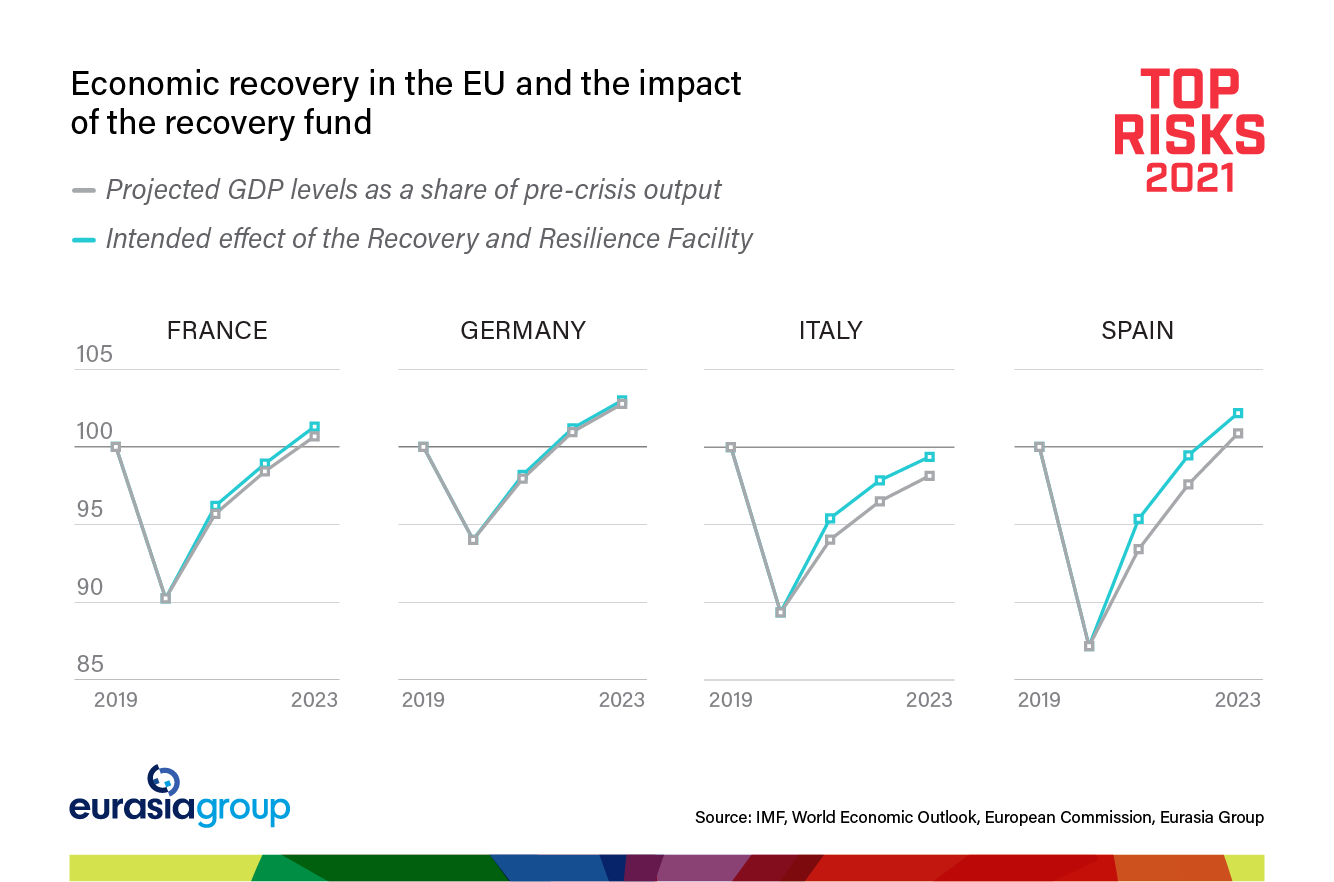 Economically, Europe faces a hangover from intensified lockdown restrictions in several countries over the winter. The limited additional stimulus from EU member states with fiscal space will not galvanize a strong recovery. A sharp economic deterioration would trigger discussion about accelerating spending from the recovery fund, not scheduled to begin disbursements in earnest until later this year. There will also be calls to make relief more generous for weaker EU member states. But the dim growth outlook of wealthier EU countries recovering from the second wave, combined with the leadership deficit, will prevent another fiscal deal. The so-called frugal four coalition of Austria, Denmark, the Netherlands, and Sweden, or some other grouping, will not only prevent any recovery fund expansion, but may chip away at the fund's ability to spend in order to meet the demands of their own domestic politics.
Merkel has been Europe's most important leader, and her impending departure drives the continent's top risk.