As they emerge from the pandemic, countries in Latin America will face sharper versions of the political, social, and economic problems they were confronting before the crisis.

There will be no widespread availability of vaccines until well into the second half of this year, and Latin American countries are poorly positioned to deal with another coronavirus wave before then. The main political flashpoints are presented by the heavy electoral calendar this year: legislative elections in Argentina and Mexico, as well as presidential elections in Ecuador, Peru, and Chile. All five of these countries have experienced significant fiscal deterioration, the result of increased spending to mitigate the pandemic's economic impact. Given rising poverty, growing inequality, and high unemployment, weak incumbents will be unwilling to make politically costly decisions, such as cutting spending on social services; indeed, elections will incentivize politicians, especially those in the legislative branches, to push policies that further strain their countries' balance sheets.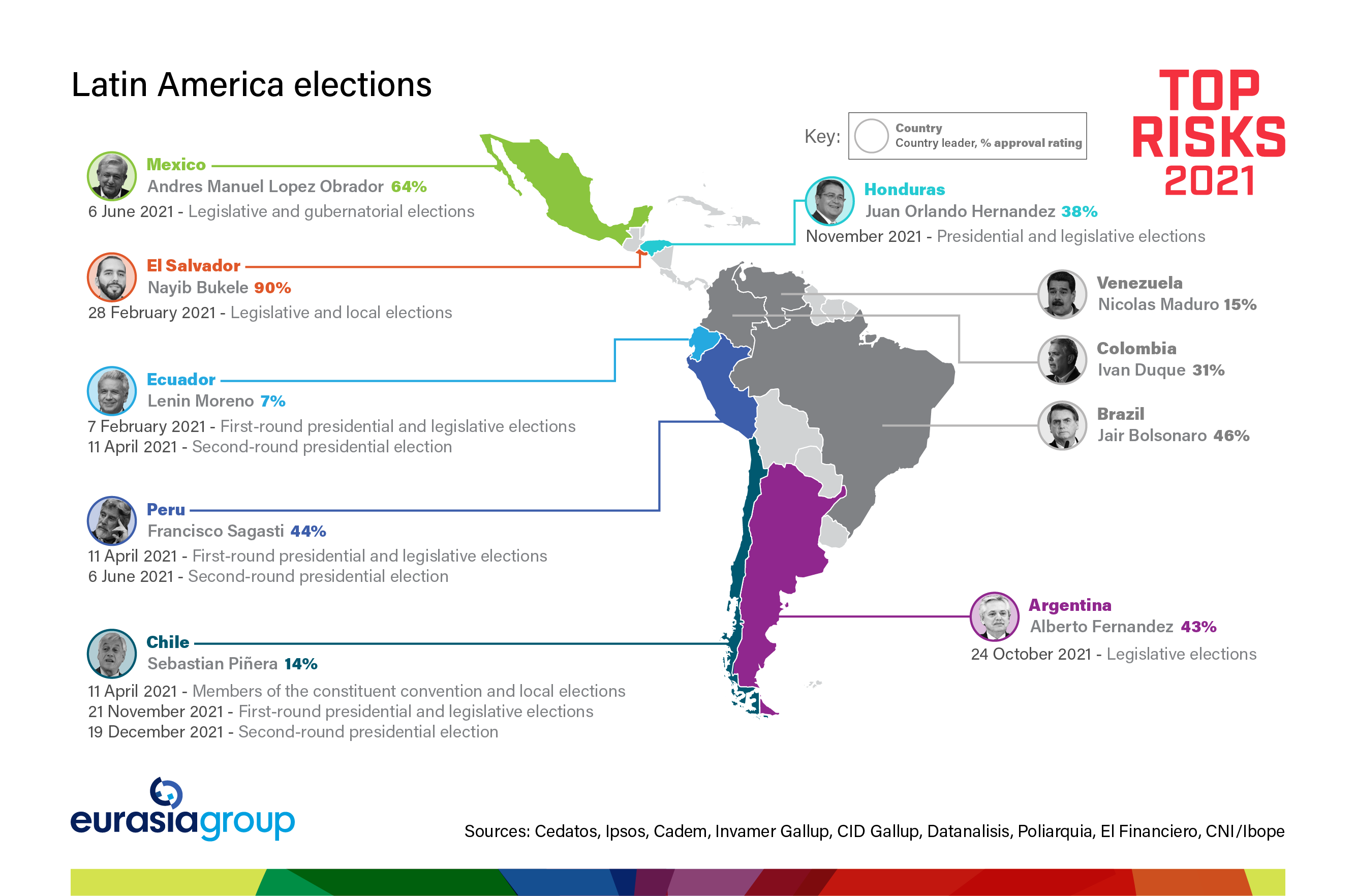 In Argentina, President Alberto Fernandez will emerge weakened from the midterm elections, given the economy's dire state, further reducing his ability to impose fiscal adjustments and inflation reduction measures. In Mexico, President Andres Manuel Lopez Obrador's popularity will remain high, and his ruling Morena party will maintain a majority in the lower house, allowing him to keep control of a policy agenda that will undermine the business environment.
The Middle East is the obvious big coronavirus crisis loser among the world's regions; but Latin America is a clear second.

High levels of social discontent will weaken incumbents and open the door for populist candidates, especially in countries holding presidential elections. That risk is highest in Ecuador, where moderate candidate Guillermo Lasso will face an uphill battle, jeopardizing the country's IMF program and economic stability. In Peru, rising discontent opens the door to an outsider candidate and a policy reversal away from the orthodox, investor-friendly policies that have been the norm for decades. In Chile, the electoral cycle coincides with constitutional reform in an environment of widespread discontent, with more violent protests likely. A leftist candidate who threatens to reverse the current policy direction would be competitive.

The Middle East is the obvious big coronavirus crisis loser among the world's regions. But Latin America is a clear second.