Following Trump's exit, the US-China relationship will not be as overtly confrontational. Both sides will seek some breathing space. But the desire for stability will be offset by three new and underappreciated factors: a spillover of tensions from the United States to its allies, a competition to heal the world, and another to green it. On balance, this year will see a bilateral rivalry as intense as that of last year, and that's dangerous.

Unlike the Trump administration, which pursued a tougher China policy unilaterally, Biden will enlist and coordinate with allies in this area, seeking a multilateral front against specific Chinese economic and security policies. The European Union, Japan, and India will be key targets of the US outreach. Despite a setback on the China-EU investment agreement, the new administration will have some successes—suspicion of China is broadly growing. In turn, that will create deeper fissures between Beijing and these US allies. But creating a broad united front on China will not happen easily. Beijing will lash out at countries closely coordinating with Washington, as it did against Australia last year. In other cases, Beijing will offer its own economic incentives to push back against efforts at encirclement. That will create a battle of diplomacy that will serve as an additional irritant to US-China relations.

The US and China will both try to increase their influence by providing vaccines to other countries. China is poised to outperform the US. Having largely contained the pandemic within the country's borders, China's powerful state apparatus will be able to export vaccines more easily. And unlike the best vaccines available in the US, current Chinese vaccines can be safely moved at a relatively warm temperature (35-46 degrees Fahrenheit), making them attractive to low-and-middle income countries that lack cold chain infrastructure.

US efforts to enlist allies, vaccine diplomacy, and climate tech competition will further complicate US-China relations.
These advantages will enable China to make good on the big bet it placed on vaccine diplomacy. Beijing has signed export deals for its vaccines and agreements to produce them in key emerging markets, allowing it to deepen friendships in Southeast Asia, Latin America, and sub-Saharan Africa. And these efforts come at a time when "wolf warriors," or hardliners, are ascendant in making Chinese foreign policy. The result will be hubris on Beijing's part, albeit with rewards for those in the Global South eager to be vaccinated.
Biden, on the other hand, will have to focus on domestic policies, including jumpstarting the economic recovery, leaving less time and fewer resources for competition with China. The US also faces a challenging vaccine rollout at home that could further dent its image internationally, and leave it with fewer bargaining chips to deal with countries such as the Philippines that seek to make vaccine access a precondition for greater foreign policy cooperation with Washington. The result will be a US elite and public increasingly resentful of Chinese gains during the vaccine phase, and that will add strain to bilateral relations generally.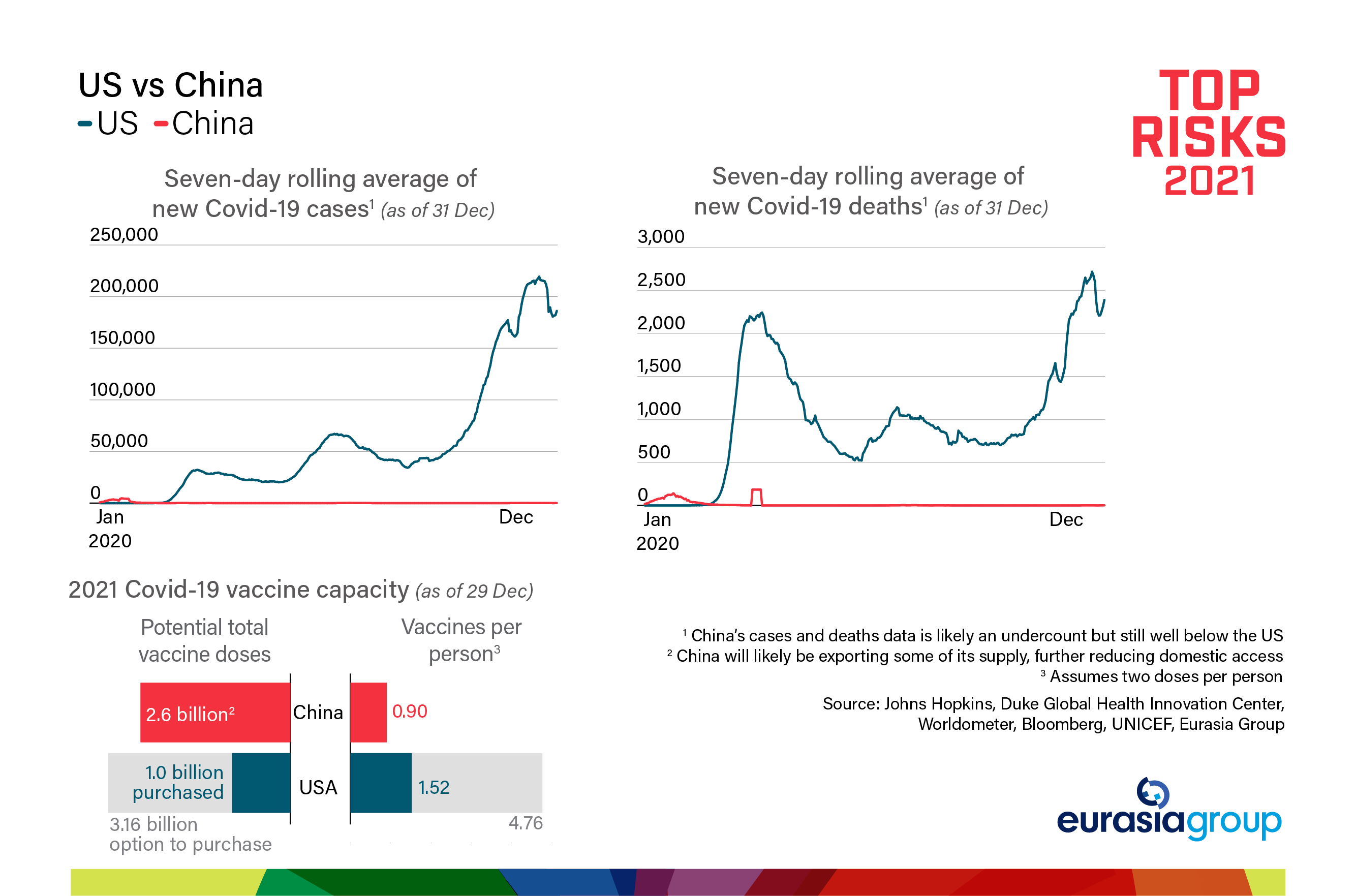 The second new source of tension will be rivalry in green technologies. Having pledged to reach peak carbon emissions before 2030 and to become carbon neutral before 2060, China seeks to score public diplomacy points and put the US on the back foot before Biden takes office. Beijing already enjoys a big lead in many of the key clean energy supply chains of the 21st century, from batteries and electric vehicles to solar, wind, and beyond. Here, too, the US will be eager to catch up, employing industrial policy tools that mark a departure from the neoliberalism of the postwar period. It will make major investments to re-shore portions of these clean energy supply chains back to the US, seek to shame Chinese coal investment abroad, and rally allies to pressure China on climate and clean energy issues. China, for its part, has grown accustomed to its climate soft power boom during the Trump years and will not take this offensive lightly.
US efforts to enlist allies, vaccine diplomacy, and climate tech competition will interact with longstanding tensions to further complicate US-China relations. Disagreements over bilateral trade and technology, the treatment of the Uighurs, Hong Kong, Taiwan, and the South China Sea will fully carry over into this year ... all of which will sustain a significant chance of miscalculation and escalation during a crisis.

So, yes, the two countries will seek some breathing room after the 20 January inauguration, Biden to focus on domestic affairs and Chinese President Xi Jinping to further consolidate his power in advance of the 2022 Party Congress. But a detente is not to be. Overall, this year will experience an expansion of a high level of US-China tensions.