Back
Superforecaster Fridays: Who will be the 2020 Democratic nominee for US president?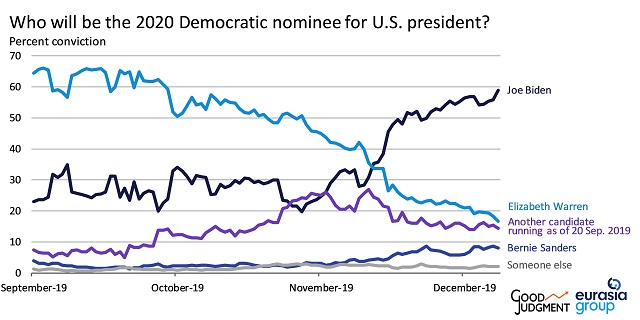 The Superforecasters currently predict Joe Biden will be the nominee. They now give the former vice president 59% odds of securing the nomination, up from the 19% chance which the forecast had bottomed out at in late November, after a series of debate gaffes seemed to affect his polling numbers and Senator Elizabeth Warren looked set to steal his status as frontrunner. However her bid took a hit after widespread criticism of her Medicare For All (M4A) plan by more moderate segments of the party.
The Superforecasters still give low odds (8%) for Senator Bernie Sanders winning the nomination despite his recent fundraising successes. The 2016 runner-up recovered from his medical emergency and saw a resulting bounce in polling numbers; he currently registers around 19% in most nationwide surveys, strong enough to earn him second place in the polls behind Biden's roughly 28% and ahead of Warren's roughly 15%. This week an unprecedentedly strong fourth quarter fund raising number for Sanders ($34.5 million, the highest in the field) is raising new thinking among observers that his odds of getting the nomination are increasing.
The purple line ("another candidate running") is mostly composed of Pete Buttigieg, who has climbed significantly in polling over the last two months. Betting markets have grown lukewarm on the South Bend mayor, currently giving him the fourth best odds behind Biden, Warren, and Sanders of securing the nomination, down from the second top spot which he occupied in mid-December before the debate.
Eurasia Group also projects Biden as the favorite, but is more cautious on the odds. Eurasia Group named Biden as the front-runner candidate in December to capture the Democratic nomination, but gives him 35% probability, with Warren the second-most likely to win (30%). Buttigieg and Sanders are allocated 15% and 10% respectively, with the remaining 10% split between Michael Bloomberg, Andrew Yang, Amy Klobuchar, and other third tier candidates.
Eurasia Group has been more cautious when it comes to giving any individual candidate more than 50% odds at this stage in the race, not only because primary contests have historically been marked by significant volatility in vote intentions before the vote actually begins, but also due to an assessment that the two front-runners in November (Biden and Warren) held significant vulnerabilities. Biden now looks to lead the pack, and could well win by attrition, but his vulnerabilities haven't gone away.
To learn more, view our previous superforecast of who will win the 2020 Democratic presidential nomination, look at Politics in Pictures: a visual guide to the Democratic challenge, and read Democrats face dilemma on trade ahead of 2020.