Quantifying geopolitics
The market strategy and data team creates a unique set of outputs that enable global investors and risk managers to make empirical connections between geopolitics and market outcomes. Our ethos is data-driven and empirical, pushing the boundaries of traditional quantitative political risk analysis.
We understand how politics affects bond markets, equities, and currencies, and we put this knowledge at the service of our clients. Our toolkit consists of a unique and proprietary set of political risk data and analytic frameworks, including:
The Global Political Risk Index
Political Trajectories
The Global Navigator
The Political Risk Country Portfolio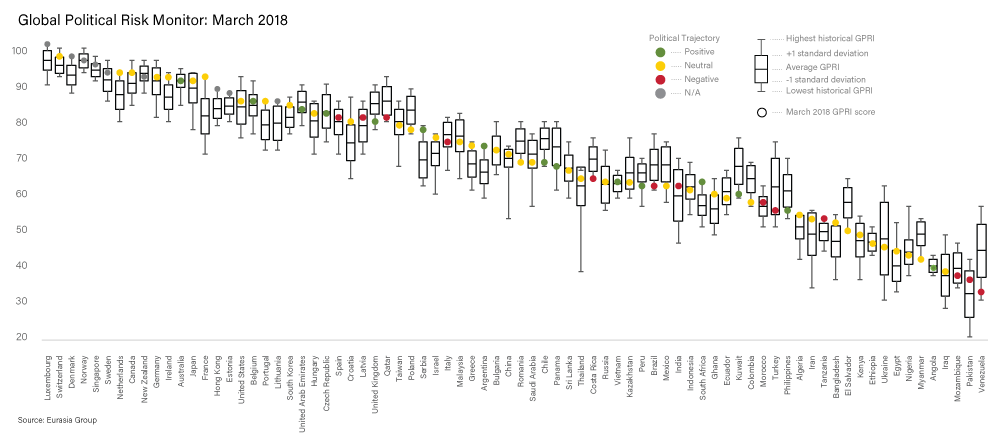 The Political Risk Country Portfolio
The Political Risk Country Portfolio (PRCP) is a unique and proprietary research toolkit that systematically links politics to market outcomes in emerging markets. It is the core output of a comprehensive quantitative framework to enable investors to better measure and compare political risk across EMs, benchmark political risk against country-level asset prices, estimate the "pricing" of political risk, and develop optimal country allocation and risk management strategies.
Market strategy publications
Our market strategy team focuses exclusively on the implications of market-moving political events. Our work is grounded in pathbreaking empirical research identifying the links between geopolitics and asset prices and draws on Eurasia Group's deep country-level expertise.
We weave these data-driven views on geopolitics into our suite of succinct and practical research publications, which include:
The Blueprint: a succinct, daily analysis of the most pressing geopolitical issues impacting global investors, distributed prior to the New York market open
Politics in Focus: a weekly thematic report highlighting the "big ideas" in geopolitics that global investors and business people need to understand to be successful
Politics in Pictures: a weekly data- and chart-focused thematic narrative that helps clients quantify the latest geopolitical events
In addition to our proprietary quantitative work, we partner with outside firms innovating at the intersection of politics and data. These partnerships enhance our clients' ability to gain a rigorous understanding of the way that geopolitics increasingly affects financial markets.