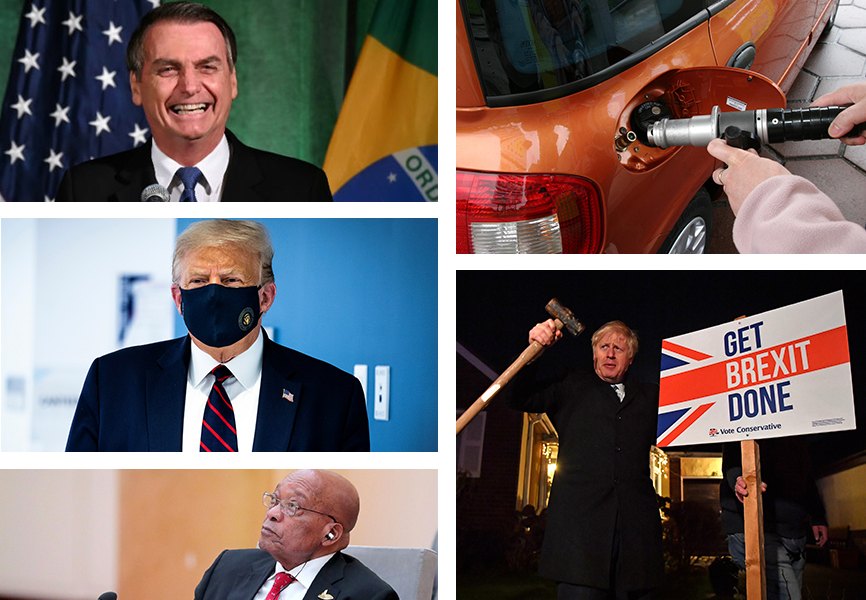 From Trump's Covid-19 diagnosis to Brexit trade talks, here are some of the top stories Eurasia Group's analysts are following this week.
United States
Top story: President Trump tests positive for Covid-19
Why it matters: Trump's diagnosis has clear political downsides for him, bringing an issue where voters give him low marks—management of the pandemic—to the forefront of the campaign.

For more news and analysis of US politics, follow Jon Lieber on Twitter.
Top story: Over the past week, a number of high-profile arrests were made in South Africa related to corruption scandals which took place under the administration of former President Jacob Zuma.
Why it matters: The arrests signal that President Cyril Ramaphosa's anti-corruption drive has started to yield tangible results. They will bolster Ramaphosa's public standing and increase his political capital within the ruling African National Congress (ANC) as the dragnet closes in on his opponents, including ANC Secretary-General Ace Magashule.

For more news and analysis of Africa, follow Amaka Anku on Twitter.
Eurasia
Top story: Azerbaijan and Armenia's conflict
Why it matters: As military clashes enter their ninth day, ranged weaponry has struck the main cities of Nagorno-Karabakh and several Azerbaijani cities. The International Committee of the Red Cross is warning of growing risks to civilians, but attempts at international mediation are not progressing and rhetoric from the sides remains uncompromising. That means Russia and Turkey, the most active outside players, will have outsized influence over the outcome.

For more news and analysis of Eurasia, follow Zachary Witlin on Twitter.
Top story: The Cybersecurity and Infrastructure Security Agency (CISA) and the Federal Bureau of Investigation on 1 October issued a joint statement warning that rumors that US voter rolls were hacked and subsequently leaked were false and that they were part of a broader disinformation campaign launched by malicious actors ahead of the 2020 US presidential election.
Why it matters: The joint agency statement issued by the FBI's Internet Crime Complaint Center is the latest example of stepped up messaging about election-related cyber threats by both the US government and the private sector. CISA and the FBI said there was no indication of a cyberattack against US election infrastructure but confirmed active attempts by cyber criminals and "foreign actors" to launch disinformation campaigns ahead of the 3 November vote. Though no specific countries were named in the latest update, the director of the National Counterintelligence and Security Center warned in August that China, Iran, and Russia are all actively seeking to interfere in the 2020 US presidential election.

For more geo-technology analysis, follow our team on Twitter: Paul Triolo, Kevin Allison, Xiaomeng Lu, Alexis Serfaty, and Clarise Brown.
Top story: Potential backlash on environmental rhetoric
Why it matters: President Jair Bolsonaro last week resorted to an inflamed rhetoric in his response to US Democratic nominee Joe Biden's remarks he would reach out to the international community to raise $20 billion to protect the Amazon. Bolsonaro framed the comment as an "interventionist remark" and said Brazil should have well-equipped armed forces to dissuade foreign meddling in the region. This polarizing rhetoric bodes well with his right-wing base of support and serves as political shielding for increased defense spending, for which the administration has been criticized. But with unprecedented fires in the Amazon and Pantanal biomes, pressure from abroad over the federal government is only poised to increase, with Bolsonaro unlikely to back down on his confrontational style and, thus, raising the risk of sanctions on Brazil over its environmental record if Biden is to win the US election.

For more news and analysis of Brazil, follow our team on Twitter: Christopher Garman, Silvio Cascione, and Filipe G. Carvalho.
Top story: Meetings between members of Kuwait's ruling family to discuss the nomination of a new crown prince following Emir Sabah's death on 29 September
Why it matters: There are several candidates for the role of crown prince, each with their supporters and opponents within the different branches of Kuwait's rivalry-prone ruling family and segments of society at large. The negotiations will seek to stabilize the current political transition following the appointment of Emir Nawaf but will also implicitly determine the shape of Kuwait's political system and policy direction for years to come.

For news and analysis of the Middle East & North Africa, follow Ayham Kamel on Twitter.
Top story: UK-EU trade talks through the week
Why it matters: Progress this week will be critical for ultimately reaching a deal, where the end of October is the cut off for agreement on the legal text.

For more news and analysis of Europe, follow our team on Twitter: Mij Rahman, Naz Masraff, Emre Peker, and Federico Santi.
Southeast & South Asia
Top story: Indian Foreign Minister S. Jaishankar is traveling to Tokyo to meet with the other foreign ministers of the Quad (Australia, Japan, and the US) on 6 October.
Why it matters: The Quadrilateral Strategic Dialogue ("Quad") is an informal gathering of likeminded countries dedicated to promoting a free and open Indo-Pacific. In recent years, it has taken on greater importance as each country tries to navigate growing friction with their respective relationships with China. While the meeting will focus on a post-Covid-19 world and increasing economic cooperation, the Quad has recently taken on even more significance owing to the degradation of the US-China relationship and the ongoing India-China border conflict. The big question from this meeting of the Quad ministers is if India will invite Australia to join the US and Japan at the annual Malabar naval exercise, a move which would likely anger Beijing even more.

For news and analysis of South Asia, follow Akhil Bery on Twitter.
Energy, Climate & Resources
Top story: Political balance of US natural gas growth
Why it matters: Policies on natural gas will be high-stakes issues in campaign debates. While Kamala Harris has stated that she supports a ban on fracking, Joe Biden recently reiterated he only intends to ban new oil and gas leases on federal lands. President Trump's America First energy agenda has not directly alleviated market pressures, despite heightened domestic deregulation and efforts to promote US natural gas abroad. In the medium term, natural gas will probably remain a significant part of the US energy mix, with a likely increase in renewables integration and reliance on carbon capture and storage.

For more energy and climate analysis, follow our team on Twitter: Mikaela McQuade, Coco Zhang, and Gerald Butts.
Top story: President Trump tests positive for Covid-19
Why it matters: This not only cements coronavirus as the dominant issue in the 2020 election; it has serious public health implications. If Trump's symptoms are more than mild, otherwise skeptical portions of the public might show more acceptance toward the seriousness of the virus and demonstrate a greater appetite for more stringent restrictions and personal risk reduction behavior. If the case is less severe, Trump could continue to downplay Covid-19 as Brazilian President Jair Bolsonaro did following his diagnosis.

For more healthcare news and analysis, follow Scott Rosenstein on Twitter.
See each edition of World in a Week.