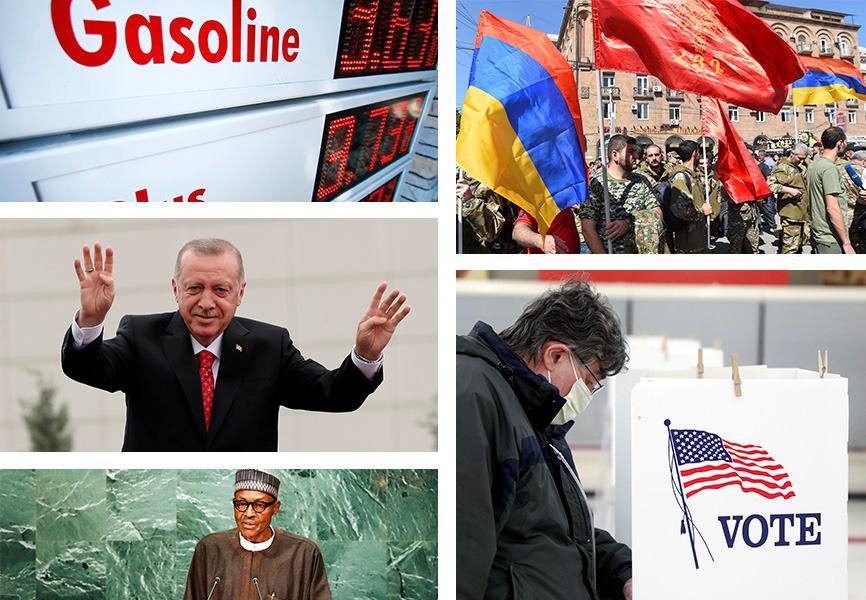 From California's zero-emission vehicle program to a military confrontation between Azerbaijan and Armenia, here are some of the top stories Eurasia Group's analysts are following this week.
Eurasia
Top story: Military confrontation between Azerbaijan and Armenia
Why it matters: The neighboring countries both declared martial law on Sunday as armed forces clash across the line of control around the areas surrounding the Nagorno Karabakh territory. The dispute around Karabakh has festered since the run-up to the collapse of the Soviet Union, and a formal settlement remains elusive for the territory that is officially part of Azerbaijan but which is a de facto protectorate of Armenia.

For more news and analysis of Eurasia, follow Zachary Witlin on Twitter.
Top story: Nigerian President Muhammadu Buhari sent a long-awaited oil sector reform bill to the legislature, which returns from recess Tuesday.
Why it matters: The legislation, which has been pending for nearly two decades, would alter fiscal terms and other sector guidelines for the first time in more than 50 years if it is passed. Obtaining Buhari's blessing early in the drafting process raises the likelihood that the bill will be fast-tracked through the legislature and become law by early next year.

For more news and analysis of Africa, follow Amaka Anku on Twitter.
Top story: The Federal Bureau of Investigation (FBI) and the Department of Homeland Security's Cybersecurity and Infrastructure Security Agency (CISA) issued a joint statement on 22 September, warning that malicious actors could attempt to sow uncertainty about the results of the November election by creating fake websites, changing existing websites, or spreading other false information.
Why it matters: The FBI/CISA warning highlights how the unique circumstances of the Covid-19 pandemic are heightening the risk that the election will be viewed as illegitimate by a significant portion of the electorate. This risk has been heightened in the wake of the politicized pandemic response and heated rhetoric about the integrity of an expected surge in vote-by-mail ballots this year (Eurasia Group's #1 Top Risk for 2020). Along with repeated statements by President Donald Trump claiming that mail-in voting is likely to be subject to fraud, the extended time needed to compile and count mail-in ballots means that malicious actors—including both state-backed actors and criminal groups or hacktivists—will have a wider than usual window between election day and the certification of the results to potentially create greater confusion.

For more geo-technology analysis, follow our team on Twitter: Paul Triolo, Kevin Allison, Xiaomeng Lu, and Clarise Brown.
United States
Top story: Trump's taxes won't change the campaign
Why it matters: The New York Times' revelation of two decades of President Trump's tax data reveals that he paid only $750 in federal taxes in 2016 and 2017, which will fuel attacks from the Biden campaign. But those revelations are unlikely to change the shape of the campaign, given the hyper-polarized environment of US politics and previous revelations about Trump's finances.

For more news and analysis of US politics, follow Jon Lieber on Twitter.
Energy, Climate & Resources
Top story: California's policy to require all newly sold cars and passenger trucks to be zero-emission vehicles by 2035
Why it matters: In a move that will prove highly disruptive to automakers, fuel producers and refiners, utilities, and miners, California's announcement will drive industrial transformation and is indicative of a growing trend of state-level self-determination on climate change policies in the US. The new regulation will—in line with the state's goal to achieve carbon neutrality by 2045—place California on a trajectory more closely aligned with the 1.5-degree climate change scenario and stimulate both zero emissions vehicle supply chain investment as well as regulatory credit prices in the state.

For more energy and climate analysis, follow our team on Twitter: Mikaela McQuade, Coco Zhang, and Gerald Butts.
Top story: Municipal election campaigns kick off
Why it matters: The election campaign period for mayors and city councils began this weekend and will be followed by two rounds of votes on 15 and 29 November. This will reduce legislative activities in congress and crunch an already tight schedule to move forward on a politically sensitive fiscal reform that will define the future of Brazil's federal spending cap and debt trajectories over the next years. Besides that, this election will be the first one in which parties will not be allowed to make coalitions to run for council seats. While this will probably lead to a larger number of candidates for executive posts to boost council candidacies, it will also play a role in reducing party fragmentation over time in legislatures of all three government levels.

For more news and analysis of Brazil, follow our team on Twitter: Christopher Garman, Silvio Cascione, and Filipe G. Carvalho.
Southeast & South Asia
Top story: Malaysian Prime Minister Muhyiddin Yassin's alliance wins pivotal Sabah state elections.
Why it matters: Muhyiddin will now be emboldened after passing his first key electoral test since taking office following Malaysia's political crisis in February. This now makes early federal elections more likely, though all eyes are also on whether opposition leader Anwar Ibrahim can back up his claim that he, rather than Muhyiddin, has a parliamentary majority and therefore should be appointed prime minister.

For news and analysis of South Asia, follow Akhil Bery on Twitter.
Top story: Rising discontent in rural and poor urban areas in Egypt leading to risk of anti-government protests
Why it matters: Last week, Egypt witnessed small protests over a number of nights and across a number of village and poor urban areas, some of which turned violent. The protests are largely driven by worsening economic conditions that take a disproportionate toll on more vulnerable social classes, although governmental missteps and abuses by security forces often serve as rallying points for dissent. The authorities have responded with both arrests and limited economic gestures, but this week will be decisive for whether anti-government demonstrations lose or gain steam.

For news and analysis of the Middle East & North Africa, follow Ayham Kamel on Twitter.
See each edition of World in a Week.