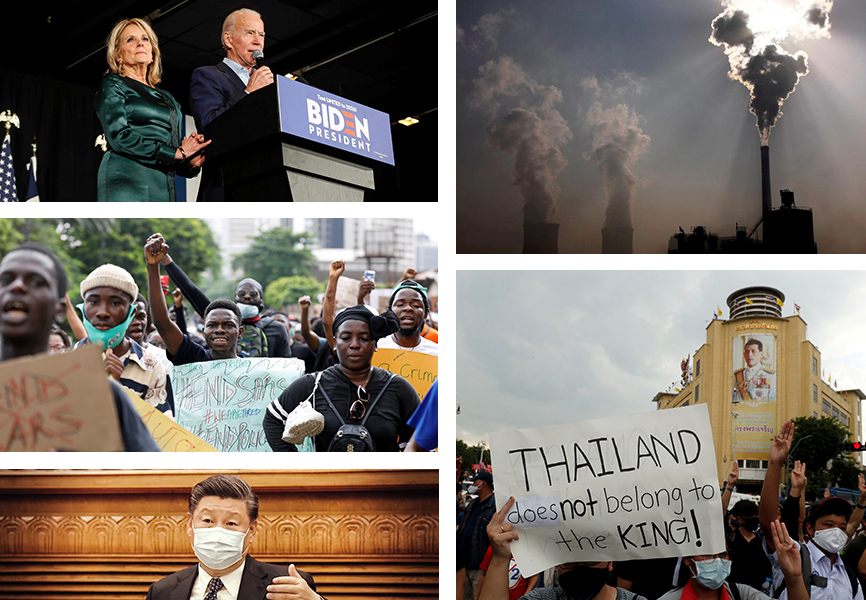 From increased cybersecurity risks to protests in Thailand and Nigeria, here are some of the top stories Eurasia Group's analysts are following this week.
Top story: A former senior US intelligence official, Michael Rogers, who served as director of the National Security Agency, cautioned on 11 October that the global pandemic had significantly elevated cyber risks.
Why it matters: Cybersecurity risks are mounting in both the public and private sectors, with ransomware emerging as a major tool being deployed in cyber incidents. Ransomware operations feature the deployment of malware designed to hold institutional data hostage. This is typically done by penetrating corporate networks and encrypting data, requiring the victim to provide the "ransom" payment, most often via cryptocurrencies, before providing a decryption key. Ransomware operations increased by 25% in the first four months of the year compared to the last quarter of 2019, according to one estimate. This uptick is due in part to the rapid surge in remote working, with cyber defenses for employees working from home generally lagging and leading to a proliferation of new vectors for cyber operation. The risk in cyberspace will likely remain elevated in the near future, and ransomware payments will almost certainly further incentivize cyber actors to engage in future attacks.

For more geo-technology analysis, follow our team on Twitter: Paul Triolo, Kevin Allison, Xiaomeng Lu, Alexis Serfaty, and Clarise Brown.
Top story: Parliamentary elections will take place in Egypt on 24–25 October, with voting abroad starting several days prior.
Why it matters: Egypt recently held elections for its newly reconstituted "Shura Council" (or Senate) for which voter turnout hit record lows. Authorities have raised legal procedures against millions of citizens to encourage them to vote this time around, and while turnout should be slightly higher, voter apathy will probably remain high. While opposition to the government's policies rarely emerges in parliament, the body remains an important tool through which the leadership manages its image and relations with the wider citizenry.

For news and analysis of the Middle East & North Africa, follow Ayham Kamel on Twitter.
United States
Top story: Biden retains steady lead
Why it matters: Joe Biden's national and swing state leads remain remarkably steady, headed into the last two weeks of the campaign; President Trump will have a potentially final opportunity to change the race's dynamic in Thursday's debate, where he'll hope for a Biden performance that ratifies Trump's criticism of Biden as unfit for the presidency.

For more news and analysis of US politics, follow Jon Lieber on Twitter.
Eurasia
Southeast Asia
Top story: Pro-democracy protests continue despite ban on mass assembly
Why it matters: Thousands of mostly young pro-democracy protesters have turned out on the streets of Bangkok and other cities for several consecutive days in defiance of an emergency decree introduced by the military-backed government that bans mass assembly. Demonstrators are calling for Prime Minister Prayut Chan-o-cha's resignation as well as reform of the constitution and the role of the monarchy, with the latter long being a taboo in Thailand.

For news and analysis of Southeast Asia, follow Peter Mumford on Twitter.
Top story: In Nigeria, nationwide protests against police brutality will enter a third week. Authorities have announced the dissolution of a controversial police unit implicated in several extrajudicial killings, but protesters are demanding further action, including increasing police salaries and paying compensation to the families of victims.
Why it matters: The demonstrations could be an inflection point for political consciousness among young Nigerians—more than 60% of the population is under 25—in a country where citizen-led mass protest is rare and voter apathy is high.

For more news and analysis of Africa, follow Amaka Anku on Twitter.
Top story: Monetary policy committee meeting in Turkey on 22 October
Why it matters: With a consensus expectation of a 150 bps rate hike, the central bank's response to ongoing currency weakness and rising inflation expectations will be a critical indicator as to how serious the government is about economic policy normalization.

For more news and analysis of Europe, follow our team on Twitter: Mij Rahman, Naz Masraff, Emre Peker, and Federico Santi.
Northeast Asia
Top story: China's National Bureau of Statistics announces the country's third-quarter growth numbers on 19 October
Why it matters: China's growth numbers have taken on a particularly political tint in recent quarters as the coronavirus and the economic recovery become elements not just of domestic governance but also Beijing's bid to showcase the Chinese Communist Party's leadership during the crisis.

For more China analysis, follow Michael Hirson and Allison Sherlock on Twitter.
Energy, Climate & Resources
Top story: China's reported Australian coal restrictions
Why it matters: Media reports indicate that Chinese power stations and steel mills have been verbally instructed by officials to stop importing Australian coal, and Chinese ports have also been told not to offload Australian coal. The restriction, if officially imposed, would expose China to a challenge at the World Trade Organization. But China has restricted imports in the past and the actions would represent Beijing's will to maintain pressure on Australia as well as support China's policy to prop up the domestic industry.

For more energy and climate analysis, follow our team on Twitter: Mikaela McQuade, Coco Zhang, and Gerald Butts.
South Asia
Top story: Fallout from Friday's inaugural PDM rally continues
Why it matters: 11 opposition parties have banded together under the banner of the Pakistan Democratic Movement to put pressure on the country's military and Prime Minister Imran Khan. Former Prime Minister Nawaz Sharif spoke at the rally on Friday, where he directly accused the Chief of Army Staff General Qamar Bajwa and Director-General of Inter-Services Intelligence Faiz Hameed of interfering in Pakistan's democracy and toppling his elected government. A follow-up rally is being planned in Quetta on 25 October, as the opposition continues to seek Prime Minister Imran Khan's removal from office.

For more news and analysis of South Asia, follow Akhil Bery on Twitter.
Top story: Bolsonaro appointee for a supreme court seat very likely to be approved
Why it matters: With a position in the court opened last week with Justice Celso de Mello's retirement, Bolsonaro will fill the first of two seats that will become vacant during his term. His choice of a moderate low-profile judge from a federal court, Kassio Nunes, sank poorly with his right-wing base of support and the evangelical caucus, who expected a more openly conservative name. But Nunes' appointment resonated well in congress and in the supreme court. This appointment is particularly important given that both Bolsonaro and his inner circle are subjects in ongoing investigations under the purview of the supreme court. This issue will probably be brought up when Nunes speaks before the senate's constitutional affairs committee—the first step of his confirmation process, followed by a secret plenary vote. But given Bolsonaro's rapprochement with congress and Senate Speaker Davi Alcolumbre's efforts to ensure the administration's support for a potential reelection bid as speaker early next year, Nunes will probably see a smooth confirmation process.

For more news and analysis of Brazil, follow our team on Twitter: Christopher Garman, Silvio Cascione, and Filipe G. Carvalho.
See each edition of World in a Week.