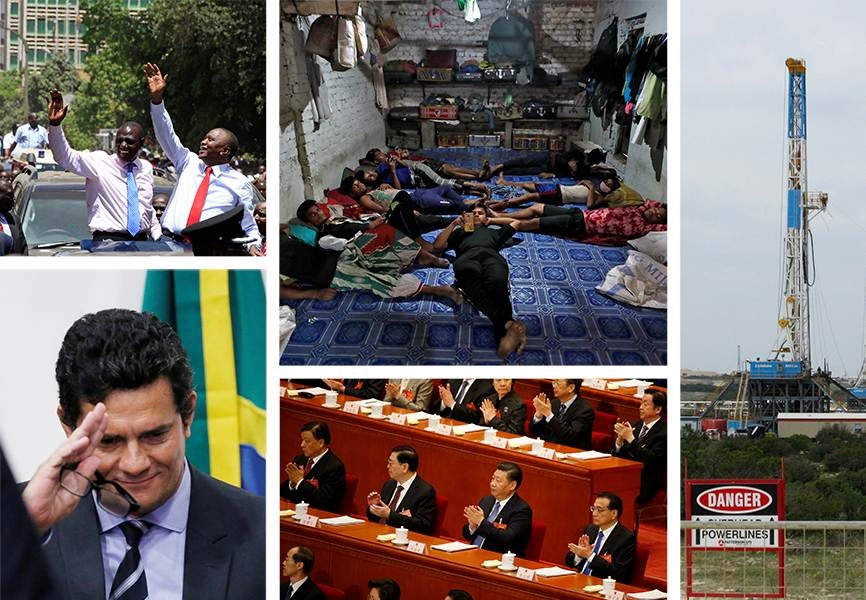 From China's National People's Congress to an Ecofin meeting, here are some of the top stories Eurasia Group's analysts are following this week.
Middle East & North Africa
Top story: Emerging discussions between the IMF and Lebanon, which faces the triple threat of an unprecedented financial crisis, coronavirus, and political deadlock.
Why it matters: Lebanon has virtually no other choice but to turn to the IMF given the scope of the financial and socioeconomic crisis that it faces; traditional donors like Saudi Arabia are no longer able and willing to bail the country out. But securing an agreement will be difficult, given that the IMF will demand structural reforms that will be highly difficult to implement due to engrained corruption and competing interests between different sectarian groups and parties.
Geo-Technology
Top story: The Trump administration moved to cut off Chinese technology giant Huawei's supplies of advanced semiconductors, including cutting-edge chips produced by Taiwan's leading semiconductor manufacturing company.
Why it matters: Beijing will be compelled to respond to the US action, which was pushed by hawks who want to cripple Huawei. It is the sharpest escalation in the US-China Tech Cold War in nearly a year. China could retaliate by slapping sanctions on some big US tech companies, further exacerbating tensions between Washington and Beijing. The spat will also draw Taiwan further into the US-China tech conflict.
Brazil
Top story: Potential release of cabinet meeting video recording
Why it matters: This is a central piece in former Justice Minister Sergio Moro's accusations that President Jair Bolsonaro tried to interfere in federal police investigations. Media reports last week ran with a story that the president would have said in the meeting he intended to change federal police directors to protect his family and friends, anonymously quoting officers involved in the case. The video will very probably come to light eventually—either through a supreme court decision to release it or through a leak. While it can be embarrassing for Bolsonaro, it is unlikely to harm his popularity. The most meaningful risk to his approval ratings come from a worsening pandemic scenario where lockdowns are needed for longer and the healthcare system collapses in major cities.
Healthcare
Top story: World Health Assembly on 18 and 19 May
Why it matters: Despite Chinese President Xi Jinping's vague support for an investigation into the origin of the coronavirus, the US and other powers are likely to criticize Beijing's stance, while debates around equitable access to treatments and vaccines will highlight the consequences of a global pandemic in a G-Zero world.
Northeast Asia
Top story: China's National People's Congress (NPC)
Why it matters: The National People's Congress will open on 22 May and likely run on an abbreviated schedule—one week, rather than the traditional two. A portion will also be held remotely to accommodate challenges posed by lingering coronavirus risk. The NPC will likely take on a particular political flavor, both to address the domestic challenges of the coronavirus as well as to weigh in on political hotspots, including the US-China relationship and Hong Kong.
Africa
Top story: Kenya's ruling Jubilee Party entering into a coalition agreement with the Kenya African National Union (KANU)
Why it matters: The move allows President Uhuru Kenyatta's faction of Jubilee to replace allies of his rival, Deputy President William Ruto, in senate leadership positions with loyalists from Ruto's Kalenjin ethnic group—a direct affront to the parliamentary influence of Ruto's supporters and his personal hegemony in Kenya's Rift Valley.
North America
Top story: Congressional testimony on coronavirus
Why it matters: As some states ease lockdowns and the Trump administration increasingly voices its desire for the economy to re-open, testimony from Treasury Secretary Steven Mnuchin and Federal Reserve Chair Jay Powell will signal what additional tools the federal government plans to employ to soften the economic fallout of the pandemic.
Eurasia
Top story: The Republic of Georgia will end its state of emergency on 22 May and intends to welcome back tourists from some countries starting 1 July. Georgia and most others in the South Caucasus and Central Asia already began relaxing some lockdown measures and will pull back more this week (with notable exceptions for Tajikistan and Turkmenistan, who have downplayed the virus).
Why it matters: Georgia won accolades for its healthcare response thanks to early implementation of testing and quarantine measures in February that reduced the spread of infection. But like any government, Georgia needs to make a judgment call about when health risks are low enough to begin re-opening the economy (of which tourism counts for 11.5% of GDP). Georgia's hopes to brand itself a safe tourism destination will depend as much on other countries' progress against the virus as its own.
Energy, Climate & Resources
Top story: US shale companies' May production cuts
Why it matters: Although state regulator Texas Railroad Commission has rejected a proposal to enforce oil production cuts, US shale producers such as Chevron, EOG, ConocoPhillips, Continental Resources, Diamondback, and Parsley have announced they will significantly curtail output in May. The extent to which these companies follow their plans will have an impact on US oil storage levels and market outlook in the near future, potentially driving further revisions on production and upstream capital expenditure.
Europe
Top story: Economic and Financial Affairs Council (Ecofin) meeting on 19 May.
Why it matters: Ecofin will discuss the SURE scheme as well as the European Investment Bank's guarantee fund. The discussions are worth watching ahead of 27 May, when the European Commission will disclose its critical proposal for the Recovery Instrument.
South & Southeast Asia
Top story: Prime Minister Narendra Modi's economic package takes shape.
Why it matters: On 12 May Prime Minister Narendra Modi announced an economic package of about USD 265 billion (approximately 10% of India's GDP). These measures include an already announced package on 26 March as well as actions undertaken by the Reserve Bank of India. Finance Minister Nirmala Sitharaman has taken the lead, announcing five tranches of an economic package for farmers; micro, small, and medium enterprises; and others. This economic package will shape how India's economy recovers from the Covid-19 shock, as the IMF estimates India's GDP growth will slow to 1.2% this year, while many other institutions predict even lower. With India's lockdown extended until 31 May (though with significant easing), how the government implements this economic package will be crucial as India tries to restart its economy.
See each edition of World in a Week.