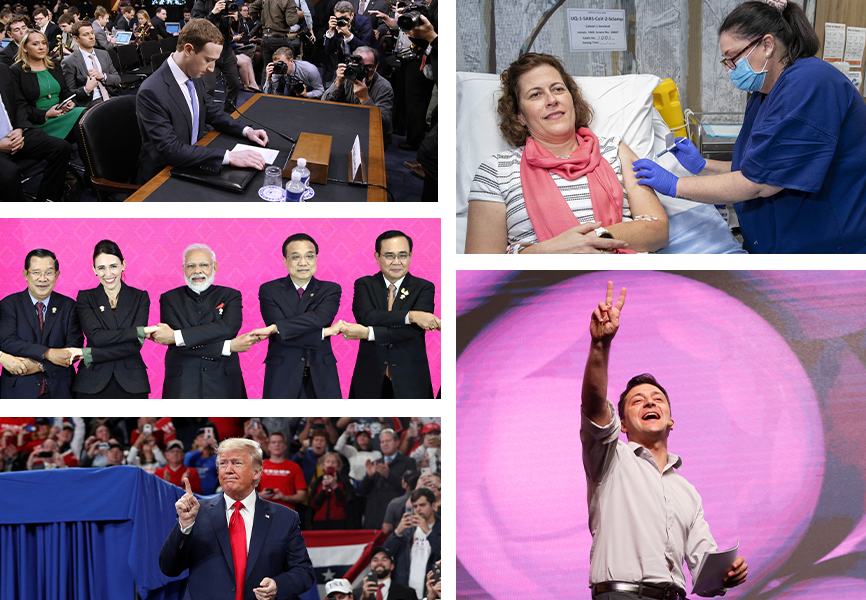 From a healthcare worker shortage in the US to monetary policy in Turkey, here are some of the top stories Eurasia Group's analysts are following this week.
Healthcare
Top story: Can the US healthcare worker shortage be fixed?
Why it matters: With severe Covid-19 outbreaks across the country, nurses and doctors are in short supply. Unlike the spring and summer surges, it's going to be hard to find reinforcements.

For more healthcare news and analysis, follow Scott Rosenstein on Twitter.
Northeast Asia
Top story: Bondholders have rejected Zambia's request for a six-month moratorium on its debt service payments.
Why it matters: This is the second major failure for President Edgar Lungu in recent weeks after his ruling Patriotic Front failed to pass a controversial constitutional amendment bill late last month. His administration's economic mismanagement is likely to be in the spotlight as the country prepares for elections in August 2021.

For more news and analysis of Africa, follow Amaka Anku on Twitter.
United States
Top story: Trump holds on
Why it matters: President Trump continues to deny that he lost the 2020 election to President-elect Joe Biden, but events are moving on; none of Trump's lawsuits or recounts has a realistic chance of changing the Electoral College outcome. Still, his insistence that the election was rigged against him is incentivizing Republicans to defend that view—it may not work to keep the presidency for Trump, but it undermines faith in elections and democracy in the long run.

For more news and analysis of US politics, follow Jon Lieber on Twitter.
Eurasia
Top story: Ukrainian President Volodymyr Zelensky tests positive for Covid-19 as infections surpass 10,000 per day.
Why it matters: The president joins a growing list of Ukrainian officials who have tested positive for Covid-19. Although Zelensky is working while recovering in hospital, potential slowdowns in governance are possible. National authorities will also contend with pushback from local officials over new weekend-only lockdown orders, which were met with defiance when announced last week in an effort to curb infection rates.

For more news and analysis of Eurasia, follow Zachary Witlin on Twitter.
Top story: The Federal Trade Commission (FTC) may file an antitrust lawsuit against Facebook within the next three weeks, the latest in a series of actions by the US government aimed at ramping up regulatory enforcement against the technology sector and perceived market dominance of big tech platforms.
Why it matters: The FTC's prospective lawsuit alleges that Facebook has stifled competition through the acquisition of smaller rivals, such as Instagram and WhatsApp. FTC officials reportedly prefer to launch an internal case that would preclude state attorneys general from participating. Although such action increases the odds of rendering a result favorable to the US government, placing the matter before an administrative judge also ensures the case will take much longer—potentially years—to resolve. In the interim, FTC Chairman Joe Simons is likely to be replaced by a Biden administration appointee as early as next year, though if Republicans control the Senate, appointments to regulatory agencies could become a major flashpoint between the White House and the GOP-controlled Senate. So although Biden will face pressure from elements of the Democratic party to reduce the market power of large tech companies, differences between the White House and Democratic members of Congress over the scope of such actions, including competition policy, are likely to limit more aggressive antitrust action.

For more geo-technology analysis, follow our team on Twitter: Paul Triolo, Kevin Allison, Xiaomeng Lu, Alexis Serfaty, and Clarise Brown.
Top story: Chances of an emerging conflict between Morocco and the Polisario Front in the Western Sahara region
Why it matters: Last week the Polisario Front withdrew from a 30-year-old ceasefire accord and claimed it had launched attacks on Moroccan targets, turning a formerly "frozen" conflict into a "hot" war. Military activity on the ground so far has in reality been quite minimal, but there is a chance of violent conflict erupting in the region of Western Sahara, known in Morocco as Moroccan Sahara, which would have ramifications for regional stability.

For more news and analysis of the Middle East & North Africa, follow Ayham Kamel on Twitter.
Top story: Congress back to work after informal recess
Why it matters: Legislators will resume regular legislative work this week after municipal elections on Sunday in the vast majority of Brazilian cities, with a large list of pending subjects that went unaddressed during the campaign period. Last Wednesday, the government whip in the lower house, Ricardo Barros, unveiled an ambitious list of proposals the administration plans to push through the remainder of the year, which includes central bank reform and a new bail out for states. But the agenda still has to be discussed with Speaker Rodrigo Maia and party leaders. In parallel, discussions on fiscal and tax reforms can gain some momentum in the coming weeks but are unlikely to pass all necessary votes to be enacted into law this year. Finally, dispute over next year's budget is also likely to get heated, with increased pressure from legislators to break the deadlock between Maia and the government minority coalition over the budget committee control.

For more news and analysis of Brazil, follow our team on Twitter: Christopher Garman, Silvio Cascione, and Filipe G. Carvalho.
Top story: Turkish central bank's monetary policy committee meeting on 19 November, the first time under new governor Naci Agbal
Why it matters: Amid heightened expectations about a rate hike, the bank's response will give a good indication of the scale and depth of monetary orthodoxy.

For more news and analysis of Europe, follow our team on Twitter: Mij Rahman, Naz Masraff, Emre Peker, and Federico Santi.
Energy, Climate & Resources
Top story: Governments ceding climate policymaking to sustainable investors
Why it matters: Governments are knowingly outsourcing the most difficult parts of decarbonization to the global sustainable finance investment community by relying on it to drive climate action agendas. The political effects of this trend are positive in the short term because governments can capitalize on investment-driven climate action without expending political or public capital; they are negative in the long term, however, owing to a lack of corollary social policies for stranded communities that government policies conventionally provide.

For more energy and climate analysis, follow our team on Twitter: Mikaela McQuade, Rohitesh Dhawan, Coco Zhang, and Gerald Butts.
See each edition of World in a Week.