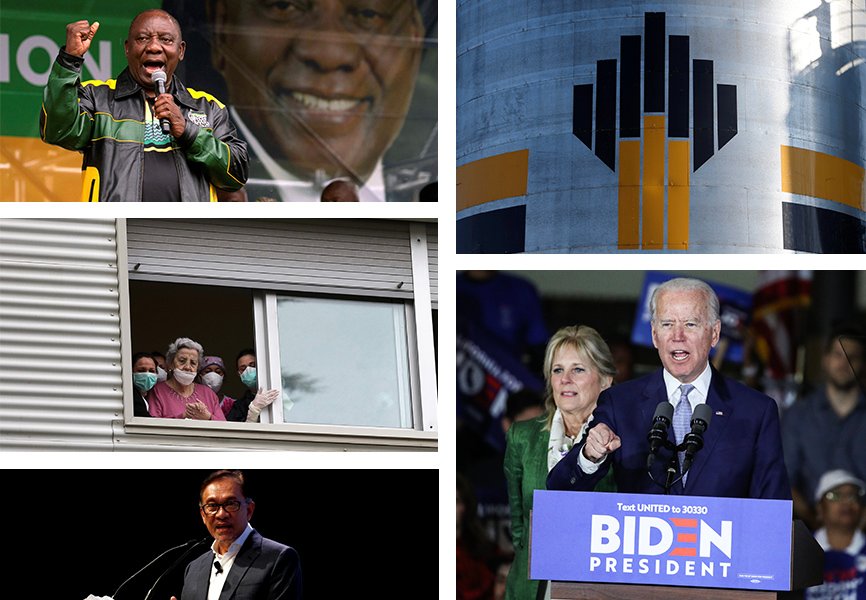 From Joe Biden's lead to Europe's Covid-19 inflection point, here are some of the top stories Eurasia Group's analysts are following this week.
United States
Top story: Biden pulling away
Why it matters: Two weeks of bad headlines for President Donald Trump—a poor debate performance, his Covid-19 diagnosis, and the collapse of economic stimulus talks—are adding to Joe Biden's lead in the polls and making it more likely that he'll win by a substantial margin, which in turn may decrease the time it takes for the results to be known.

For more news and analysis of US politics, follow Jon Lieber on Twitter.
Eurasia
Top story: Armenia-Azerbaijan pause in fighting fails on arrival
Why it matters: The foreign ministers of Armenia and Azerbaijan agreed to a brief pause to military operations over the weekend in Russia-brokered talks in Moscow. That agreement faltered almost immediately, but it raises hopes that the sides will return to the negotiating table.

For more news and analysis of Eurasia, follow Zachary Witlin on Twitter.
Top story: EU's Foreign Affairs Council on 12 October and the General Affairs Council (GAC) on 13 October, followed by the European Council on 15–16 October
Why it matters: Monday will be critical for the EU's targeted sanctions against Russians involved in the poisoning of opposition leader Alexei Navalny. GAC ministers will start drafting conclusions for the Council meeting focusing on the future of the EU-UK partnership, although we don't expect a deal to materialize this week.

For more news and analysis of Europe, follow our team on Twitter: Mij Rahman, Naz Masraff, Emre Peker, and Federico Santi.
Top story: South African President Cyril Ramaphosa announces his long-awaited economic reform package to the parliament on 15 October.
Why it matters: The speech will be closely watched by investors for cues on how the government will address key economic blockages, even if persistent problems like Eskom's debt restructuring are unlikely to be tackled.

For more news and analysis of Africa, follow Amaka Anku on Twitter.
Top story: The House Committee on the Judiciary's Subcommittee on Antitrust, Commercial, and Administrative Law published a majority report and recommendations stemming from its antitrust investigation into large internet platform companies. The report concluded that these companies were abusing their market positions and made a series of recommendations for policy actions that it said should be examined further.
Why it matters: The committee has no legal authority to impose remedies on the tech sector, but its recommendations could guide Democratic antitrust policy if Democrats win unified control of government in November. The majority report's recommendations include barring companies that operate platforms from competing on those platforms, changes to federal antitrust law to give them additional powers to police the digital economy, changing the standard used in antitrust law to include reduced competition, and granting more resources to federal antitrust regulators at the Justice Department and the Federal Trade Commission (FTC). While the report signals that Democratic members are preparing to advance legislation on tech competition next year, this would be a lower priority for a Biden administration than stimulus, healthcare, and climate change. Any attempts to pass new legislation changing US antitrust laws would involve a protracted battle with well-funded and politically savvy incumbent firms.

For more geo-technology analysis, follow our team on Twitter: Paul Triolo, Kevin Allison, Xiaomeng Lu, Alexis Serfaty, and Clarise Brown.
Top story: Israel and Lebanon will hold talks to discuss a long-running maritime border dispute that concerns offshore gas concessions.
Why it matters: The talks were organized by the US and will be held under the auspices of the UN in South Lebanon. It will be the first time since 1982 that Lebanon and Israel, who technically remain in a state of war, both agree to negotiate directly with one another. Agreement on the maritime zone could facilitate offshore gas exploration in both countries, but Lebanon's state of turmoil will likely slow down efforts to commercialize gas, even if talks yield a breakthrough.

For news and analysis of the Middle East & North Africa, follow Ayham Kamel on Twitter.
Top story: Europe's Covid-19 inflection point
Why it matters: With cases rising and early signs of upticks in healthcare strain and fatalities, will this region be able to avoid nationwide restrictions similar to this spring?

For more healthcare news and analysis, follow Scott Rosenstein on Twitter.
Top story: Local election campaigns intensify
Why it matters: Chatter around local elections will intensify this week as congress enters an informal recess so lawmakers can return to constituencies and campaign or back allies in mayoral and city council races nationally, set to occur on 15 November. Local elections will delay congressional works on fiscal and tax reforms, both closely watched by the financial markets. Incumbents and centrists will likely do well, with help from the federal government's large fiscal aid package, party funds, and pandemic restrictions, which inhibit opposition campaigns from taking to the streets, an important element in smaller towns. Lastly, leftist parties are unlikely to do well amid a lack of federal resources and lack of coordination between the leftist parties themselves, fielding multiple candidates in many key races instead of working around a common name.

For more news and analysis of Brazil, follow our team on Twitter: Christopher Garman, Silvio Cascione, and Filipe G. Carvalho.
Energy, Climate & Resources
Top story: Russian oil sector's diminished political clout
Why it matters: Russian oil companies' tax bill will go up by $3.8 billion next year after the Duma approved tax changes recently. These firms' lobbying power has been eroded by the pandemic, which has simultaneously led to a shortfall of state revenue and an excess of oil production. Russia is likely to grant new tax breaks to maintain production, but this is not a priority given the constraints of its production-cutting agreement with OPEC.

For more energy and climate analysis, follow our team on Twitter: Mikaela McQuade, Coco Zhang, and Gerald Butts.
Southeast & South Asia
Top story: Will Malaysia have a new government this week?
Why it matters: Opposition leader Anwar Ibrahim will meet the king on 13 October, when he will seek to convince the monarch that he now has the backing of a majority of MPs in parliament and therefore should be appointed prime minister, bringing down the government of incumbent Prime Minister Muhyiddin Yassin. Anwar has cried wolf several times before, and there is broad skepticism about his claim to have a majority, but the recent surge in Covid-19 cases puts more pressure on Muhyiddin and further raises political uncertainty in Malaysia.

For news and analysis of South Asia, follow Akhil Bery and Peter Mumford on Twitter.
See each edition of World in a Week.