First, the good news. The 2022 midterm elections halted the slide toward a constitutional crisis in the next US presidential election. Not because the Republicans won control of the House of Representatives, nor because the Democrats held the Senate. Most importantly, voters across the United States rejected virtually all candidates running for governor or secretary of state who denied the legitimacy of Biden's victory over Trump in the 2020 vote. And it's governors and secretaries of state who will administer future elections at the state level. That's why US politics doesn't appear higher on this year's list of top risks.
But it still made the cut.
The United States remains one of the most politically polarized and dysfunctional of the world's advanced industrial democracies. The growing partisan polarization of the American electorate is continuing to erode the legitimacy of core federal institutions: the three branches of government and the peaceful transfer of power through free and fair elections. Consequently, political power is devolving to the states, increasingly led by partisans stepping into the void left by Washington to pursue agendas that cannot be implemented by a fractious and sclerotic federal government. Accordingly, the contrast in policy direction between Texas and California, for example, is far starker than it was even five years ago.
This polarization has less impact on America's global position than you might expect. US advanced industrial allies and partners around the world still rely heavily on the United States in national security relations—both in terms of direct military coordination as well as, more broadly, in asymmetric threats (counterterrorism, cyberdefense) and national security-related components of the global economy (semiconductors, financial transactions). That's become less true among developing countries from Latin America, Southeast Asia, and sub-Saharan Africa—and particularly among oil producers in the Middle East. But the shift has more to do with China's and other countries' rise than US political dysfunction.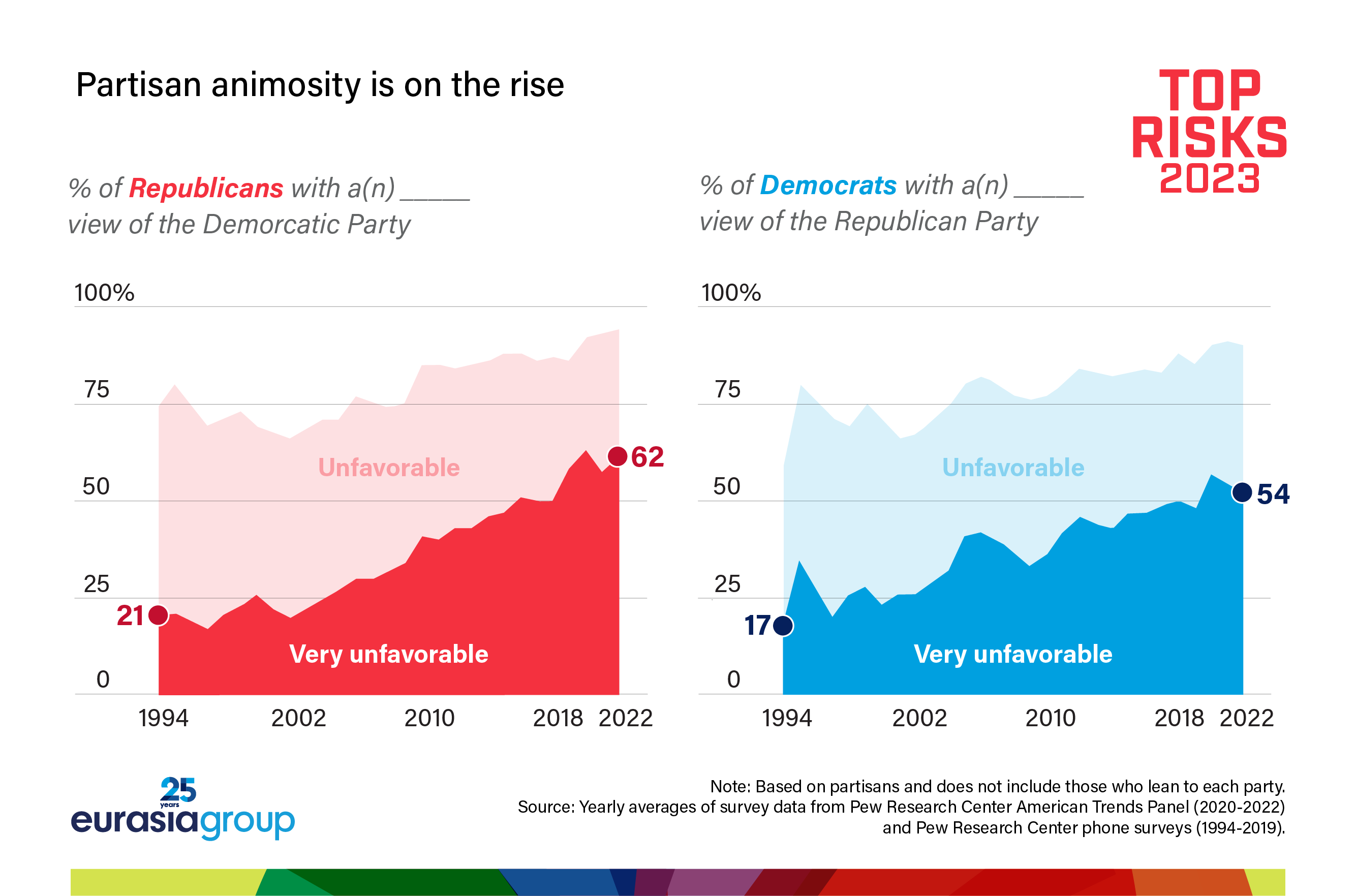 Nonetheless, this environment will become increasingly challenging for companies used to thinking of the United States as a coherent market with a predictable regulatory regime. States traditionally have competed for corporate investment through incentive packages. But now, conservative politicians are differentiating themselves by picking fights with major employers over issues such as environmental, social, and governance (ESG) regulations, while left-leaning politicians are pursuing more pro-worker, consumer, and environmental policies that increase the cost of doing business in their states. This divergence will make long-term investment planning more difficult for both American and foreign firms because a mastery of state-level politics will become central to a successful business strategy.
There is also the continuing risk of political violence in the United States, even as some who participated in the Capitol riots two years ago on 6 January are now being sent to prison. The polarization that drives public anger has become a structural feature of American life, fueled in part by social media (please see risk #3).
Of course, red-blue animosity has been trending higher for decades. But today, roughly two-thirds of Americans view members of the opposing party not just as wrong but as dishonest, immoral, and a threat to the country itself. And the belief that threats and violence are politically justified has risen among members of both parties—though the increase has been sharper among Republicans. American's growing propensity toward settling political debates through non-democratic means will increase the risk of large-scale protests and one-off acts of political violence.
For all these reasons, America's bitter political polarization remains a risk we expect will grow through 2023.
---

Oh, Canada
Canada has long seemed impervious to the political divisions and dysfunction apparent across the border in the United States. But the trucker convoy that occupied the capital of Ottawa last year—ostensibly protesting Covid-19 vaccination mandates—was a big indication that something had changed. In 2023, deepening polarization and regional antagonism in Canada will add to growing political instability on the continent.
Governments worldwide will face challenging economic conditions this year, and Canada is vulnerable. Persistent inflation will squeeze Canadians as rising interest rates and slowing growth prompt a sharp housing market correction, increase unemployment, and put fiscal pressures on indebted households, businesses, and governments.
These are manageable economic shocks. But two political factors are likely to make things worse. First, Canada's hyper-polarized political parties, divided along regional lines, will amplify rural-urban and eastern-western tensions for political gain.
Second, declining trust in traditional media outlets, combined with Canada's deep and unique exposure to the US political and media ecosystem—which manifests in cross-border political links, transnational special interest groups, Canadian consumption of US cable news and talk radio, and connections between US and Canadian far-right and far-left fringe groups (especially on social media)—will facilitate contagion from the divided republic to the south.
This means that Canada's combative partisan and regional politics are poised to take a turn for the worse. In Ottawa, inflammatory attacks on Prime Minister Justin Trudeau of the Liberal Party will be met by attempts to paint the Conservative opposition as a Canadian version of Trumpism. Both are overegged … but will gain traction. More serious would be hyper-partisan tactics by provincial premiers (taking a page from US governors) that reflect the increasing factionalization of Canadian politics. Flashpoints include negotiations over healthcare funding as well as federal immigration, energy, and climate change policies.
Canada and the US are growing closer, but it's less about alignment between Ottawa and Washington than cross-border alliances between sub-national governments and politicians of the same political stripe. Politics in Alberta and Texas (or New York and Ontario) are increasingly alike. This will add new uncertainties to US-Canada relations and the world's largest trading partnership. As the political temperature rises, we will see closer coordination between American and Canadian far-right and far-left fringe groups—with an increasing risk of disruptions, protests, civil disobedience, and even violence.
When the US sneezes, Canada catches a cold. Watch out for sniffles north of the border in 2023.