This week's superforecast
Will Italy hold a snap general election by the end of 2020?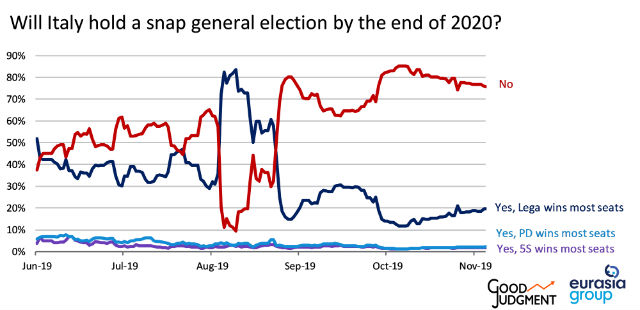 The Superforecasters predict that there is a 77% chance Italy will not hold a snap general election before the end of next year. This is up from the roughly 9% probability the forecast had reached in early August, as the coalition agreement between the Lega and M5S collapsed following the Lega's demand for early elections.
In a surprising turn, Five Star and the Democratic Party came to an agreement in late August. The Superforecasters' projection that this agreement will last through 2020 is now at 77%, down from the mid-October peak of 85%. This decrease was likely in reaction to record wins by Lega in the Umbria regional elections on 27 October, which cast doubt on the resiliency of the governing coalition.
This is line with Eurasia Group's in-house view, as our probability of early elections was recently increased from 20% to 30% due to growing friction within the ruling coalition, the continued decline in support for governing parties, and the likelihood of further local election defeats, principally Emilia-Romagna in January.
Over the course of the last month, the Superforecasters' probability of the Lega of winning the most seats if an early election were to occur has slightly increased. The party polls the best of any in Italy, currently around 34% compared to the Democratic Party's 19% and Five Star's 18%.
For more on this, read Politics in pictures: a visual guide to Italy and Italian political leaders scramble to avert early elections.