Back
Superforecaster Fridays: When will Donald Trump cease to be president of the US?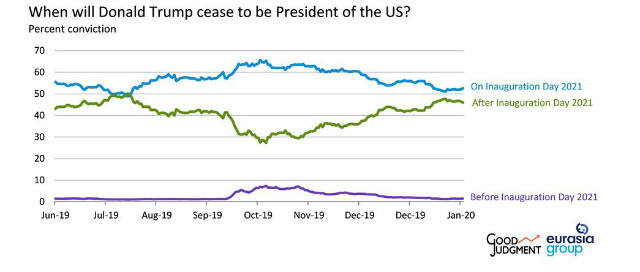 The Superforecasters currently predict that there is a 53% chance that Donald Trump's tenure as president of the United States ends on Inauguration Day 2021. This is down from 65%, which the figure peaked at in early October as impeachment proceedings began. The Superforecasters assign a 1% chance that Trump will step down before Inauguration Day due to impeachment or other external events.
The rise in Trump's reelection odds coincide with an increase in Trump's national approval rating by roughly 2 percentage points since October, as well as a perception that there is a decreasing chance of removal by impeachment as the trial has progressed in a partisan manner from the Democratic-led House to the Republican-led Senate.
While the Superforecasters currently assign a 46% chance of Trump's reelection victory, Eurasia Group sees a 60% probability that Trump will win reelection. Trump's rising approval ratings in 13 swing states suggest that impeachment may have served more to mobilize his base than to undermine his support and that a broadly favorable economic environment continues to help him.
While Trump holds an advantage in the key swing states, his margin is not large; this race is likely to be close regardless of who wins the Democratic nomination, with Michigan, Wisconsin, and Pennsylvania especially important for the election outcome.
To learn more, read our previous Superforecaster Fridays on how long the Trump presidency will last, watch House passes resolution vote on Trump impeachment and The impeachable Donald Trump, and read Risk 1: Rigged!: Who governs the US? in our Top Risks for 2020 report.