This week's superforecast
How long will the Trump presidency last?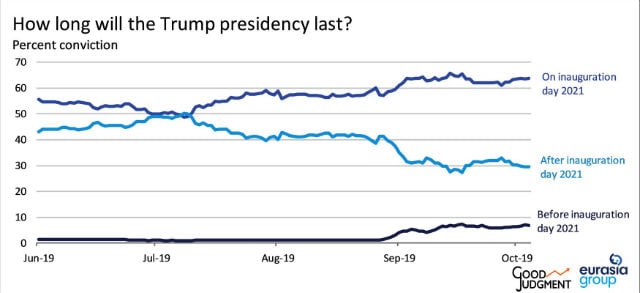 The Superforecasters currently predict that there is a 6.9% chance Donald Trump will cease to be president of the United States before Inauguration Day 2021. This is up from the 1% chance which the forecast had hovered around until September, when a whistleblower revealed possible misuse of executive power on the part of the president during a July phone call with Ukrainian President Volodymyr Zelensky.
The Superforecasters also consider the probability of Trump's reelection odds to have dropped significantly, from a high of 50.5% in July of this year, down to the current 29.8%. Public opinion on impeachment has shifted significantly, with the majority of Americans now supporting an impeachment trial in Congress.
A House bill formalizing the impeachment inquiry against President Donald Trump was passed yesterday, but this does not alter the entrenched partisan battle for his presidency, with articles of impeachment all but certain to pass in the House, and the Senate highly unlikely to convict.
Eurasia Group believes the resolution will probably give Democrats an advantage in court battles, but both sides may use this new public phase to cancel out any net impact on public opinion. If articles pass the House by early December, it would be possible for the Senate to conclude a inquiry by the end of the year; that said, it could easily be pushed into January.
To learn more, check out our previous Superforecaster on when Donald Trump will cease to be president, and watch Impeachment inquiry a serious political risk for Democrats, says Eurasia Group's Wright.