This week's superforecast
Will the Law and Justice Party (PiS) list win an absolute majority in the Sejm in Poland's next parliamentary election?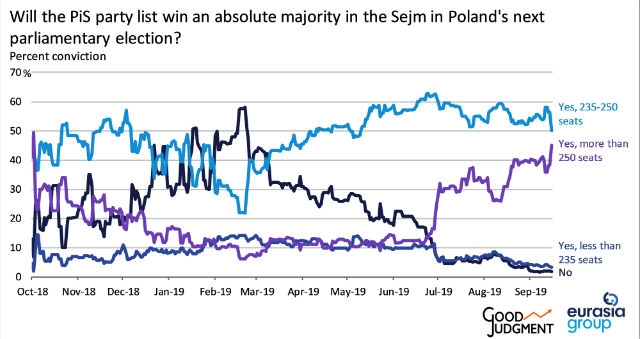 Good Judgement's Superforecasters currently assign a 98.3% probability that the Law and Justice Party (PiS) will win a majority of seats in Sunday's national Polish elections. The Superforecasters have become much more bullish than they were in February 2019, when "No" peaked at 58.3%.
Given strong economic growth, a dysfunctional political opposition, and the clear victory it scored in European Parliament elections, the ruling populist right-wing party is likely to secure a majority again in parliamentary elections this fall. The EU has triggered a disciplinary procedure against the Polish government, so PiS will continue its clash with Brussels. Poland also risks losing out on EU funding in the bloc's next budget.
Ahead of elections, the government has increased its control over the judiciary, the media, the bureaucracy, and civil society. Moreover, PiS has used an expansionary fiscal policy and private pension funds to finance higher social benefits, which could jeopardize budget consolidation and pose long-term risk to public finances and the pension system.
To learn more, see our previous Superforcaster Fridays: Who will win Poland's next parliamentary election? Also check out Politics in Pictures: a visual guide to European Parliament elections and Risk 4: European Populism in our Top Risks 2019 report.