This week's superforecast
What will be the end-of-day closing value for the US dollar against the Mexican peso on 29 November 2019?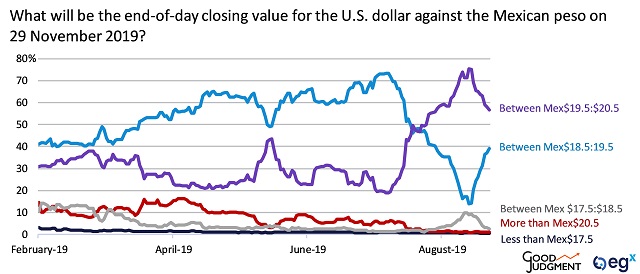 The Superforecasters currently assign a 56.5% probability that the end-of-day closing value of USDMXN will be between Mex $19.5 and $20.5 by 29 November 2019, with a 39.2% probability that the value will fall within Mex $18.5–19.5 and 2.5% probability that the range will be Mex $17.5–18.5. The Superforecasters have become more negative about the peso's outlook since July, though over the past few weeks the outlook has brightened somewhat.
The Mexican government this week injected $5 billion into the ailing state oil company PEMEX, aiming to prevent the company from receiving a threatened downgrade. The government devoted $9.5 billion year-to-date to PEMEX, and more support is likely to come via additional capital injections and a reduction of the company's tax burden.
These measures will fall well short of addressing PEMEX's structural challenges in the long haul—namely declining oil production and downward pressure on oil prices. They are also indicative of the government's limited ability to help PEMEX, the state's excessive reliance on oil-related revenues, and President Andres Manuel Lopez Obrador's (AMLO) minimal interest in overhauling PEMEX or broader fiscal policy.
PEMEX's credit crunch is negatively affecting Mexico's finances just as the government built its 2020 budget on overly optimistic assumptions about economic growth and oil revenues. This will all strain AMLO's promises of fiscal orthodoxy and potentially lead to a ratings downgrade.
Read our previous Superforecaster Fridays piece on the US dollar's value against the Mexican peso and The quick read about ... Mexico's recent political drama. Learn more with Politics in Pictures: a visual guide to US-Mexico and Mexico in our Top Risks for 2019 report.