Back
Superforecaster Fridays: By 31 December 2020, will Italy hold a snap general election?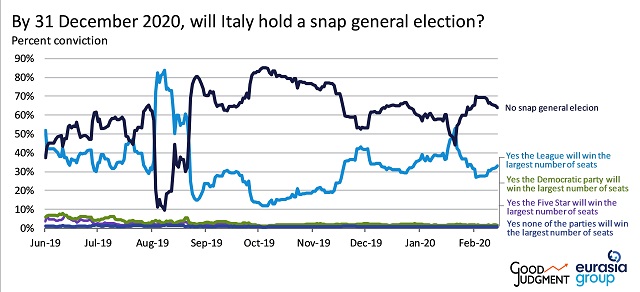 The Superforecasters currently predict that there is a 36% chance Italy will hold a snap general election before 31 December 2020, down from the 56% mark on 27 January. In the case of an early election, Lega is considered to be the absolute favorite with a 33% chance of winning the most seats, followed by the Democratic Party (PD) at 1.5% and the Five Star Movement (M5S) at 0.8%.
The victory of PD in last month's Emilia-Romagna elections stymied coalition concerns of a Lega electoral onslaught. However, tensions remain rife, as former Prime Minister Matteo Renzi's Italia Viva (IV) party could potentially move from coalition to opposition.
Though compromise is still possible, the odds of either a change in government or a reconfiguration of the governing majority as a result of IV switching sides have increased. Justice reform is a trigger, though the divisions are deep seated.
PD is under less pressure than before the Emilia-Romagna elections, however, to reconsider its alliance with M5S. M5S is in an ever-deeper crisis and even more reluctant to face elections given its continued decline in opinion polls.
Eurasia Group believes a change in government would not meaningfully affect Italy's policy outlook, since the overall composition of the coalition would not significantly change. Additionally, our snap elections odds remain unchanged, as we continue to project a 30% chance of early elections before the end of the year.
Learn more: