Updated 5 October 2018
Brazilians head to the polls on Sunday to vote in a hotly contested presidential election. The most recent first round polls show far-right candidate Jair Bolsonaro (PSL) in the lead with leftist Workers' Party (PT) candidate Fernando Haddad trailing behind.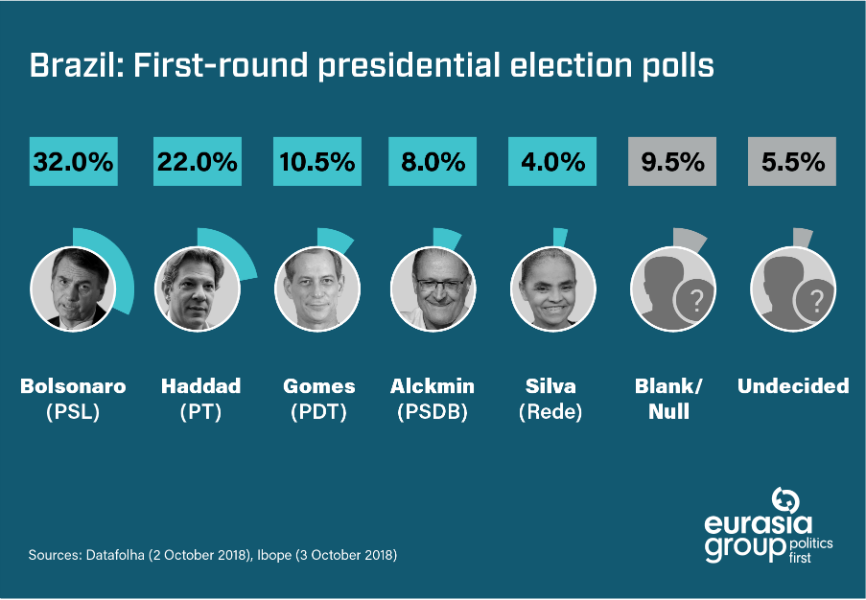 The question ahead of the 7 October vote is whether Bolsonaro's lead will be strong enough to cement his victory in the first round. For an outright victory, he would need to secure 50 percent plus one of valid votes. A second round of voting, scheduled for 28 October, could see an even closer fight. In a runoff simulation between Bolsonaro and Haddad, the two are neck-and-neck at 44 percent vs. 43 percent, respectively.
The following was originally published on 14 September 2018
The Workers' Party (PT) has named Fernando Haddad as its presidential candidate, positioning him to win the country's leftist vote five months after its charismatic leader Luiz Inacio Lula da Silva was sent to prison on corruption charges.
Brazilian courts have denied successive appeals to release Lula—a former president and giant of the Latin American left—and allow him to run in the October election. Haddad's candidacy was announced at a rally next to the federal police building where Lula is serving his sentence.

Haddad, 55, was education minister under Lula and mayor of Sao Paulo between 2012 and 2016. He lost his reelection bid when the party was at its lowest point, embroiled in corruption probes that culminated with the impeachment of then-president Dilma Rousseff. But despite that defeat, Haddad and the PT are in a strong position now to challenge presidential frontrunner Jair Bolsonaro, a polarizing far-right politician.

Lula himself has surged in national polls this year. With many political leaders tainted by corruption scandals, voters have increasingly shrugged off the charges brought against Lula. During his two terms in office from 2003 to 2011, aided by a commodities boom, he rolled out expansive social programs that are credited with lifting millions out of poverty. Many Brazilians maintain fond memories of life under Lula. Moreover, many also believe he is the victim of political persecution: Leaders from other parties have not been arrested and remain eligible to run for office.

But the PT's strength goes beyond Lula. It is the only Brazilian party with a large base of engaged voters, going back to its origins in the labor movement of the 1980s and the period of rapid economic growth of the 2000s. Against the backdrop of President Michel Temer's unpopular Brazilian Democratic Movement administration, the PT's message has resonated more clearly. The number of voters who spontaneously identify themselves with the PT is on the rise again, at 21% according to recent polls.

Haddad will take advantage of these factors. Lula cannot campaign, but the party can use pre-recorded videos to show his endorsement of Haddad. Time is short until the 7 October first round vote, but Haddad will probably make it to the runoff.

Haddad himself is a pragmatic voice within the PT, and he would probably moderate the party's leftist platform if elected. But he would govern in a very polarized environment, with little sway over congress, and a leftist base pushing him to roll back Temer's pro-business agenda. Much-needed spending reforms would be on the table but could fall short of what is required to put the country's finances on a more sustainable path. Consequently, the prospect of a Haddad presidency has fueled jitters in financial markets.

But once he gets to a runoff, the situation would be more challenging. Negative campaigning would increase, heightening polarization. And while the PT might be recovering lost support among its base, its rejection levels remain high and Haddad would have a hard time explaining to centrist voters what makes him different from Rousseff, who left office with very low approval ratings. Haddad would fare best against Bolsonaro, who is also likely to make it to the runoff and has similarly high disapproval ratings. But even then, Haddad will probably be at a disadvantage because of the tendency of many voters to associate his party with corruption.

It would be a tight race. At a minimum, the Brazilian left is poised to make a strong run at the presidency, two years after Rousseff's ouster. The contest is wide open and those worried about the stability of Latin America's largest economy will need to hold their breaths until the second-round vote on 28 October.