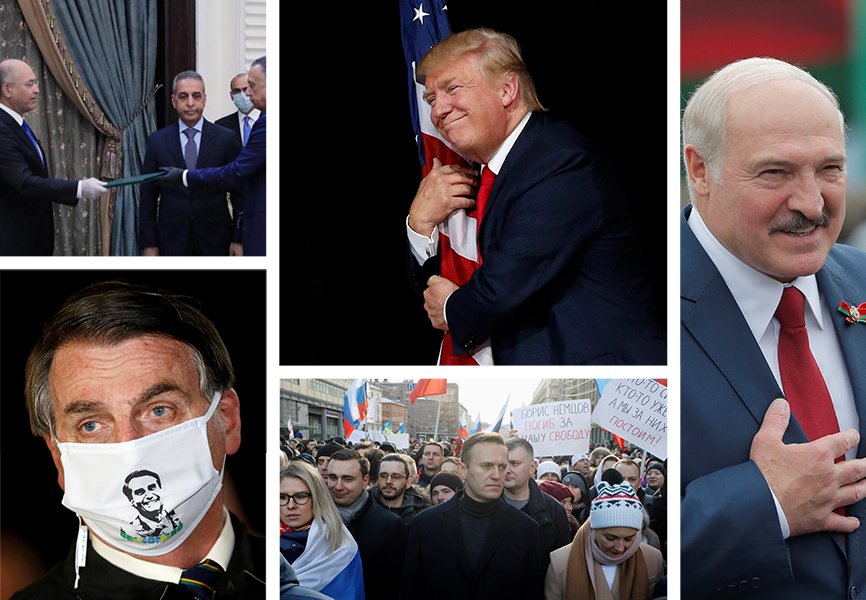 From the Republican National Convention to Russian opposition leader Alexei Navalny's suspected poisoning, here are some of the top stories Eurasia Group's analysts are following this week.
United States
Top story: Republican National Convention
Why it matters: With the coronavirus pandemic and struggling economy undercutting the case Republicans hoped to make for President Donald Trump's reelection, they will gather the week after the Democrats' largely successful virtual convention to make the argument for a second Trump term. The president plans to speak each night of the convention.

For more news and analysis of US politics, follow Jon Lieber on Twitter.
Top story: Runup to 2021 budget proposal
Why it matters: The administration has until 31 August to submit next year's budget proposal to congress. Even though the government will submit a bill complying with the constitutional spending cap, it will kick off debate over how to accommodate investments with increased pressure for more social spending in 2021 to boost economic recovery after the pandemic. Legislators will face a challenge balancing market pressure for fiscal discipline and public opinion demands for more government aid. This conundrum will probably lead to some limited and temporary exemptions being approved for 2021 alongside a mini-fiscal reform to curb mandatory expenses' growth over the ensuing years.

For more news and analysis of Brazil, follow our team on Twitter: Christopher Garman, Silvio Cascione, Filipe G. Carvalho.
Eurasia
Top story: Poisoning of Russian opposition leader Alexei Navalny
Why it matters: A prominent critic of Russian President Vladimir Putin, Navalny fell into a coma after being poisoned and was eventually evacuated to Germany for treatment. Navalny has been attacked before, and this case was likely an effort suppress opposition protests, election campaigns, and anticorruption investigations he has led. It could have the opposite effect, galvanizing further protests and a Western response.

For more news and analysis of Eurasia, follow Zachary Witlin on Twitter.
Northeast Asia
Top story: Flooding in Chongqing
Why it matters: Seasonal flooding hit megacity Chongqing, affecting farms and cultural sites and some 20,000 businesses while displacing 130,000 people. President Xi Jinping's personal involvement indicates that the government is confident the situation is manageable.

For more news and analysis of China, follow our team on Twitter: Michael Hirson, Kelsey Broderick, and Allison Sherlock.
Top story: Iraqi Prime Minister Mustafa al Kadhimi's push for reforms in Iraq after his meeting with President Trump in Washington last week. Finance Minister Ali Allawi is also in the UK with a delegation this week to gather additional support for these plans.
Why it matters: When Kadhimi stepped up to the plate as prime minister of Iraq a few months ago, he inherited highly complex economic, political, and healthcare challenges, and pledged to implement deep reforms. So far he has come against parliamentary opposition, but deeper US and UK support should give him and his team an additional boost to help overcome this resistance

For more news and analysis of the Middle East and North Africa, follow our Practice Head Ayham Kamel on Twitter.
Top story: EU foreign ministers will convene an informal gathering in Berlin on 27–28 August, when they'll be facing a loaded agenda topped by Belarus and Turkey's activities in the Eastern Mediterranean.
Why it matters: While the meeting will not yield any official decisions, it provides a forum for the top diplomats to freely air views and formulate the EU's strategy. On Belarus, the foreign ministers will likely agree on a revamped sanctions regime and discuss how to best engage President Alexander Lukashenko for a resolution to the post-election crisis. Amid rising calls from Greece, Cyprus, and France, the ministers will also debate how to rebuke President Recep Tayyip Erdogan's aggressive hydrocarbon exploration and naval exercises in the Eastern Mediterranean. While Germany will try to maintain stability with Turkey, the foreign ministers could further discussions about more sanctions against Turkish officials involved in drilling activities.

For more news and analysis of Europe, follow our team on Twitter: Mij Rahman, Naz Masraff, Emre Peker, and Federico Santi.
Energy, Climate & Resources
Top story: Downstream sector increases biofuels and hydrogen efforts
Why it matters: The Covid-19 pandemic has dealt another blow to the global downstream sector, with uneven demand and weak utilization affecting margins. Refiners increasingly see profitability through reducing capacity for conventional production (Asia, US), converting facilities to producing renewable fuels (Phillips 66, Marathon Petroleum, HollyFrontier), and developing hydrogen facilities to decarbonize refining processes (Shell, BP, Equinor, Phillips 66). These are signs that the downstream sector will need an "all of the above" approach to secure a future in the energy transition.

For more energy and climate analysis, follow our team on Twitter: Mikaela McQuade, Coco Zhang, and Gerald Butts.
See each edition of World in a Week.