UPDATED 19 MARCH 2020:
In January, risk #9 described how Latin American societies had become increasingly polarized in recent years. In 2020, public anger over sluggish growth, corruption, and low-quality public services would keep the risk of political instability high. This comes at a time when vulnerable middle classes are expecting more state spending on social services, reducing the ability of government to undertake austerity measures expected by foreign investors and the IMF. We expected protests to spread, fiscal balances to deteriorate, antiestablishment politicians to grow stronger, and election outcomes to become less predictable.
Latin America is one of the least-prepared parts of the world to deal with the coronavirus. Serious outbreaks across the region, in conjunction with the oil price collapse, will further stoke the voter anger described in our January report. All the problems we predicted will become more likely: fiscal balances will deteriorate, currencies will plummet, anger with governments will rise, public services will fray, and investment flows will diminish. In turn, discontent will reduce governments' ability to undertake needed austerity measures in some countries and further reduce the fiscal space needed to appease protesters in others (for example, Chile). Amid a collapse in oil prices, the leaders of oil-producing countries such as Brazil, Colombia, Ecuador, and Mexico will struggle to keep their approval ratings from collapsing. All four also face fiscal constraints. The outlook is particularly bad for Ecuador (and Argentina, though for reasons aside from oil); in Brazil, reforms will still advance, though at a more erratic pace, while in Mexico a poorly functioning government will worsen the crisis.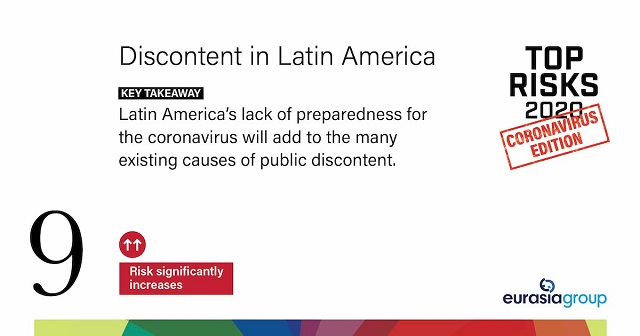 ORIGINALLY PUBLISHED 6 JANUARY 2020:
PUBLIC ANGER WILL KEEP THE RISK OF POLITICAL INSTABILITY HIGH ACROSS THE REGION. Voter complaints include sluggish growth, corruption, and low-quality public services. Even worse for governments, new and vulnerable middle classes want more spending on social services, and Latin American societies are deeply polarized.
This discontent reduces governments' ability to undertake needed austerity measures. The IMF and investors will press for fiscal prudence, but governments across the region will respond half-heartedly. These pressures will generate risks across Latin America: Protests will occur, fiscal balances will deteriorate, election outcomes will be less predictable, populist and antiestablishment politicians will grow stronger, and sentiment will worsen.
The election of right-wing presidents in Argentina (2015), Brazil (2018), Colombia (2018), Chile (2017), and Ecuador (2017) has proven to be a backlash against incumbents and political establishments rather than an endorsement of market reforms.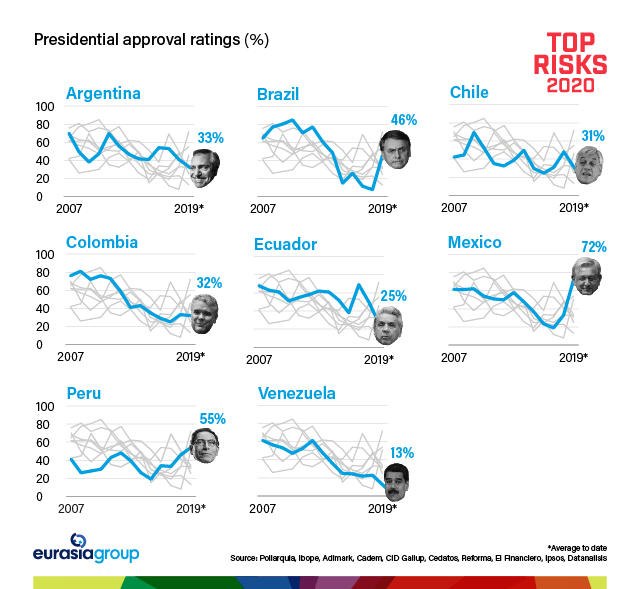 And examples abound of popular discontent leading to market-negative political change. In Argentina, President Alberto Fernandez was elected by angry and hurting voters. He will increase state intervention and try to boost growth by abandoning fiscal and monetary prudence. Negotiations with private creditors and the IMF will be contentious. Fernandez will try to minimize debt repayments during his term, and he'll balk at implementing pension and labor reforms.
In Ecuador, an angry electorate forced President Lenin Moreno to back down from a fuel price hike he negotiated with the IMF, leaving him severely weakened. He'll struggle to cut spending or raise additional revenue, putting pressure on the fiscal balance and the IMF program. These developments heighten the likelihood that a populist candidate will emerge ahead of the 2021 elections.
Discontent reduces governments' ability to undertake needed austerity measures.

Colombian President Ivan Duque will struggle to maintain fiscal stability. Eighteen months into a four-year term, his approval rating stands at 24%. Without a majority in Congress and facing growing pressure from the streets, Duque will fail to pass meaningful structural reforms, and voter discontent will grow.

Public anger and protests in Chile forced President Sebastian Pinera to dramatically ramp up social spending and start the process of rewriting the constitution in 2019. The unrest was the result of deep-seated discontent with the status quo. Constitutional changes will hurt the economy by triggering higher spending, more regulation, and persistent uncertainty over the substance of the changes.

In Mexico, President Andres Manuel Lopez Obrador remains popular, but his promise to maintain fiscal stability while increasing spending will be difficult to maintain. He's committed to boosting social and infrastructure spending while grappling with a slowing economy and lower oil production. Lopez Obrador will push through austerity measures and raise taxes, but these won't be enough. Security conditions will worsen.

Brazil is the one major economically promising country in the region for 2020. President Jair Bolsonaro, like many of his colleagues, was elected as an outsider. He has passed landmark pension reform legislation and is pursuing other overhauls, including on taxes. His approval ratings are low (44%) but stable, and he has a loyal base. But while the Brazilian economy is trending favorably, public anger will come quickly if current forecasts for a rebound don't pan out. That in turn would limit Bolsonaro's ability to implement reforms, potentially turning his administration toward more overt nationalism and/or helping the return of the opposition in 2022—either way a challenge for the region's largest economy.