PUBLIC ANGER WILL KEEP THE RISK OF POLITICAL INSTABILITY HIGH ACROSS THE REGION. Voter complaints include sluggish growth, corruption, and low-quality public services. Even worse for governments, new and vulnerable middle classes want more spending on social services, and Latin American societies are deeply polarized.
This discontent reduces governments' ability to undertake needed austerity measures. The IMF and investors will press for fiscal prudence, but governments across the region will respond half-heartedly. These pressures will generate risks across Latin America: Protests will occur, fiscal balances will deteriorate, election outcomes will be less predictable, populist and antiestablishment politicians will grow stronger, and sentiment will worsen.
The election of right-wing presidents in Argentina (2015), Brazil (2018), Colombia (2018), Chile (2017), and Ecuador (2017) has proven to be a backlash against incumbents and political establishments rather than an endorsement of market reforms.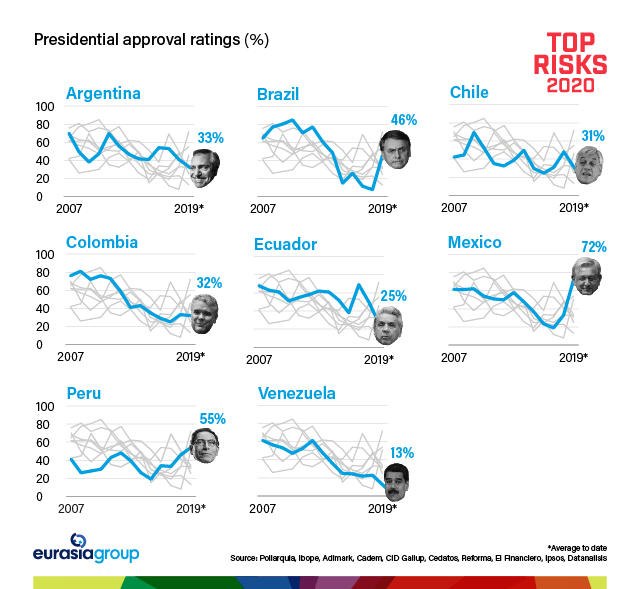 And examples abound of popular discontent leading to market-negative political change. In Argentina, President Alberto Fernandez was elected by angry and hurting voters. He will increase state intervention and try to boost growth by abandoning fiscal and monetary prudence. Negotiations with private creditors and the IMF will be contentious. Fernandez will try to minimize debt repayments during his term, and he'll balk at implementing pension and labor reforms.
In Ecuador, an angry electorate forced President Lenin Moreno to back down from a fuel price hike he negotiated with the IMF, leaving him severely weakened. He'll struggle to cut spending or raise additional revenue, putting pressure on the fiscal balance and the IMF program. These developments heighten the likelihood that a populist candidate will emerge ahead of the 2021 elections.