Specter of recession haunting German politics
Earlier this month the Federal Statistical Office of Germany announced that June industrial production decelerated by 5.2% year over year, the largest annual decline in almost a decade. The Economy Ministry attributed the lackluster reading to weakness in the metal, machinery, and auto production industries, driven by the ongoing global slowdown and escalating trade tensions.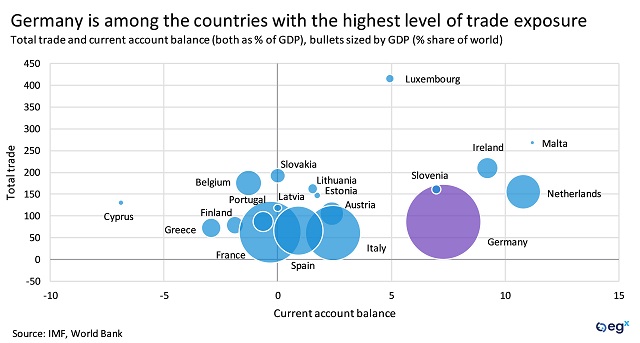 A German recession now looks probable. The economy shrank by -0.1% in the second quarter of this year. Since then the critical manufacturing sector (which makes up 27% of GDP) continues to weaken and business confidence is plummeting (see below). Recognizing these headwinds, even Germany's central bank, the Bundesbank, warned on 19 August that the economy would likely shrink again in the third quarter.
The timing could not be worse for German politics. The slowing economy comes as the sun is setting on the long reign of Chancellor Angela Merkel, whose influence over domestic and broader EU politics is declining even though she intends to stay in office until 2021. Divisions are becoming apparent within the ruling "grand coalition" of the sister Christian Democratic Union and Christian Social Union (CDU/CSU) and the Social Democratic Party (SPD). Populist sentiment is rising, lending support to the far-right Alternative for Germany (AfD) party. As a result of these pressures Eurasia Group thinks the grand coalition will likely break up entirely by the end of the year.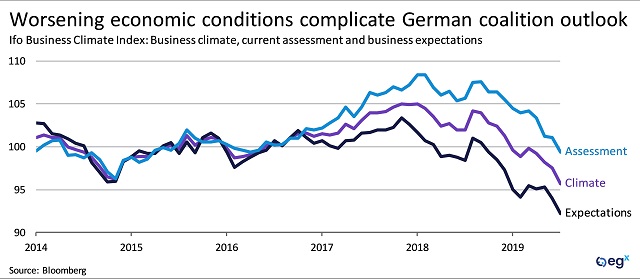 State elections will be bellwethers
Upcoming regional elections in September and October will be acid tests of voter support for populist voices outside of the German centrist mainstream. In September, a far-right and eco-socialist surge looks likely in Brandenburg and Saxony's state elections. Latest polls show a historic level of support for the AfD and Greens in these two former East German states. Some observers anticipate the AfD will even win one or both of the states outright for the first time—the party was just founded in 2013. Even if the AfD falls short of complete victory, a strong performance by these parties at the cost of the CDU and the SPD would pressure Merkel and her grand coalition over their policies in areas from immigration to climate change and fiscal spending. Further strain within the ruling grand coalition would result, as the SPD distances itself from Merkel's recent policies and the CDU/CSU parties consider other political allies at both the federal and state levels.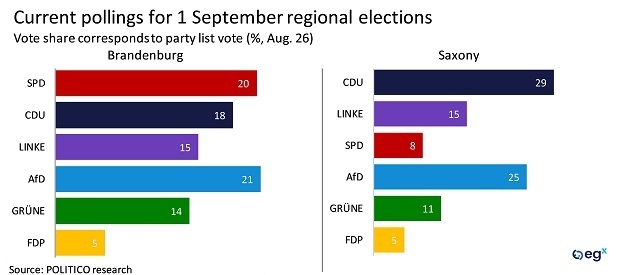 In late October parliamentary elections will also be held in Thüringen, another former East German state. Here, too, the CDU hopes to maintain its plurality but faces likely advances by the AfD and Linke (the far-left). These three states are not immensely impactful to federal politics, and CDU's main base of support lies elsewhere. But a collective setback would still force the grand coalition parties to reassess their political alliances, making a breakup more likely by the end of the year.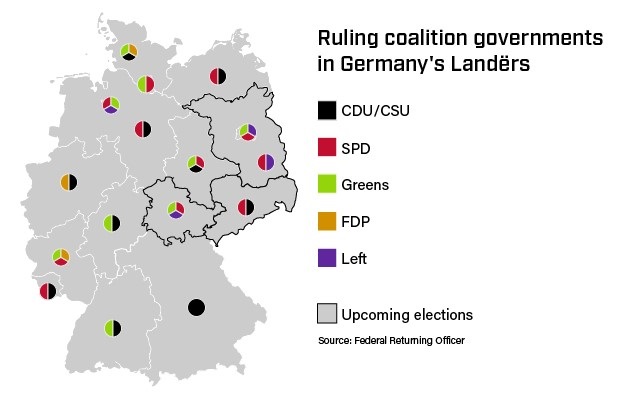 Eurozone divergence on fiscal policy
Turbulent politics and a bleak economic outlook for Germany won't be enough to reshape the divergence underway on fiscal policy among Europe's major economies, at least for now. Even a breakup of the grand coalition would not necessarily shift German reticence toward fiscal stimulus. Rumors of German fiscal expansion heightened bund yields in recent weeks, but the Bundesbank quickly refuted these rumors as the government stood firm on its balanced budget policy.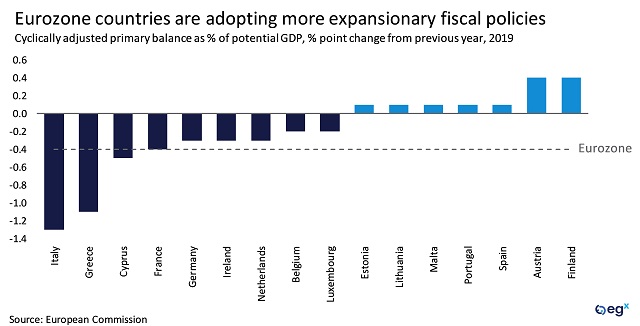 Throughout her term as chancellor, Angela Merkel has been able to isolate challenges in domestic politics from her international duties. No longer. While Merkel sticks to her "whatever it takes" mentality on Brexit, refugee migration, and other European-wide issues, her influence over the Eurozone and ability to act as a critical stabilizer for EU politics is waning. Still, Germany has multiple representatives in EU leadership roles, who de facto reflect broader EU interests rather than Merkel's political agenda.