As the
Covid-19 coronavirus
exacts a mounting death toll on populations around the world and causes unprecedented economic and social disruption, many national leaders are casting the fight against the deadly disease as a "war" to shore up public support for themselves and their draconian policies. The tactic could work in the short term but might not be sufficient in the longer term to counteract the effects of profound economic dislocation. As Eurasia Group Managing Director for the Americas
Christopher Garman
and Ipsos President of US Public Affairs Clifford Young explain, these dynamics could benefit incumbents such as
US President Donald Trump
who face voters in 2020.
What is the evidence?
It might seem logical that the crisis would undermine incumbents' reelection prospects. The economic repercussions will be severe, and the public usually blames leaders in such circumstances. When it comes to a pandemic, however, there aren't good historical references to draw on. The most recent was the Spanish Flu of 1918, but that occurred at a time that much of the world was at war. Will the public treat the current coronavirus outbreak as an economic crisis? A natural disaster? Or alternatively, a war? To get some sense of what the different outcomes might look like, Ipsos Public Affairs collected a summary of the existing literature on how public opinion reacts to different types of disasters.
Clearly, the public doesn't react well to economic downturns. Currency devaluations, which can be used as a proxy for an economic crisis, lead to a 17% drop in approval ratings for incumbents. Power blackouts, which the public can also more easily hold governments accountable for, lead to a drop in support of 10%. Natural disasters such as floods and hurricanes, however, seem to be have a mixed impact, maybe because much depends on how a leader rises to the challenge. Poor management can cause a significant hit to a leader's popularity—like Hurricane Katrina did for President George W. Bush in 2005—or a big boost in ratings, like it did for Chilean President Sebastian Pinera following the 2010 mining accident. The public responds favorably to incumbents, however, in the event of wars (16% rise in approval ratings) and terrorist attacks (22% boost). Voters tend to "rally around the flag" in response to an event perceived as an external threat or national emergency.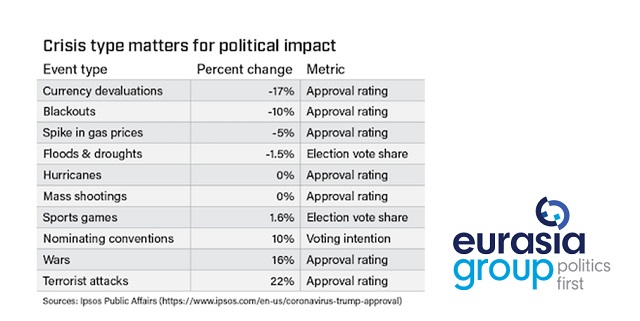 So will the public reward incumbents who treat the current crisis as a war?
There isn't much public opinion data available yet, but preliminary indicators point in this direction. South Korea, Italy, and France are countries that have adopted aggressive containment measures. President Moon Jae-in has been rewarded with a bump in his approval ratings, while recent surveys show trust in Italy's government and prime minister have risen. In France, most of the population supports the lockdown, closing borders, and postponing elections. President Emmanuel Macron's declaration of war (he used that language) will probably boost him politically.
Alternatively, leaders who are worried about the economic repercussions of the crisis and have attempted to downplay it may be punished. The clearest example of this is in Brazil, where
President Jair Bolsonaro dismissed the crisis
, called reactions "hysteria," and greeted protesters on 15 March, even though he was being tested for Covid-19. The public response was a coordinated "panelaco"—or pot-banging—in major metropolitan centers when Bolsonaro recently addressed the nation on TV. Mexico's President Andres Manuel Lopez Obrador,
who has adopted a similar strategy
, could be in for a fall in his approval ratings as well. Chile's Pinera—who is suffering historically low levels of support—could gain a temporary reprieve for taking the opposite stance.
Then there is the category of leaders who started out minimizing the virus and are now pivoting in their approach. Trump and Prime Minister Boris Johnson in the UK fall in that category. Both started with a strategy of dismissing its severity but seem to be pivoting to an approach of taking more dramatic measures. In the US, an ABC News/Ipsos poll last week revealed that support toward
how Trump is handling the coronavirus crisis
rose by 12 percentage points, from 43% to 55%, after the president began taking more aggressive measures of containment. And according to a Gallup poll this week, his approval ratings jumped from 44% to 49% in just two weeks.
How about the longer term?
More perilous for incumbents, however, are the second order effects of the current crisis. Deep recessions, high unemployment, and overburdened public health systems will take their toll. The early "wartime" glow of the crisis is likely to fade.
This crisis comes at a moment in which trust in institutions like the media, political parties, and the political establishment are at historically low levels in large parts of
Europe
, the US, and
Latin America
. A recession and overburdened public health institutions are likely to deepen that distrust over time. Pre-existing nativist sentiment in parts of Europe and the US will also grow worse. Economic crises could become especially acute in emerging market countries. Closed regimes could face the prospect of collapse.
Consequently, the prospects for incumbents look worse in 2021 and 2022 than they do in 2020. Eurasia Group is still forecasting Trump to be a slight favorite to
win reelection in the US
, and the same goes for President Moon Jae-in's Democratic Party of Korea in National Assembly elections on 15 April.
Learn more: