The UK will exit the EU today, after numerous missed deadlines and three and a half years of contentious negotiations that followed the decision to leave the 28-member union in June 2016. As much remains to be settled regarding future relations between the two sides, the next stage of the process is unlikely to be less fraught. Eurasia Group expert
Mujtaba Rahman
explains.
What happens next?
For the rest of this year, life will remain much the same for the UK, with the country still following EU rules and trading freely with its former partners. But this transition period will come to an end on 31 December, and the UK will leave the single market and customs union. The two sides will need to have agreed to the terms of a new relationship by then to prevent WTO tariffs from being erected at that time.
Similarly, UK authorities will need to work out the details of a mechanism to check goods crossing the Irish Sea between Northern Ireland and Great Britain, the solution devised to avoid establishing a hard border between Northern Ireland and the Republic of Ireland. That prospect has raised troubling memories of sectarian violence.
Apart from trade, many other aspects of the future UK-EU relationship will also need to be decided, though this will likely take more time. Some of these areas include law enforcement, data sharing, aviation standards, fishing waters, and regulation of medicines.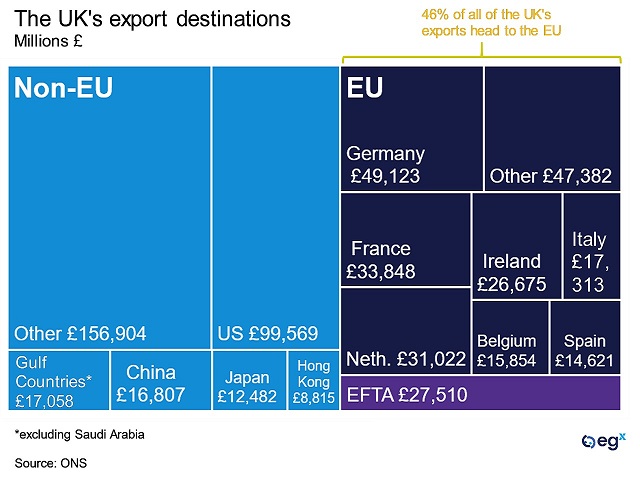 What does the UK want from the negotiations?
Fresh off his
election victory last month
, Prime Minister Boris Johnson set the 31 December 2020 deadline for the end of the transition period. It was a move to please his base and to brace the EU for a rapid negotiation process. Johnson is expected to spell out the UK's goals for the trade talks in a speech next week. He will take personal charge of the negotiations; a 40-person Taskforce Europe run by his EU sherpa David Frost will report directly to him. Michael Gove will lead the talks at the political level.
Johnson's government will seek to obtain access to the EU for UK goods with zero tariffs and zero quotas, what it is calling a zero/zero deal. Key to the negotiations will be what the EU asks for in return, and much of the focus will be on level playing field commitments, that is agreements to follow a set of common rules and standards. Though a technical issue, it is also important politically, as the desire to escape Brussels's regulatory control was an important driving force behind Brexit. So UK officials will likely make level playing field commitments in some areas but push hard for the freedom to change them over time.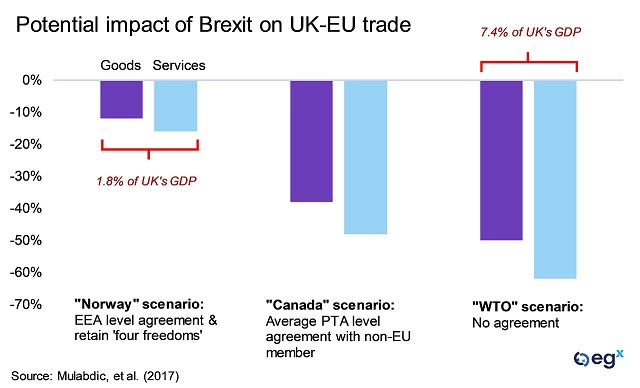 What does the EU want?
Officials have made clear they will demand strict adherence to a level playing field in the areas of state aid, environment, fiscal, labor, and social policies. Not losing access to UK waters for fishing is another red line for the EU. Though much of the fish caught in the UK is already exported to EU countries and the sector accounts for less than 1% of the UK economy, fishing is highly symbolic; many fishermen voted for Brexit to "take back control" of UK waters, so a concession on this would be a hard sell.
Several member states, however, want to go much further and reach agreements on non-trade issues such as social security, aviation, road transport, data, security, and foreign policy as part of a zero/zero deal.
Given other EU priorities in the coming months— securing a deal on the budget, agreeing to an interim 2030 climate target, lowering trade tensions with the US—most senior officials do not expect real progress in the negotiations until June; Germany is also clearly of the view that UK-EU trade talks will be the top issue of its EU presidency, which it will hold in the second half of the year. Discussions on trade in services are expected to come late in the process.
What are the prospects for a deal?
Johnson hopes that the UK's exit, new leadership in Brussels, and an effort to build personal relationships with EU leaders will allow him to reset UK-EU relations. His allies talk about "positive engagement" with the EU, so he will not repeatedly threaten that the UK is prepared to crash out of the transition arrangement with no new trade deal in place, a tactic he used in negotiating the withdrawal agreement. He is aware that talk of no trade deal is raising fears in the business world and dampening investment.
The
UK prime minister
also recognizes that many people who voted for him last month want to move on from Brexit. A confrontational approach would undermine Johnson's plea, in his New Year's message, for the nation to come together. He wants the "remainer" and "leaver" labels consigned to history and has promised to be prime minister for everyone.
Johnson will push hard to close a deal this year and is extremely unlikely to seek an extension of the transition period beyond December; remaining in the single market and customs union, with no say over their rules, would anger many lawmakers and voters. A more likely scenario is that a bare bones trade deal on goods is clinched at the last minute, with an agreement to carry on talking (without a formal extension of the transition) about issues such as services, data-sharing, aviation, and transport.
To learn more, read Politics in Pictures: a visual guide to Brexit and get Eurasia Group's full Brexit coverage.