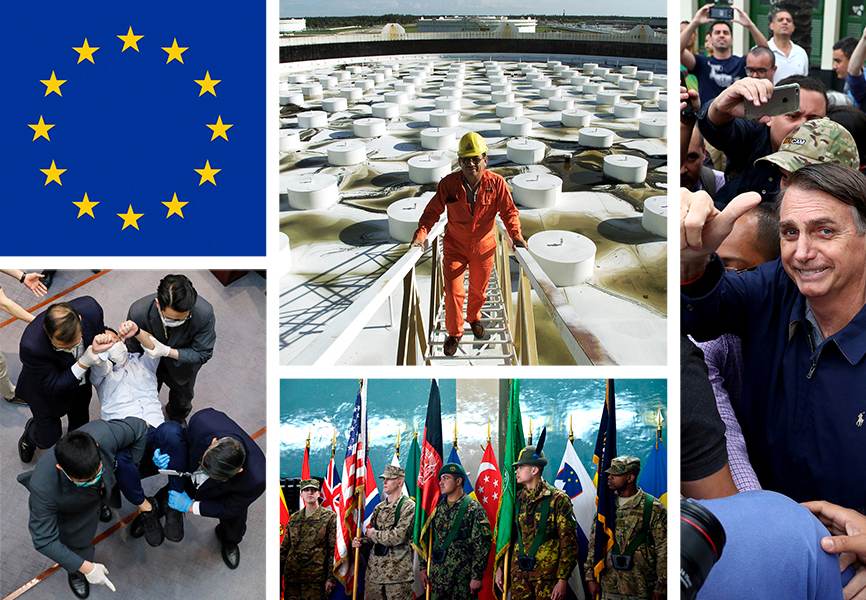 From Hong Kong's National Security Law to Russian bounties to kill US troops, here are some of the top stories Eurasia Group's analysts are following this week.
Top story: Eurogroup meeting on 9 July, when the new president of the Eurogroup will be elected
Why it matters: The leadership decision is critical for the outlook for Europe's post-pandemic recovery.
Northeast Asia
Top story: Implementation of Hong Kong's National Security Law
Why it matters: As the Hong Kong government builds out new institutions to enforce the new law criminalizing "seditious" activity, it will become much riskier for protesters to take to the streets. During the 1 July protests marking the anniversary of Hong Kong's handover from Britain, 10 individuals were arrested on suspicion of violating the law.
Top story: Two prominent opposition figures of Oromo origin, Ethiopia's largest ethnic group, have been arrested amid large-scale protests over the assassination of Oromo cultural icon Hachalu Hundessa.
Why it matters: Their arrest and perceptions, true or not, that the government was involved in Hachalu's murder create the risk of sustained protests and a loss of state control of some urban areas, undermining measures to contain Covid-19.
Top story: Social media regulation moving through congress
Why it matters: Lower house legislators will start discussions on a proposal approved by senators last week to try combating the dissemination of fake news. Widespread identification requirements for social media profiles were removed from the upper house's draft, but messages' traceability provisions were included in the text's final version. Centrist parties in the lower house will probably push for a watered down version of the bill, but even in this scenario it can be vetoed by President Jair Bolsonaro, who hinted last week that he saw the proposal as a threat to users' privacy. If that happens, it might cause the first rift between Bolsonaro and his newly formed coalition, since the issue is particularly sensitive in congress, where a probe into fake news during 2018 elections has been ongoing since last September.
Energy, Climate & Resources
Top story: Energy sector challenges in Latin America will persist
Why it matters: Despite the recent partial recovery of oil prices, the outlook for the region's oil-producing countries and national oil companies remains bleak. The sustained drop in oil revenue, combined with a severe economic contraction, will hurt public finances and force fiscal reforms in the medium and long term. Mexico and Argentina will take nationalistic approaches, further undermining fiscal revenue; Ecuador and Venezuela will respond pragmatically but achieve poor results given their structural vulnerabilities.
Eurasia
Top story: Alleged Russian bounties for US troops in Afghanistan
Why it matters: US lawmakers reacted with outrage, but also some caution, to an alleged Russian offer of bounties for killing US troops in Afghanistan. The debate will continue over the credibility of the intelligence—President Trump deemed it "fake news" and denied that he was briefed on the matter—and whether a response is warranted. Any response, however, is likely to be limited.
Top story: African Union-led negotiations between Egypt, Sudan, and Ethiopia on water sharing and the Grand Ethiopian Renaissance Dam.
Why it matters: Water flow from the Nile is the lifeline of agriculture in Egypt, and the government views it as a strategic issue. Ethiopia has repeatedly asserted that these are the final set of negotiations, and that it will start filling the dam in July no matter the outcome. Absent agreement, future tensions over the issue will likely escalate and increase risks to regional stability.
See each edition of World in a Week.