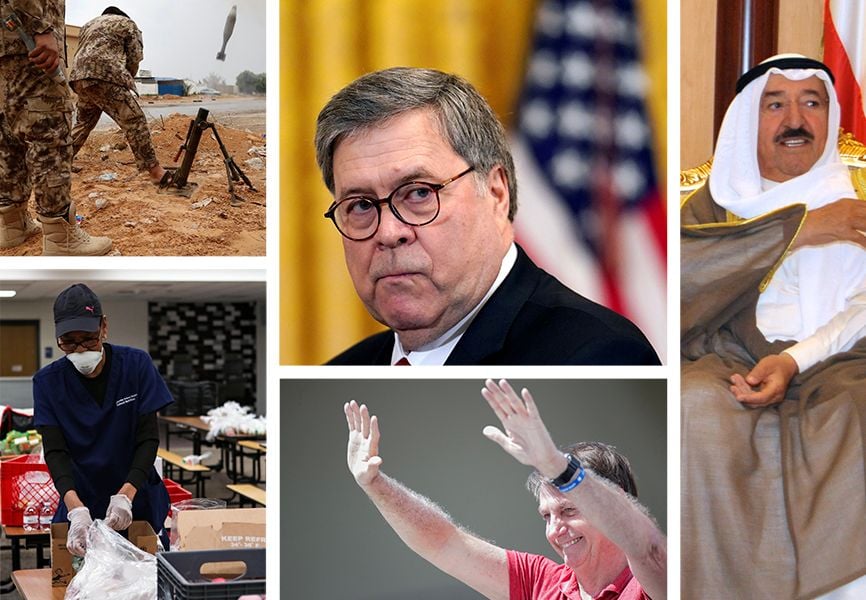 From a consulate tit-for-tat to the school reopening debate, here are some of the top stories Eurasia Group's analysts are following this week.
Top story: School reopening debates heat up
Why it matters: As outbreaks continue to expand in many states in the US, public health professionals are warning that in-person schooling under these circumstances could increase transmission and undermine the US recovery. But the economic stakes are high and the clock is ticking, particularly in states that are scheduled to return to school in early August.
Top story: Kuwait's 91-year old Emir Sheikh Sabah was hospitalized last week following a surgery and subsequently flown to the US for medical care.
Why it matters: The emir's hospitalization opens the door of a succession battle in Kuwait. The current Crown Prince Nawaf, who was temporarily appointed acting ruler and granted some of the emir's powers, would be the natural successor, but he is uninterested in ruling. Though there are no clear frontrunners in the battle for succession, Sheikh Nasser Sabah (the emir's son) and Sheikh Nasser Mohammad (the former PM) appear to be jostling for the position.
Northeast Asia
Top story: Military build-up in Libya
Why it matters: As the two sides are building up military presence in Libya, this may result in further escalation, leading to Turkey becoming further embroiled in the conflict.
Energy, Climate & Resources
Top story: Final stretch of Nord Stream 2 gas pipeline construction
Why it matters: The US State Department recently announced that it may impose sanctions on companies involved in building the Nord Stream 2 gas pipeline. Set to run from Russia to Germany, Nord Stream 2 is expected to meet Europe's rising demand for imported gas. The threat of further US sanctions will complicate the completion of the final stretch of the pipeline in the coming months but is unlikely to prevent it from happening eventually; the EU is unlikely to resort to threatened countersanctions against US gas imports.
Top story: Zimbabwean authorities have sharply intensified their Covid-19 directives, instituting a 12-hour curfew and stronger enforcement of movement restrictions.
Why it matters: President Emmerson Mnangagwa is under increasing pressure within and outside his administration over the country's economic crisis and increasingly tense relations with military power-brokers in government. It has consequently become less tolerant of dissent—the opposition and civil society groups accuse authorities of using Covid-19 as a cover to stamp out challenges to its mandate.
Top story: Improved outlook for economic reforms
Why it matters: The administration submitted last week to congress its tax reform proposal, paving the way for broader discussions on the subject gaining momentum in congress. President Jair Bolsonaro's efforts to form a coalition, and his resilient popularity also bode well for part of the economic agenda. However, fiscal policy will remain challenging through the remainder of the year given difficulties to exit the emergency stipend for low-income families affected by the pandemic and a protracted outbreak raising pressure for further aid measures that will make it difficult to hold the line on the spending cap for 2021.
Top story: US Department of Justice indicts two Chinese hackers for ties to "global computer intrusion campaign," targeting high-tech intellectual property
Why it matters: The US Department of Justice on 21 July unsealed a new indictment alleging that two Chinese engineering students were involved in a "global computer intrusion campaign" spearheaded by China's Ministry of State Security (MSS). DOJ asserts that the Chinese students, under the direction of the MSS, targeted a number of companies engaged in technology research, including pharmaceuticals and high-tech manufacturing. The move follows the decision of lead cyber agencies in the US, the UK, and Canada earlier this month to publicly attribute cyberattacks targeting research organizations in all three countries through 2020 to a Russian threat actor known as APT 29, stating that it had "intention of stealing information and intellectual property relating to the development and testing of Covid-19 vaccines." US and allied governments are increasingly willing to name, shame, and coordinate responses to cyberattacks attributed to Russia or China. US officials over the past year, for example, have ratcheted up public charges that China is in breach of the 2015 agreement between then-President Barack Obama and Chinese leader Xi Jinping that governments should not support the theft of intellectual property for commercial gain. US officials have pursued a series of indictments against Chinese cyber actors, and DOJ maintains a dedicated team of lawyers working on China cyber-related issues.

For more geo-technology news, follow our team on Twitter: Paul Triolo, Kevin Allison, Xiaomeng Lu, and Clarise Brown.
See each edition of World in a Week.