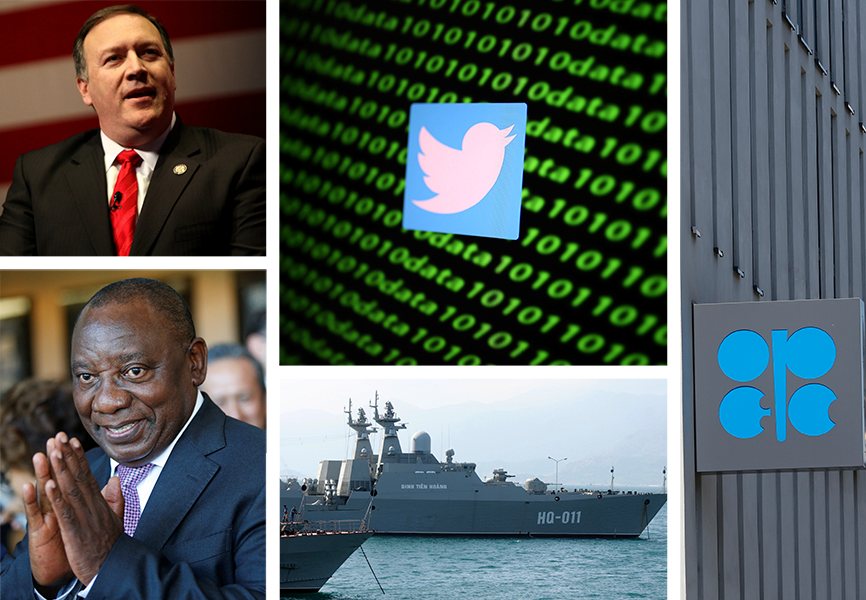 From Twitter's cryptocurrency hack to South China Sea tensions, here are some of the top stories Eurasia Group's analysts are following this week.
Top story: Twitter cryptocurrency hack
Why it matters: On 15 July, the Twitter accounts of a set of high-profile users—including Elon Musk, Kanye West, and Joe Biden—were compromised by unknown hackers. President Trump's account was not impacted. The accounts were used to post tweets promoting a well-known cryptocurrency scam, falsely pledging to double Bitcoin payments sent to specific cryptocurrency wallet address. The scale of the operation and its targeting of influential accounts reveals serious vulnerabilities to Twitter's internal network security management and follows an incident last year in which Twitter CEO Jack Dorsey's own account was compromised and used to post sexist and racist remarks. Although Twitter has yet to attribute the hacking to specific cyber actors and reliable information on attribution has yet to surface, the company said it believed a coordinated social engineering ploy was used to target some key employees—likely systems administrators with access to internal systems and tools. The incident will heighten concerns about the company's ability to effectively safeguard users' data privacy and security, while raising additional concerns about US election integrity and the potential for social media platforms to be compromised and exploited by cyber actors attempting to influence the election itself, or public perceptions of the result. While there is no evidence of this yet, the attacks and the benign nature of the scam could be a trial run by state-sponsored hackers for a more politically focused operation in the runup to the election.

For more updates on the hack and other geo-technology news, follow our team on Twitter: Paul Triolo, Kevin Allison, Xiaomeng Lu, and Clarise Brown.
Top story: South African President Cyril Ramaphosa has imposed a ban on alcohol sales and reintroduced a nighttime curfew in the hope of alleviating pressure on a public health system buckling under the Covid-19 outbreak.
Why it matters: With infections above 360,000 (of which about 170,000 are active as of 20 July) and fatalities around 5,000, South Africa is the epicenter of the pandemic in sub-Saharan Africa. The president is coming under fire for a restrictive two-month lockdown which failed its stated goal of preparing the public health system for the expected surge in which the country now finds itself.
Energy, Climate & Resources
Top story: OPEC+ production cut adjustments
Why it matters: Oil producer group OPEC+, led by Saudi Arabia and Russia, is on track to scale back the previously agreed production cuts of 9.7 million barrels per day (bpd) to 7.7 million bpd starting August until the end of 2020. The group's decision will be a key driver for oil prices under the current delicate supply-demand dynamic. Should it come with an ongoing surge in new Covid-19 cases, oil markets would face another severe downturn in the second half of 2020, potentially forcing the group to renew and deepen market intervention.
South & Southeast Asia
Top story: Tensions in the South China Sea
Why it matters: Though headlines around the latest dispute are focused on the United States and China, the degree to which the United States asserts itself in pushing back on Beijing's maritime claims will have important ramifications for the regional authority of other Southeast Asian countries, including the Philippines, Indonesia, Malaysia, and Vietnam.
Eurasia
Top story: Violence in the South Caucasus
Why it matters: Armenia and Azerbaijan witnessed several days of shelling last week along part of their border. The two nations have remained in an unresolved dispute over the area of Nagorno Karabakh and surrounding territories since before the Soviet Union collapsed. France and the United States are among the outside partners involved in mediating the conflict through the Organization for Security and Co-operation in Europe (OSCE). But it's really Russia that plays the biggest role when the conflict escalates. The Kremlin could push the sides to cool down this week.
Northeast Asia
Top story: Mike Pompeo's Nixon Library speech
Why it matters: The US secretary of state—one of the Trump administration's most aggressive voices on China—could unveil policy announcements, such as action to ban social media app TikTok or block travel to all members of China's Communist Party and their families (potentially 270 million people). President Trump's desire to preserve the phase one trade deal, however, makes more targeted measures a likelier bet.
Top story: After the resignation of Prime Minister Elyes Fakhfakh, Tunisian President Kais Saied will choose a new prime minister designate in the coming week who will have around a month to form a new government.
Why it matters: The timeline to form a new government is slim, and discord between political actors is at an all-time high. Should Tunisia's political parties fail to agree on a government, the country will head toward new elections. A power vacuum at this time could create new risks to stability given the economic, social, and healthcare challenges already facing the country.
Top story: Congress picks up tax reform discussions
Why it matters: Brazil has an intricate tax code that hampers productivity and raises the cost of doing business in the country. A tax overhaul was attempted many times over the last three decades, but efforts have been fruitless to simplify taxation. But that began to change last year with stronger support from states and companies. A joint committee for tax reform was set up before the pandemic, but once the outbreak hit Brazil, discussions were suspended. With the most important Covid-19 related bills having already passed congress, lawmakers began to shift their attention back to other issues, and tax reform is a top priority for the second half of the year. Final approval, however, will probably come only in 2021 given the subject's complexity and the need to coordinate a consensus proposal between all government levels and congress.
Top story: EU coronavirus recovery package
Why it matters: The landmark €1.8 trillion deal sets an important precedent for how EU members collectively deal with external shocks going forward.

*Updated 21 July 2020
See each edition of World in a Week.