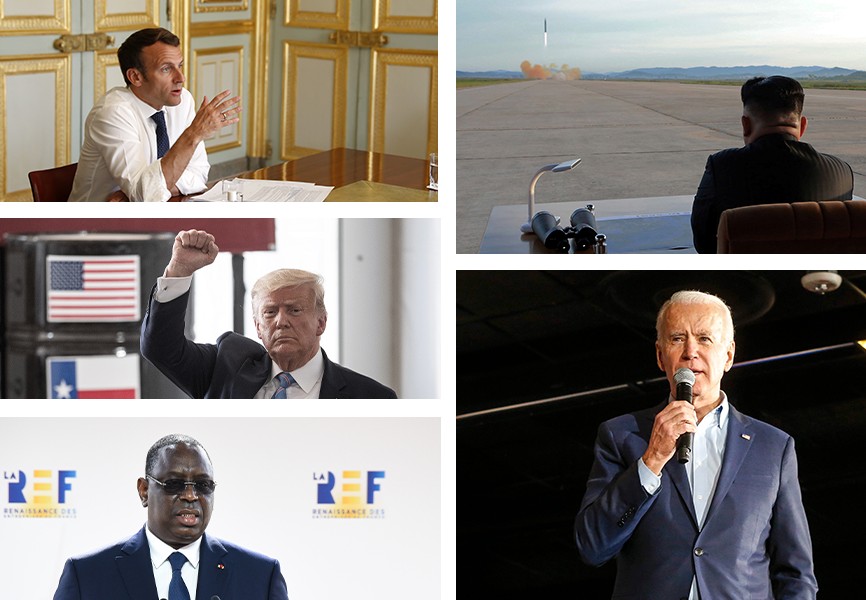 From the US presidential election to blowback against French President Emmanuel Macron's comments on cartoons depicting the Prophet Muhammad, here are some of the top stories Eurasia Group's analysts are following this week.
United States
Top story: US elections
Why it matters: Democratic nominee Joe Biden remains the favorite to beat Donald Trump in the presidential race. A large Biden national victory could also deliver Democrats a Senate majority, bringing the party control over the White House and both houses of Congress for the first time since they lost the House of Representatives in the 2010 midterm elections.

For more news and analysis of US politics, follow Jon Lieber on Twitter.
Top story: Senegal President Macky Sall announced on 1 November a new cabinet featuring many opposition leaders, some of whom were included at the expense of the president's longtime allies.
Why it matters: The shuffle is a missed opportunity for the president to reframe the agenda as his government sets about the task of reviving economic growth following the pandemic. It may also amplify existing grumbles within sections of the president's party that he is showing more favor to opponents than his allies.

For more news and analysis of Africa, follow Amaka Anku on Twitter.
Eurasia
Top story: Georgia elections.
Why it matters: The governing Georgian Dream-Democratic Georgia party declared victory in the 31 October parliamentary elections, while opposition leaders have already declared their intention to boycott the results. Given concerns about abuses of state resources and accusations of discrepancies in the vote count, protests are likely in the period through run-offs for 16 single-mandate seats.

For more news and analysis of Eurasia, follow Zachary Witlin on Twitter.
Top story: Evolving reactions across the region to French President Emmanuel Macron's new statements around the incendiary cartoons depicting Prophet Muhammad.
Why it matters: Macron gave an hour-long interview on Al Jazeera, during which he elaborated his government's stance on freedom of expression, Islam and religion in the public sphere, and the cartoons themselves. Macron's alleged defense of the incendiary cartoons—which came in the wake of terrorist attacks in France—set off a range of protests and threats of boycotts in the Middle East & North Africa (MENA) region last week. In this new interview, Macron sought to dispel misinformation around the issue, clarify his stance, and build bridges with the Muslim world, but the real impact on public sentiment in Muslim-majority countries, including in the MENA region, remains unclear. Regional leaders' hands are tied, but some—namely in the UAE—have come out in support of Macron. Macron's management of this issue and public reaction could have important security and business ramifications—not least for French companies—over the coming period.

For news and analysis of the Middle East & North Africa, follow Ayham Kamel on Twitter.
Top story: Eurozone finance ministers' virtual meeting 3 November to discuss the coronavirus impact on the common-currency bloc; EU economy and finance ministers' videoconference 4 November with a focus on countering money laundering and terrorism financing; ongoing EU-UK trade talks.
Why it matters: Tuesday's Eurogroup will focus on economic challenges, as a Covid-19 resurgence across Europe is forcing a second round of lockdowns and amplifying economic risks. The ministers, also joined by non-Eurozone ministers from the bloc, will also review the effectiveness of safety nets adapted earlier this year to counter the pandemic. At the Eco-Fin gathering on Wednesday, EU ministers will look to advance anti-money-laundering efforts while also discussing non-performing loans and the EU's 2021 sustainable growth strategy. Lastly, EU-UK talks are expected to press ahead as negotiators look to finalize legal texts and seek compromises on sticky issues led by fisheries and competition rules.

For more news and analysis of Europe, follow our team on Twitter: Mij Rahman, Naz Masraff, Emre Peker, and Federico Santi.
Top story: Central bank autonomy bill moving forward
Why it matters: Senators are likely to vote this week on a proposal giving formal autonomy to Brazil's central bank to pursue price stability. After a years-long debate in the country, there is a real chance a longstanding deadlock on the subject will be broken. The impasse was solved by incorporating a subsidiary mandate to the monetary authority to pursue full employment whenever that does not conflict with combating inflation. Leftist parties, which have fiercely opposed central bank autonomy over the years under the argument that it would lead to undue interference from the market in economy policy, are likely to stand down now. They have agreed to not obstruct if the senate also votes on a bill sponsored by them to regulate excess deposits in the central bank to replace repo operations that affect overall public debt. The proposal is supported by the administration, and though it is an important step to placate market concerns over the central bank's future work, the proposal is likely to be enacted into law only in 2021 given a very tight timeline to secure its approval in the lower house after this week's likely senate vote.

For more news and analysis of Brazil, follow our team on Twitter: Christopher Garman, Silvio Cascione, and Filipe G. Carvalho.
Northeast Asia
Top story: North Korea quiet for now
Why it matters: Despite concerns that North Korea might engage in a major provocation ahead of the US presidential election, it has remained relatively quiet over the past several months. After the presidential election, however, it will be difficult for Kim Jong-un to resist the temptation to act up in some very visible way in an effort to put the next US administration on the defensive.

This might take the form of more weapons testing, manufacturing some sort of border incident with South Korea, or using its rapidly growing cyber capabilities to stir up trouble. While Joe Biden's camp has already signaled that it would be willing to reengage Pyongyang in discussions on denuclearization if Biden becomes president, it has also indicated little interest in the "summit diplomacy" that President Donald Trump prefers. Even if Kim is willing to give a new US administration under Biden or a second Trump administration some space in early 2021 to deal with pressing domestic issues like the Covid-19 outbreak, he will become increasingly impatient—and prone to lash out—if he thinks the US is not paying sufficient attention to him.
Energy, Climate & Resources
Top story: Oil sands consolidation in Canada
Why it matters: Further consolidation is expected in the Canadian oil and gas sector, particularly among conventional producers, after Husky Energy and Cenovus Energy agreed on an all-stock deal valued at $2.9 billion and created the third-largest oil and natural-gas producer in Canada. As leading oil sands operators are building resilient, low-cost, and integrated production businesses, the government of Alberta will support industry through continued focus on market access, competitiveness, and development of new opportunities with carbon-neutral projects.

For more energy and climate analysis, follow our team on Twitter: Mikaela McQuade, Coco Zhang, and Gerald Butts.
See each edition of World in a Week.