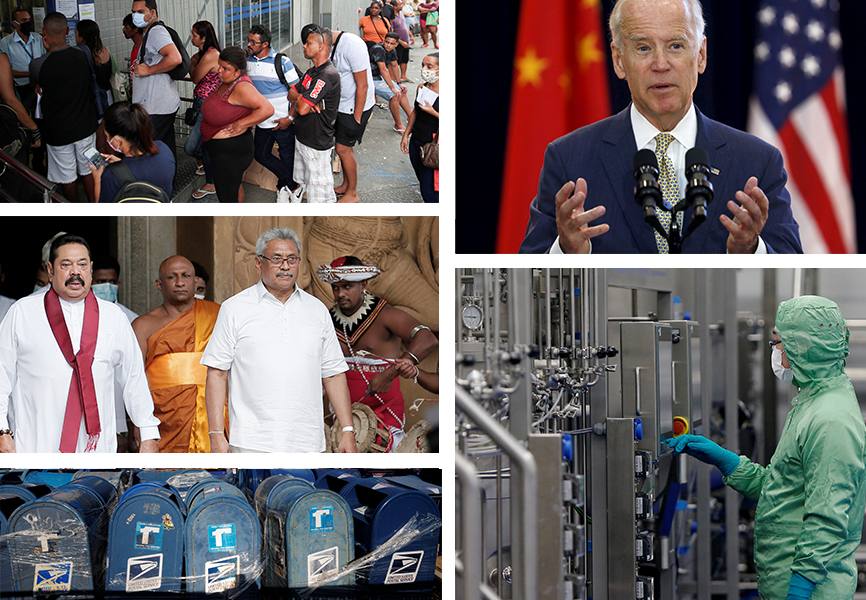 From USPS delays and the historic Israeli-UAE agreement to protests in Belarus, here are some of the top stories Eurasia Group's analysts are following this week.
United States
Eurasia
Top story: Unrest in Belarus
Why it matters: After Belarusian President Alexander Lukashenko claimed victory in an election outside actors deemed neither free nor fair, the country has been rocked by both anti-government protests and a violent crackdown against activists. The anti-regime demonstrations pose a growing threat to Lukashenko's 26-year reign, and if the protests continue, the president could lose support from Russia's government, which views Belarus with strategic importance akin to Ukraine.

For more news and analysis of Eurasia, follow Zachary Witlin on Twitter.
Northeast Asia
Top story: China's military exercises around Taiwan
Why it matters: In response to US Health and Human Services Secretary Alex Azar's visit to Taiwan, China sent a fighter jet across the midline in the Taiwan Strait and undertook a series of military drills around Taiwan. Beijing would respond negatively to continued arms sales from the Trump administration to Taiwan as well as a possible US-Taiwan trade agreement, but a call between Chinese Defense Minister Wei Fenghe and US Secretary of Defense Mark Esper also shows both sides to be concerned about the volume of military activity and the potential for an accident.

For more news and analysis of China, follow our team on Twitter: Michael Hirson, Kelsey Broderick, and Allison Sherlock.
Top story: CanSino Biologics' Phase III Covid-19 vaccine trials
Why it matters: Chinese Covid-19 vaccine front-runner CanSino Biologics has begun conducting Phase III trials of its Covid-19 vaccine in Saudi Arabia, after completing the first two phases of the human trials in China. Developed with China's military-backed research unit, CanSino's vaccine received the greenlight to be used by China's military despite not yet undergoing the type of large-scale testing needed to assess its safety or ability to prevent infection. Previously, CanSino Biologics signed an agreement with the Mexican government to conduct Phase III clinical trials for their Covid vaccines. Last month, the company announced that it was in talks with Russia, Brazil, and Chile to expand the global effort. The other promising Chinese Covid-19 vaccine producer Sinovac Biotech has begun Phase III clinical trials in Indonesia last Tuesday. Previously the company did late stage trials in Brazil and Bangladesh. Indonesian President Joko Widodo had said Indonesia plans to manufacture Covid-19 vaccines in partnership with Sinovac. Production would begin between January and April 2021. Growing political tension between Washington and Beijing has dimmed prospects for Chinese vaccines being widely used or even tested in the US and allied countries. On the heels of the encouraging global trials development, Hong Kong-traded CanSino Biologics is looking to raise $748 million in a secondary public offering on Shanghai's STAR Market starting this Thursday, with the second-highest offering price so far on the Nasdaq-like trading board that began operation last year.

For more geo-technology news and analysis, follow our team on Twitter: Paul Triolo, Kevin Allison, Xiaomeng Lu, and Clarise Brown.
Top story: The aftermath of the Israeli-UAE agreement to restore full diplomatic relations.
Why it matters: The UAE and Israel are moving quickly to set up new frameworks for cooperation in sectors ranging from telecoms to air travel. The evolving shape of the new accords will help set the tone for a potential shift in relations between Israel and other regional actors, from Saudi Arabia to Turkey.

For more news and analysis of the Middle East and North Africa, follow our Practice Head Ayham Kamel on Twitter.
Top story: Early Covid success stories engage in aggressive infection suppression amidst small upticks
Why it matters: While much of the Americas struggle to contain widespread community transmission, a number of early success stories, including Vietnam, South Korea, Hong Kong, Australia, and New Zealand, are engaged in efforts to suppress smaller upticks.

For more healthcare news and analysis, follow Scott Rosenstein on Twitter.
South & Southeast Asia
Top story: Sri Lanka's new parliament convenes
Why it matters: The Sri Lanka Podujana Peramuna (SLPP), led by President Gotabaya Rajapaksa and Prime Minister Mahinda Rajapaksa, won an overwhelming majority in the 5 August parliamentary elections. With allies, the SLPP has a 2/3 majority in parliament, allowing them to move forward with one of their top campaign priorities, repealing and replacing the constitution's 19th amendment (which diluted many powers of the executive presidency) with the 20th amendment, which the government hopes to have ready by mid-September.

For more news and analysis of South & Southeast Asia, follow Akhil Bery on Twitter.
Energy, Climate & Resources
Top story: Continued attention on Biden's energy and climate agenda
Why it matters: While President Trump has promised to continue a first-term agenda of pro-energy deregulation and largely ignore climate risks, a Biden election victory would yield more aggressive climate policies than those advanced by Barack Obama, affecting carbon pricing, power generation, border carbon adjustments, pipeline construction, LNG, and transportation. It remains to be seen how Biden's pick of Kamala Harris as his running mate would impact his climate agenda; one likely outcome is enhancement of the administration's focus on environmental justice.

For more energy and climate analysis, follow our team on Twitter: Mikaela McQuade, Coco Zhang, and Gerald Butts.
Top story: Upcoming debate on new welfare program
Why it matters: The last installment of the pandemic emergency aid for 31% of Brazil's population will be paid in the coming weeks. The administration will have to decide whether to renew the benefit at its current value or engage in discussions with congress to reduce its value while the last details for a permanent and more modest welfare program called Renda Brasil are being hammered out. The largest challenge will be fitting Renda Brasil below the spending cap and transitioning from an emergency allowance that costs BRL 50 billion per month to a program that would disburse that same amount on a yearly basis. Legislators' demands to renew the stipend without changes because of the protracted outbreak in the country and the challenge it creates for a smaller program will be a source of risk to be monitored for fiscal slippage going into 2021, especially as discussions over next year's budget approach.

For more news and analysis of Brazil, follow our team on Twitter: Christopher Garman, Silvio Cascione, Filipe G. Carvalho.
See each edition of World in a Week.