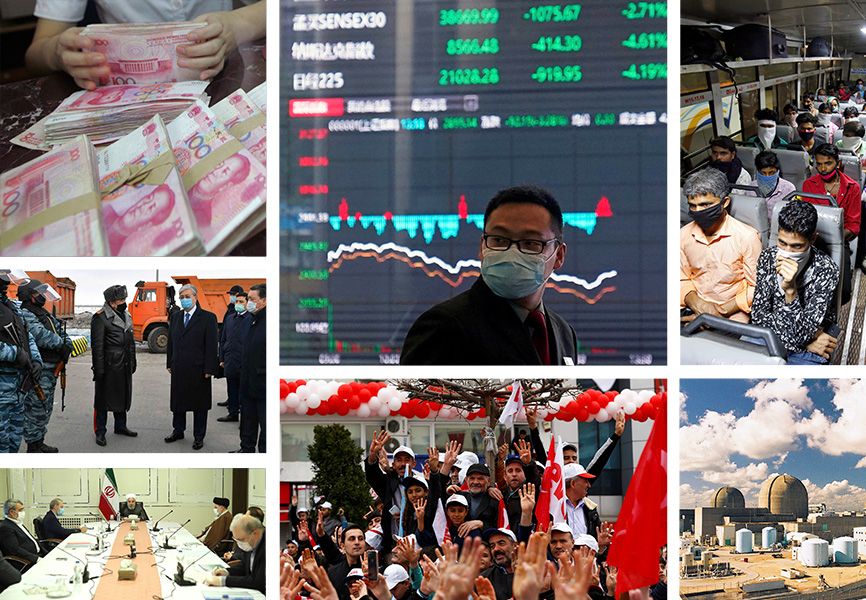 From serological tests and hydroxychloroquine to lockdowns, here are the top stories Eurasia Group's analysts are following this week.
Africa
Top story: China signaling its preference for bilateral agreements on debt moratoriums
Why it matters: China is a significant bilateral lender across sub-Saharan Africa: around 20% of external debt in the region is owed to Beijing.
Energy, Climate & Resources
Top story: Texas Railroad Commission to weigh production cuts on heels of OPEC++ meetings
Why it matters: Irrespective of OPEC++ discussion outcomes, Texas producers are facing domestic constraints that will require private or public intervention to manage a market failure—and that decision could be led by the Texas Railroad Commission when it meets for hearings on 14 April.
Brazil
Top story: Lower house discussions on a proposal to bail out states and municipalities during the coronavirus crisis; a Senate vote on a constitutional amendment to allow asset purchases by the central bank
Why it matters: Lower house legislators proposed spending that could extend into following years and be diverted from fighting the pandemic, putting pressure on the longer-term fiscal outlook. These provisions are likely to be partially rolled back to keep expenses tied to 2020. Meanwhile, growing concern among senators to amend the constitution during the crisis can delay central bank action to stabilize markets and provide liquidity to companies.
Europe
Top story: The creeping lockdown in Turkey
Why it matters: How the lockdown is implemented will be critical for President Recep Tayyip Erdogan's approval ratings and the outlook on the economy.
South & Southeast Asia
Top story: India resumes exports of hydroxychloroquine.
Why it matters: India is called "the pharmacy to the world," as it is the largest manufacturer of generic drugs. India had temporarily banned the export of hydroxychloroquine, but under pressure from US President Donald Trump and other countries, it has resumed exports, resulting in opposition parties criticizing Prime Minister Narendra Modi for being bullied by the US. Now, Modi is using this as an opportunity to continue to project India's soft power, as a number of world leaders (including Trump, Brazilian President Jair Bolsonaro, and Israeli Prime Minister Benjamin Netanyahu) have come out to publicly thank him for helping them in their time of need.
Eurasia
Top story: Kazakhstan's state of emergency
Why it matters: Kazakhstan is extending its state of emergency from 15 April to the end of the month but is beginning to identify sectors of the economy that will be exempt from lockdown in its major cities starting 20 April. President Kassym-Jomart Tokayev has tended to err on the side of caution in the first year since he took over the office from Nursultan Nazarbayev—who remains the most influential figure after decades at the helm. Whether Kazakhstan's phased reopening proves safe and successful will set a precedent for the broader region.
Healthcare
Top story: Serological tests start to take center stage.
Why it matters: Results from serological (blood) tests that can identify if an individual has been exposed to and has immunity to the SARS-COV-2 virus will start to trickle out. It's still unclear just how strong or long COVID-19 immunity is. But pressure on governments to make these tests more available will ramp up, along with discussion on what to do with people who have immunity. Population-wide serological testing is still probably a few weeks away, but these tests will provide critical information around how far and wide this virus has spread.
Latin America
Top story: A number of Mexican governors are demanding a renegotiation of the revenue sharing pact, while a number of business associations are threatening not to pay taxes.
Why it matters: This is all in response to the government's unwillingness to launch a serious stimulus package. Tensions will continue to rise.
Northeast Asia
Top story: Further tightening measures along China's borders as leaders in Beijing worry about imported cases of coronavirus, as well as expanded efforts by the country's leaders to support the economy through what is increasingly a deepening global recession
Why it matters: China's ability to return to some semblance of pre-outbreak normalcy has been challenged by the virus's global spread. Fear of secondary outbreaks has led to a tightening of cross-border travel, even as cases within the mainland drastically fall. And Beijing, which had initially expected a relatively rapid, V-shaped recovery out of the economic impact, is now very clearly worried about the ramifications of an extended global shutdown, as it rolls out newer measures to sustain activity as global demand collapses.
Middle East & North Africa
Top story: Extensions of lockdowns and restrictions on the movement of people across the region
Why it matters: The extension of restrictions on the freedom of movement will have wide-ranging effects on government finances and social stability across the region, pushing certain countries with less funds in reserve to search abroad for additional aid.
North America
Top story: The debate to reopen the US
Why it matters: Across states, we will see the growing dilemma between a desire to quickly restart the economy and a belief that extended lockdowns and social distancing are still required to effectively flatten the curve and beat coronavirus.
Geo-Technology
Top story: Increased data capacity and balance between healthcare data access and privacy
Why it matters: Fears this week about major internet outages caused by the massive move to work, entertainment, and learning from home have eased as telecommunications, data center, and content delivery companies increased capacity ahead of normal schedules, used artificial intelligence to load balanced traffic, and cut back on streaming data rates and resolution to ensure services. Meanwhile, countries around the world continue to grapple with the balance between getting healthcare data to those who need greater situational awareness and maintaining data privacy for individuals caught up in the crisis. We will be watching as new applications are rolled out by major US technology companies, the EU, India, and other countries in the near-term, and the debate about who should have access to and control healthcare data related to the pandemic ramps up in countries hard hit and already preparing for a return to some level of normalcy, while keeping focus on preventing a second wave of the outbreak.