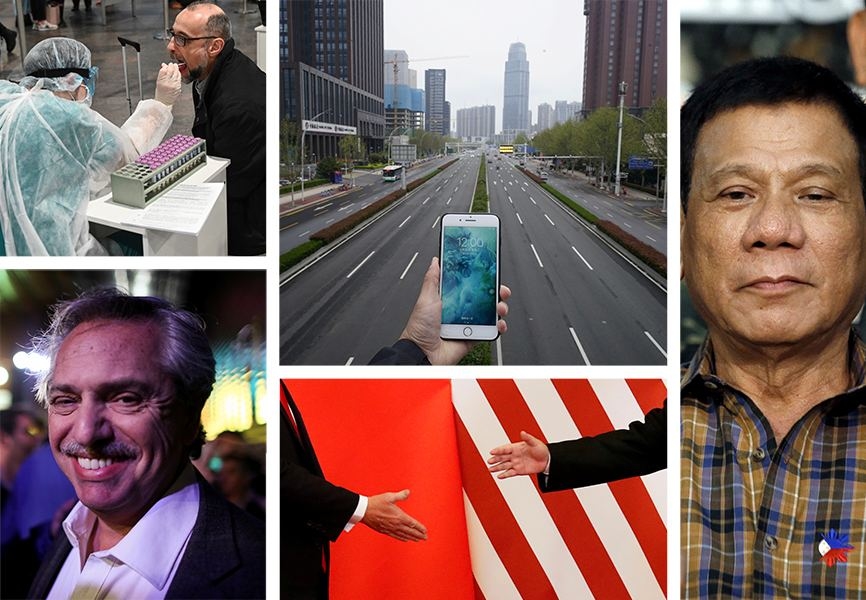 From the phase one trade deal to the shutdown of a Philippines TV station, here are the top stories Eurasia Group's analysts are following this week.
Northeast Asia
Top story: Phase one trade deal's progress
Why it matters: Last week, lead officials behind the US and China's phase one trade deal held their first phone call discussing the agreement's implementation. Targets for Chinese purchases were ambitious even before the coronavirus pandemic and now look exceedingly so. While Beijing has signaled that it will make a good faith effort to show it is striving to honor the spirit of the deal, even if it is not meeting all of the quantitative targets, the Trump administration will now weigh the economic benefits of the deal against the potential political gains from deeming it off track and escalating his attacks.
Latin America
Top story: Argentina's offer to bondholders
Why it matters: Argentina must decide whether to extend its deadline and change its offer to bondholders ahead of 22 May, when it must make a $500 million interest payment or formally default on its external debt.
Geo-Technology
Top story: The political ferment over coronavirus contact tracing apps deepened as the UK indicated it may swing behind Apple and Google's preferred approach to managing data produced by smartphone apps that are meant to help governments fight the outbreak, leaving France looking increasingly isolated.
Why it matters: The jury is still out on whether contact tracing apps will make a significant difference in governments' attempts to stop a second wave of the virus as they move to loosen lockdown restrictions. However, the push to develop digital contact tracing technology is already having political effects, raising difficult questions about how to balance privacy risks with the need to re-open economies as safely as possible. Although Europe's tough digital privacy rules appear to be holding up under strain, the crisis has also underscored how large US tech companies whose software powers the vast majority of the world's smartphones have also become important geopolitical players in the crisis response. The pandemic is also likely to reinforce the commitment of some EU countries to ensuring Europe's "technological sovereignty."
Eurasia
Top story: Russia and Ukraine begin limited re-opening
Why it matters: Moscow and Kyiv are starting to ease restrictions despite significant increases in coronavirus cases. Both governments are likely to be cautious about moving to later phases of the reopening, out of concern this might lead to a new spike in infections and greater economic hardship down the road.
Middle East & North Africa
Top story: Egyptian authorities' updated guidance on measures to control coronavirus
Why it matters: Egyptian leaders are facing growing pressure from doctors to tighten lockdown measures during the second half of Ramadan. The region's most populous country, Egypt has consistently opted against fully locking down, instead seeking to balance containment measures with efforts to keep the economy running. Given evidence that the virus continues to spread, new challenges are likely to emerge in terms of health management and maintaining social calm going forward.
South & Southeast Asia
Top story: Shutting down of ABS-CBN TV channel in the Philippines highlights authoritarian risks
Why it matters: ABS-CBN has been taken off air after authorities did not renew the popular TV channel's expiring license. President Rodrigo Duterte has long accused ABS-CBN of being biased against, and overly critical of, him. Given the powerful president's views of the channel, its seeming demise is not surprising, but it highlights the weakening of free speech and rule of law during Duterte's presidency, which partially undermines the positive progress being made on economic reform. This may not be the end of the issue though, with Congress and the Supreme Court likely to review the decision not to renew ABS-CBN's broadcasting license. A key watchpoint will be how much of a public backlash there is against the very popular president—the channel was widely watched, and its Facebook newscast after going off air received 8 million views. If it begins to appear that the hitherto Teflon-like president is paying a political price for this development, the channel may be allowed to broadcast again.
Europe
Top story: Fallout from German constitutional court ruling and response from the European Central Bank and European Court of Justice
Why it matters: How this plays out could call into question the whole legal architecture of the European Central Bank's quantitative easing, and it is critical for the principle of primacy of EU law over national law.
Africa
Top story: Delayed elections mean Ethiopia's government is facing a legitimacy crisis when its mandate expires in October. Parliament has referred the constitutional issue to its upper house for deliberation.
Why it matters: The country's volatile political landscape has been characterized by opposition distrust of reformist Prime Minister Abiy Ahmed. Election disruption due to the coronavirus has now forced the government into uncharted territory, signaling the pitfalls potentially facing other states in the region considering postponements to near-term polls.
Brazil
Top story: Stricter lockdowns
Why it matters: As the coronavirus outbreak worsens in Brazil, some governors enacted stricter lockdowns in their metropolitan areas. Even though compliance has been middling at best and enforcement remains an issue, the approach is likely to be taken in more states as daily new confirmed cases and the death toll continue to rise. This will probably trigger a new round of attacks from President Bolsonaro, who last week brought a group of businessmen to pressure Chief Justice Dias Toffoli to back opening up the economy.
United States
Top story: Bill involving detention of Uighur prisoners
Why it matters: The US Senate may vote on a bill allowing for sanctions of Chinese officials for their detention of Uighur prisoners in massive concentration "reeducation" camps. Republicans are linking the bill to broader concerns over how the Chinese Communist Party handled coronavirus.
See each edition of World in a Week.