Cracks in support for Ukraine
The United States and Europe will remain aligned in staunch support of Ukraine despite growing skepticism of involvement in the US and internal disagreement in the EU over whether to press Ukraine to negotiate.
Regardless of fluctuations in political support in the United States in the coming months, Ukraine's main benefactor has already frontloaded its 2023 material assistance. The Biden administration ensured military and financial aid for the year when it passed a $45 billion appropriation in December. In addition, lend-lease authority remains in place until the end of the year, granting the administration wide authority to provide Ukraine with more military hardware.
There is also strong bipartisan support for Ukraine in Washington, despite growing populist-right and progressive-left wariness of a "blank check" in US aid. Even with a majority in one chamber of Congress, Republicans will not block all new aid this year, and Congress will approve potential requests for smaller, military-focused packages. Such support will be tied to specific needs and conditioned on greater oversight of aid deployment, clarity on the US endgame, and increased EU contributions. Bipartisan consensus in the US on backing Kyiv will underpin continued transatlantic commitment to seek peace on Ukraine's terms.
For their part, most EU members see Russia's attack on Ukraine as a fundamental challenge to Europe's future. Washington's strong support for both Kyiv and NATO allies will be a constant reminder of the US security umbrella shielding Europe from hostilities, thereby dampening appetite for more EU strategic autonomy. Though European views diverge on how the war should end, EU members will not break ranks with Washington in deferring to Kyiv on peace talks.
Despite bearing the brunt of the war's economic fallout, European allies will also increase defense spending, in line with US demands. Sanctions pressure will remain high, with no political room for a climbdown on either side of the Atlantic. The EU will continue its economic decoupling from Russia, particularly in energy with the help of gas imports from the United States.
US-EU alignment on NATO's revitalization, including the addition of Finland and Sweden as members, will anchor stable transatlantic relations. Tensions will resurface when the time comes to fund Ukraine's reconstruction—made much more expensive by Russia's continued attacks on Ukrainian critical infrastructure—but that won't happen until the war ends, and the war isn't ending anytime soon. While 2023 may see the peak of Western aid to Ukraine, the Atlantic alliance will remain unified in its support for Kyiv this year.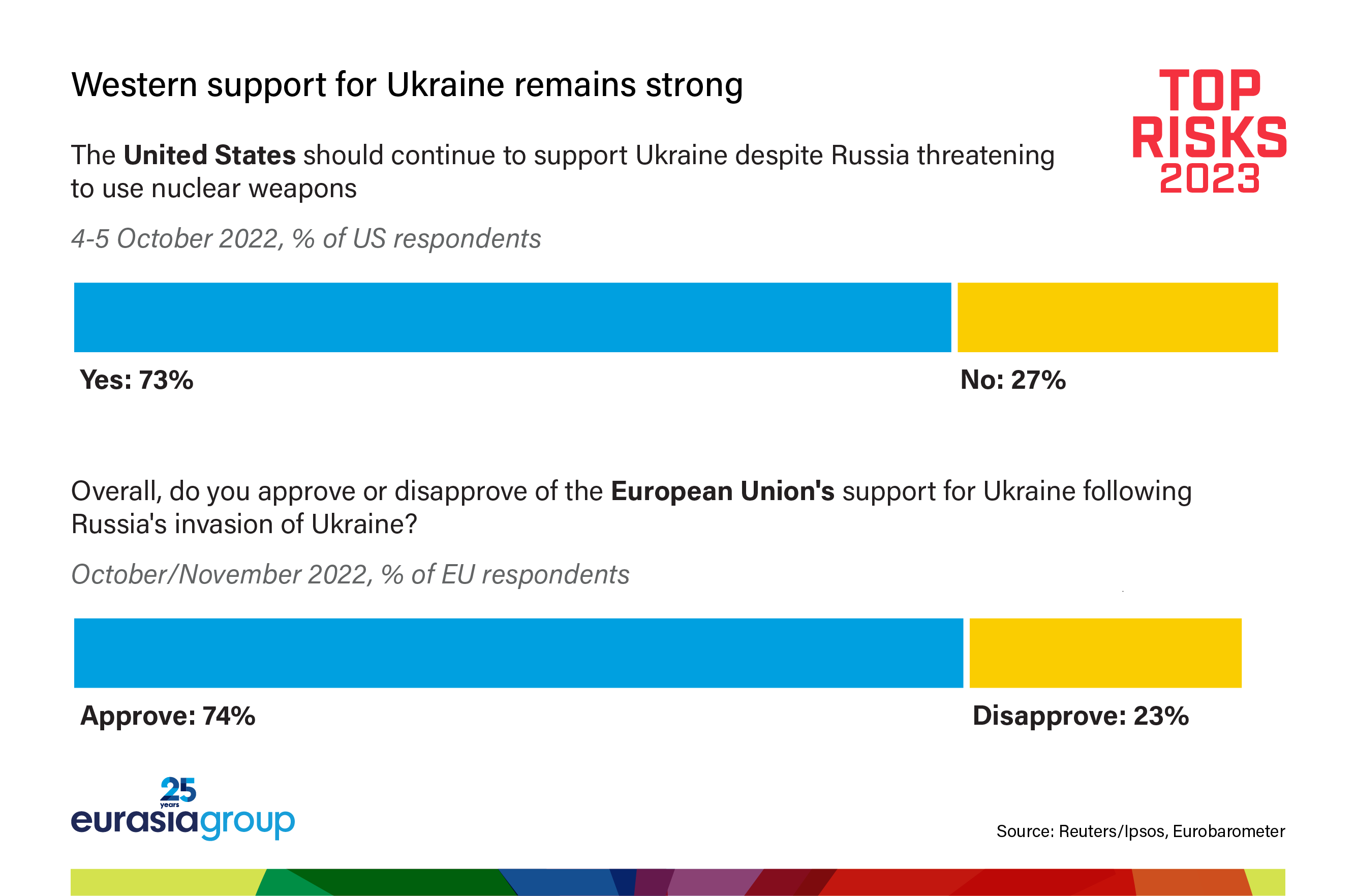 ---

EU political dysfunction
As much of the EU enters recession this quarter, the bloc is beginning to feel serious strain from the Ukraine war. This year's economic downturn and energy crunch (please see risks #4 and #6) will add to this pressure, exacerbating the outlook for the EU at a time it is grappling with leadership challenges. With a new government in Berlin struggling at home and abroad, French President Emmanuel Macron hobbled by his lack of a parliamentary majority, and Mario Draghi's exit as Italy's prime minister, there is no one capable of leading the bloc through this year's travails.
And yet, we expect the EU to remain cohesive in 2023. Yes, Germany will oppose more European fiscal solidarity and national budgets will continue to bear the brunt of the energy and inflation fallout in 2023. But more EU common borrowing remains possible. Discussions in Brussels on actions such as sanctions against Russia will also get more challenging (especially in terms of the economic fallout), but the EU is unlikely to waver in its commitment to Ukraine or reverse its decoupling from Russia.
In fact, the crises of the last several years—the Eurozone debt crisis, Brexit, the Covid-19 pandemic, and the Russia-Ukraine war—have all strengthened the European Union as a political actor. It now has stronger common fiscal policies, energy policies, health policies, and defense policies than ever before. This cohesion provides more direct economic leverage over potential outliers like Hungary. While it's true that no individual European leader has the ballast that Germany's former chancellor Angela Merkel had, the EU possesses the strongest supranational governance on the planet, so that doesn't matter nearly as much as it used to.
An existential threat from a surge in populism as a result of cost-of-living challenges is also unlikely. Italy's post-fascist ruling party, the Brothers of Italy, has tacked to the center. In France, Macron has assembled a fragile ad-hoc majority with the center right, and even if he calls an early election, the populists will remain divided and far from a majority. While Spanish elections at the end of next year may see the far-right Vox enter government for the first time, the center-right opposition Popular Party will remain firmly in the lead. The center-right government in Greece should narrowly hold onto power next summer, while Poland's euroskeptic government is likely to be replaced by a liberal, more pro-EU coalition in the fall.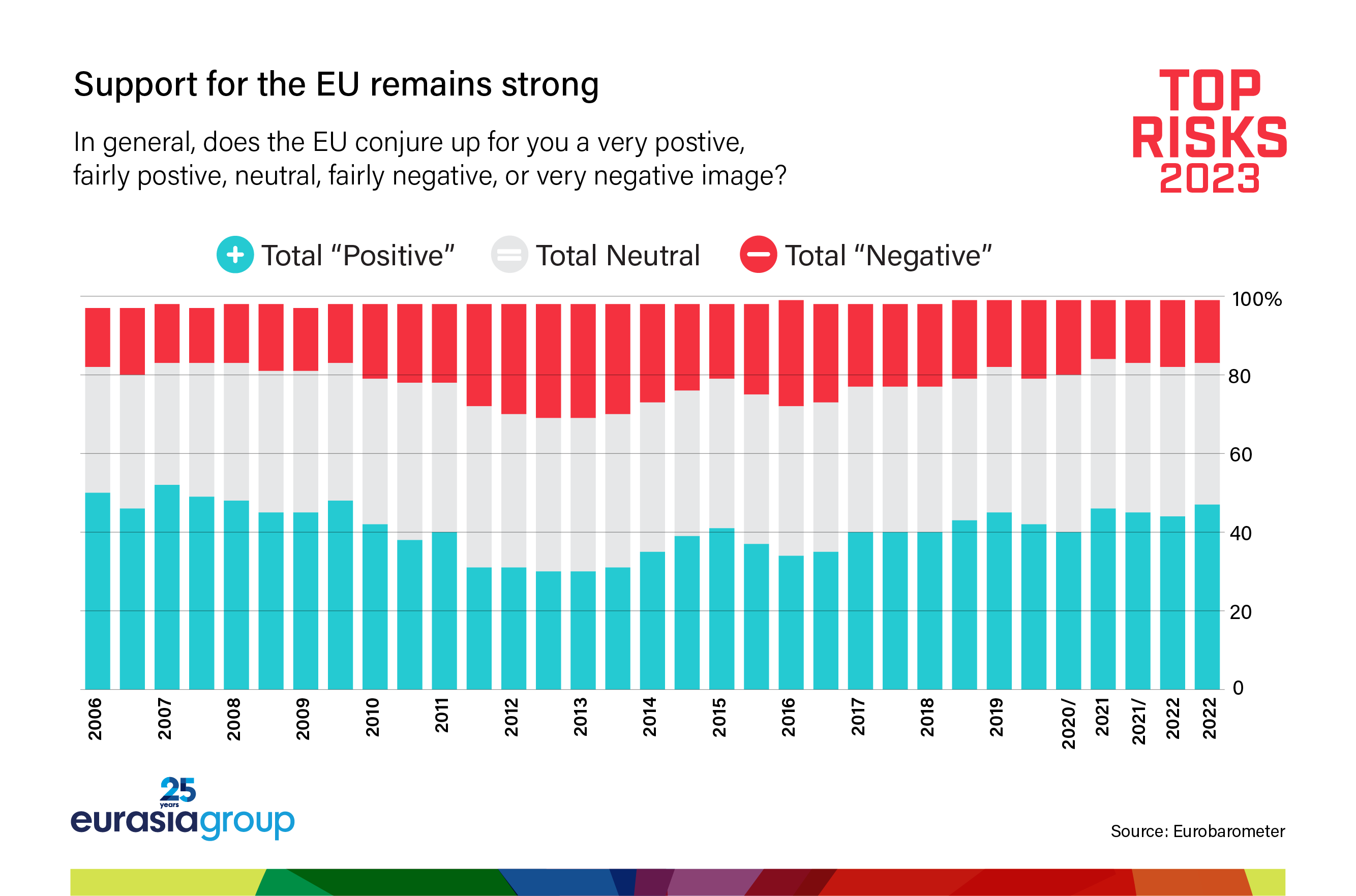 ---

Taiwan crisis
There is growing concern in Washington that the United States and China are headed for confrontation over Taiwan … and that it's increasingly likely China proactively changes the status quo, possibly even leading to direct military conflict in the near term. US Secretary of State Antony Blinken has asserted that China's Xi is "determined to pursue reunification on a much faster timeline" than previously thought. Senior defense officials have suggested Chinese use of force to retake Taiwan could happen by 2027, and possibly as soon as this year. But Taiwan isn't set to become a crisis in 2023.
Taiwan's ruling Democratic Progressive Party could escalate tensions with Beijing by advocating more overtly pro-autonomy policies ahead of the 2024 presidential election—especially now that President Tsai Ing-wen, a relative moderate on cross-strait issues, has stepped down as party chair. But last year's local elections made the engagement-minded Kuomintang opposition party more, not less, powerful.
Biden has repeatedly said the United States would defend Taiwan against a Chinese attack, casting doubt on Washington's longstanding commitment to "strategic ambiguity." But while the US will seek to improve political and economic ties with Taiwan, as well as military deterrence against any potential Chinese attack, the White House isn't considering a formalized security guarantee—let alone crossing Beijing's redline of recognizing Taiwan as a sovereign state.
A more hawkish, Republican-controlled House will advance proposals to weaken or even abandon the United States's One China policy, but the real momentum is behind symbolic shows of support such as congressional visits to Taiwan and diplomatic engagements like the 21st Century Trade Initiative. Importantly, neither the US private sector nor US allies want to risk a crisis.
For its part, China will match Taiwanese and American "provocations" with strong rhetoric and posturing of its own, and there may be more frequent military exercises and activities around Taiwan that prove disruptive to shipping and global supply chains. But Xi has recently reaffirmed Beijing's longstanding policy of prioritizing "peaceful unification" over the long term.
In short, neither China nor the United States is willing to test the other's redlines in 2023. In fact, Biden and Xi have told each other clearly and repeatedly that they're not looking for a crisis. And there are good reasons why a confrontation over Taiwan would pose intolerable risks for both countries. First, the US and China both remain consumed with domestic challenges—inflation in the US, slowing growth in China, and a possible global recession—challenges that would grow exponentially in the event of a military conflict. Second, China can't invade Taiwan without incurring significant US-led sanctions and losing access to the critical semiconductors that Taiwan Semiconductor Manufacturing Company (TSMC) produces. Third, despite sustained tension and efforts by both China and the US to reduce their interdependence, the two economies are deeply entangled and will remain so for the foreseeable future. A near-term military conflict would guarantee mutually assured economic destruction.
Especially after witnessing Russia's abrupt isolation by the West, China will defer moves that could possibly provoke military conflict until the balance of power is decisively in its favor, or until the US is ruled by a president who is clearly unwilling to defend Taiwan. None of this is remotely possible in 2023.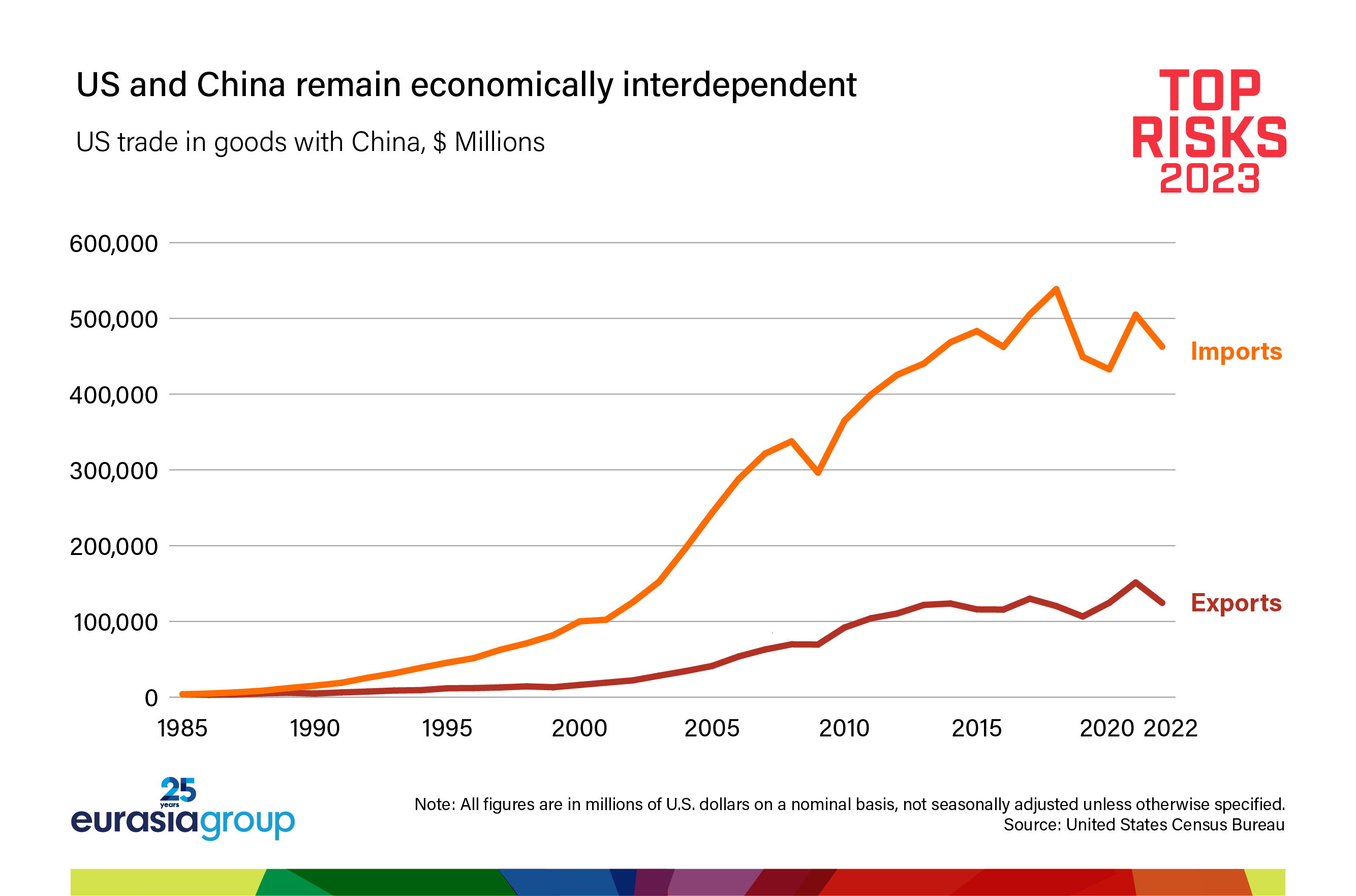 ---

Tech tit-for-tat
When the US imposed sweeping restrictions on China's semiconductor industry last year, the move had the hallmarks of a containment policy, with Biden locking the two countries on course for a permanent tech competition. In effect, Washington was cutting Beijing off from the most critical technologies on earth. Retaliatory moves were sure to follow.
But there are several reasons why China is interested in keeping tensions contained in 2023.
First, between the exit from zero Covid, domestic unrest, and a challenging economic outlook, Xi has bigger fish to fry at home (please see risk #2) and is eager to avoid new crises.
Second, Xi's main retaliatory options—export controls on rare earth minerals, restrictions on semiconductor packaging for Western firms, unlinked economic measures—would damage China's own economy at a time of historically weak growth.
Third, China is hundreds of billions of dollars and a minimum of three to five years away from being able to produce the chips it needs domestically. Its dependence on older-generation semiconductors from TSMC, which are excluded from US export restrictions, will only increase in the meantime.
And fourth, Xi doesn't see the US moves as a step-change escalation. After all, China has been intent on achieving technological leadership and self-reliance for years. Export controls are considered fair game given Beijing's longstanding policies—for example, Made in China 2025 and "dual circulation".
None of this is to say that Xi is happy with Washington's new tech policy—he isn't. Nor does it mean that Washington won't keep pushing hardline policies in this area (including more targeted regulations and export controls) under the banner of national security—it will. But the White House knows it needs to draw a line under deteriorating relations with Beijing. This means refraining from embarrassing or provoking China unnecessarily, focusing instead on stabilizing the relationship overall and working more constructively in areas of mutual interest.