The last two generations of humanity have experienced an unprecedented period of fast-expanding and broad-based prosperity. The world economy tripled in size, almost every country grew significantly richer, and more than one billion people escaped extreme poverty to join the ranks of history's first global middle class, narrowing the opportunity gap between developing and advanced industrialized nations. Human development indicators ranging from infant mortality and life expectancy to education and women's rights tell a story of nearly uninterrupted improvement in living standards and quality of life around the world.
That progress has been thrown into reverse by three years of mutually reinforcing shocks, including the Covid-19 pandemic, the Russia-Ukraine war, and the global inflation surge. The United Nations estimates that five years of human development progress have been lost since Covid-19 hit, and the impact has been global: More than 90% of countries experienced a decline in human development in 2020 or 2021. In 2023, billions of people will become more vulnerable as more economic, security, and political gains are lost.
Inflation's global shockwaves (please see risk #4) will take an especially heavy toll on vulnerable populations in developing countries as rising prices, tighter financial conditions, and slowing global growth stoke public (and therefore political) anxiety.
Food insecurity will intensify as food supplies are further disrupted by the Russia-Ukraine war and inflation eats away at purchasing power. Uncertainty will encourage more governments to impose protectionist trade restrictions. High gas prices will threaten fertilizer production and raise costs for farmers across the board, driving up food prices (please see risk #6). Higher costs of farming will also increase the demand for cheap labor in the agricultural sector, which accounts for 70% of global child labor and mainly employs children of early school age.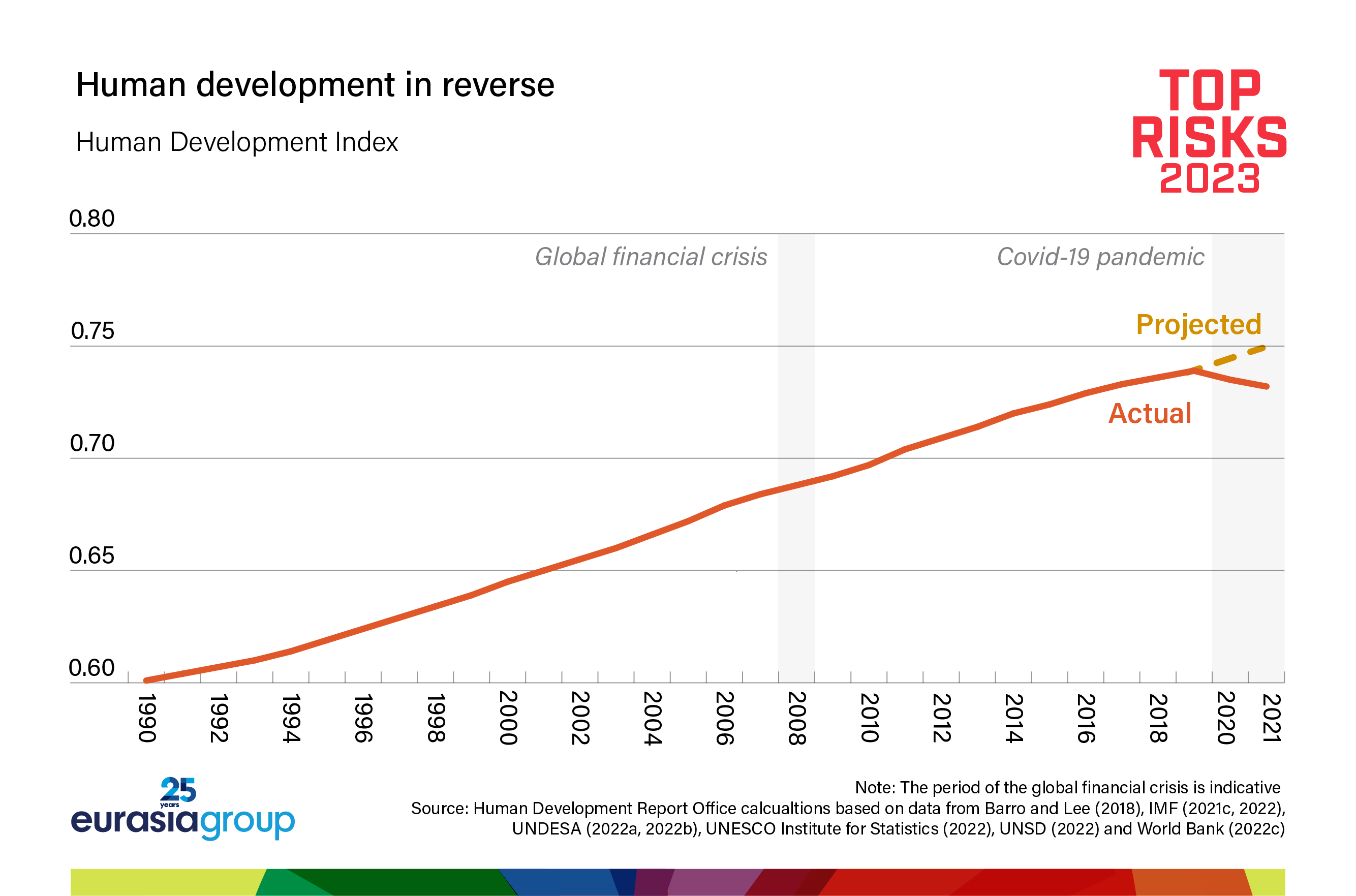 There will be longer-term impacts on educational attainment and inequality as more children—especially girls—are forced out of school to work. This issue is affecting emerging markets and advanced industrial economies alike: In the United States, the average elementary-school student lost over half a school year's-worth of learning in math and roughly a quarter of a school year in reading during the pandemic—the biggest educational disruption in American history. The Horn of Africa, heavily dependent on Ukraine's grain and struck by four consecutive failed rainy seasons, will be worst hit. In Ethiopia, Kenya, and Somalia, for example, the number of children at risk of dropping out of school tripled in the first three months of war.
Women and girls will suffer the most, losing rights, opportunities, and security as advances in gender equality are rolled back. Stagnating growth, food insecurity, and cuts in social and health spending will push more women out of the labor market or into the informal economy, leaving them at higher risk of poverty, hunger, domestic violence, and sexual exploitation. More girls will be at risk of child and forced marriages, especially in West and Central Africa. The pandemic alone is projected to force an additional 10 million girls into early marriage by 2030 and lead to the first increase in the practice after more than 20 years of declining rates.
Climate change will multiply these threats as extreme weather events disrupt supply chains and trade patterns, adding stress to food and energy markets. These conditions will force larger numbers of people from their homes and across borders, with regional political, economic, and security spillovers.
Most developing country governments have limited fiscal space to address these humanitarian crises. Further, tighter financial conditions will prompt rich nations to cut back on official development assistance, and aid to Ukraine (itself inadequate for reconstruction) will crowd out relief for the world's poorest, especially in sub-Saharan Africa and South Asia. The result: The global middle class will contract, and further down the development chain, tens of millions of people will find themselves on the verge of disaster without a safety net.