US-China relations won't reach crisis levels this year, and domestic conditions within China won't undermine the country's political stability—or derail Xi's bid for a historic third term. But set against an increasingly burdensome zero-Covid policy (please see Risk #1), the charged political atmosphere leading up to the 20th Party Congress will hang over the Chinese economy.
Beijing faces all sorts of challenges in delivering on Xi's promise to "make China strong." These include increasing pushback from the West, an exhausted growth model, an overleveraged and unbalanced economy, and a rapidly aging— and soon to begin declining—population. The most acute risk comes from the country's approach to the pandemic, with a zero-Covid policy that will weigh on consumption and growth while fostering greater social frictions. The additional policy stimulus needed to address Omicron dislocations will force officials to backtrack on reform goals such as controlling financial risks, exacerbating these broader vulnerabilities. This is unprecedented territory for Xi.
To achieve his vision of technological self-sufficiency, economic security, and social harmony, Xi intends to force all elements of Chinese society to accept a new normal of tightened regulation that spans the political, ideological, social, and economic spheres. With few checks left on his power, it's a policy mistake-rich environment.
Expect fresh measures intended to reduce inequality, improve quality of life, and tighten the party's grip. The focus will be on firms and sectors that Beijing considers too politically powerful, systemically risky, or socially harmful—most notably, finance, property, energy, healthcare, and technology. China will also take steps to shore up domestic supply chains and consumption as part of its "dual circulation" agenda. The goal is to reduce dependence on the West and leverage China's internal market to develop self-reliance. The party will advance this agenda despite the economic tradeoffs, underpinned by Xi's belief that entrenched inequality, environmental degradation, excessive debt, speculative investment, and social disharmony threaten China's political stability.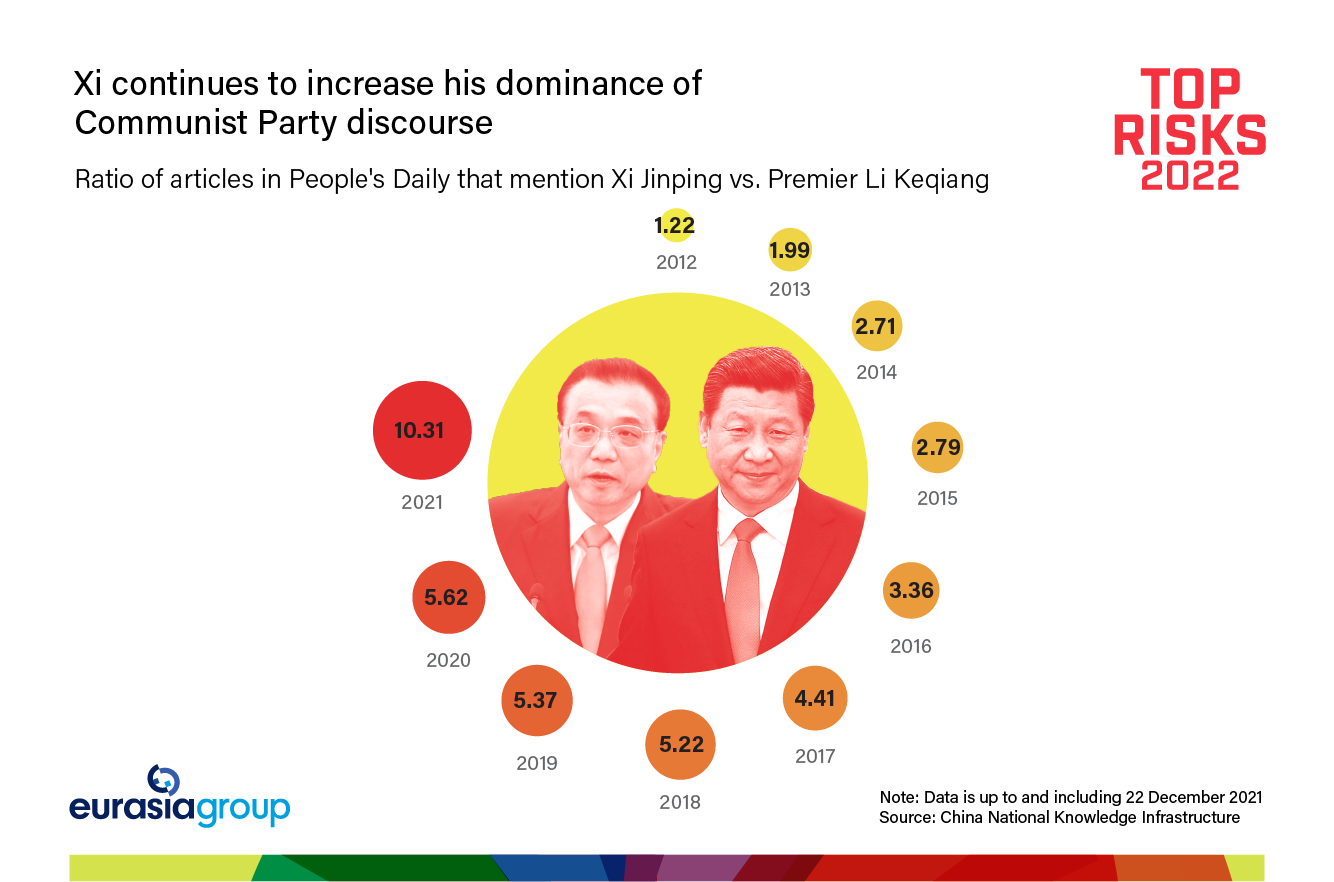 Xi's campaign will create market uncertainty and distortions. Beijing will direct capital away from some of China's most dynamic firms (especially consumer-facing e-commerce platforms) into areas he considers strategic priorities but that face longer paths to profitability (such as semiconductors, biotech, and clean energy). This will breed speculative excess and stretched valuations in favored sectors that will end badly when the inevitable reckoning occurs.
China's private companies, and their partners and investors, will face pressure to focus on "specialized and innovative" sectors. For Xi, small and specialized firms are useful and politically manageable; big and broad firms are dangerous. Companies that become too powerful will face growing political and regulatory risk—as the tech, tutoring, property, and gaming industries did in 2021. Smaller firms will have less incentive to grow to scale, hurting their profitability and competitiveness, especially abroad.
For China's economy, Xi's emphasis on political and geopolitical goals in the allocation of resources will undermine productivity growth and deleveraging when it's needed the most—as the current growth model fueled by favorable demographics and capital accumulation runs out of gas. Xi's policies accordingly increase the risk of stagnation at a time when the Chinese economy is on weak footing.
Foreign firms will face an increasingly difficult environment inside China. The "two-way political risk" of operating in both the US and China—the task of keeping both Washington and Beijing happy—will become harder to manage as sensitive political issues continue to dominate headlines. China's drive toward self-reliance and technology decoupling will put additional pressure on these firms, as will Beijing's sensitivity to the poor performance of its vaccines in comparison to Western shots.
But this isn't a moment of US-China confrontation, and foreign investment in the world's soon-to-be-largest economy will continue to grow. Xi is not "making China Maoist again" or ditching state capitalism for orthodox Marxism. Some of his policies, such as the clampdown on tech giants, would be popular in the West, in terms of their ends if not means. Think less Mao Zedong and more "Elizabeth Warren with Chinese characteristics." And while the shifts outlined above are meaningful, Xi will stop short of a radical reorientation of economic policy, not least because he wants to ensure the economy remains stable heading into the party congress and given the threatening overhang of Omicron.
Xi's policies increase the risk of stagnation at a time when the Chinese economy is on weak footing.