President Recep Tayyip Erdogan will drag Turkey's economy and international standing to new lows in 2022 as he tries to reverse his plunging poll numbers ahead of elections in 2023.
Erdogan and his ruling Justice and Development Party are less popular than ever with Turkish voters. It's easy to see why: Unemployment is high, inflation is soaring, and the lira is weaker and more volatile. The president is responsible for Turkey's economic doldrums, and voters blame the government for the current state of affairs. Driven by a belief that high interest rates cause high inflation, Erdogan has rejected orthodox economic assumptions to force a monetary easing cycle just as consumer price increases are accelerating. Erdogan's monetary policy has driven real interest rates deeper into negative territory, leading to more dollarization of the economy. Moreover, he has abandoned Turkey's 5% inflation target as official price increases surged by more than 20% and hailed the lira's drop to record lows as a competitive advantage. Erdogan wants to build a 1990s-style, weak-currency-driven export economy. The cost is a poorer and angrier public.
Erdogan's sights are set on 2023, but the impact of these policies will be felt this year. He will try to mollify households with renewed credit expansion, yet that risks feeding more dollarization. The central bank will do what the president asks, exacerbating balance-of-payment risks, given the need to roll over large amounts of external debt for the banking sector and corporates. There is a growing risk that Ankara will turn to market-unfriendly interventions, but none of these measures will stop the bleeding. New measures unveiled in late December will provide some short-term economic relief but stoke fiscal and inflationary risks that could lead to an accelerated economic unraveling.
Erdogan's foreign policy positions will remain combative to distract voters from the economic crisis.
Erdogan's foreign policy positions will remain combative as part of an effort to distract voters from the economic crisis. The Halkbank trial, which should finally begin and conclude sometime this year, risks becoming a major flashpoint, particularly if the bank is found guilty of Iran sanctions violations and Erdogan refuses to settle. The challenging outlook for Turkey's bid to acquire more F-16s and modernization kits from the US, meanwhile, could derail efforts in both Ankara and Washington to maintain a marginally constructive bilateral agenda. An impatient Erdogan, looking to score political points at home, might prematurely call off the talks and turn instead to Russia for more defense deals. That would trigger additional US sanctions.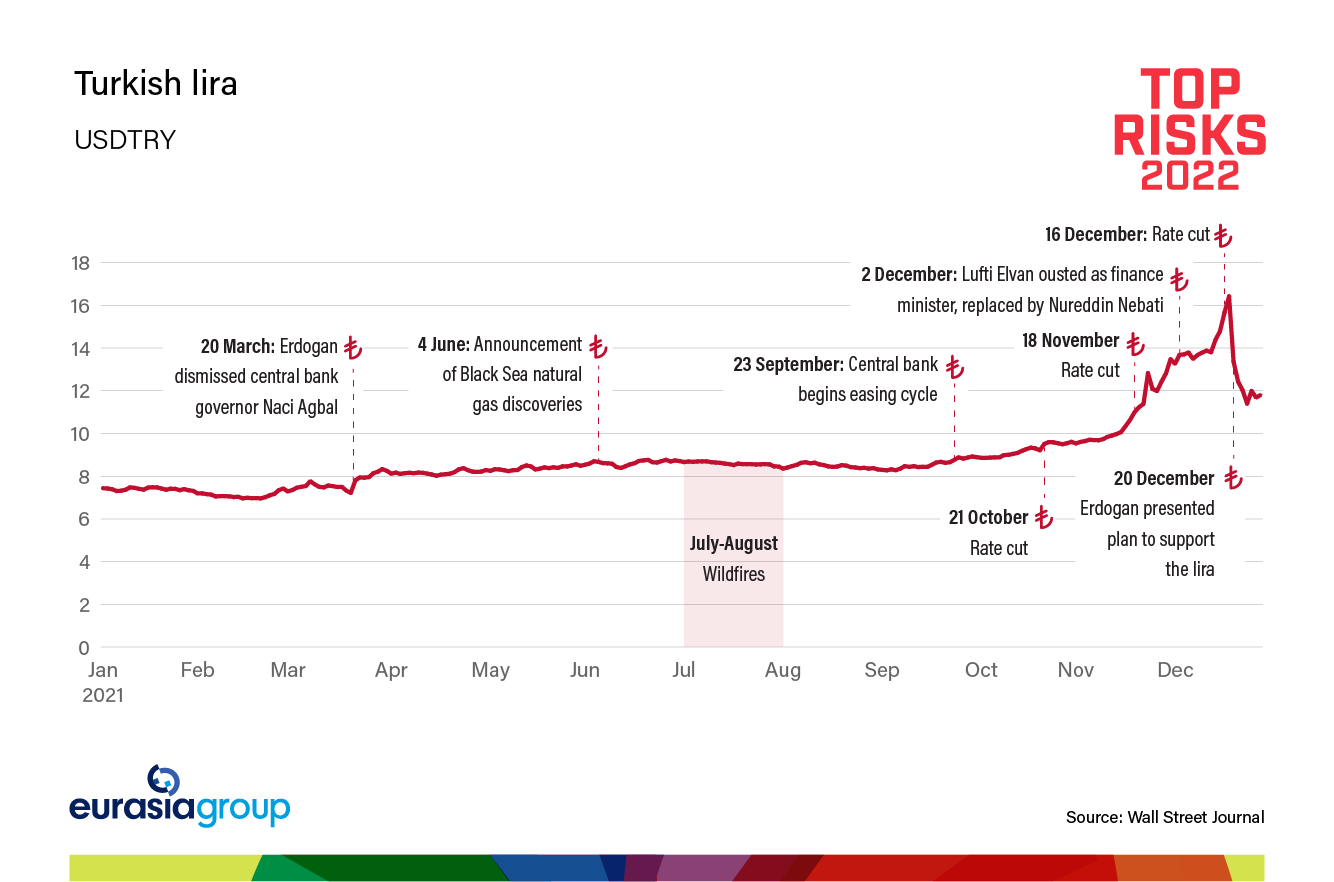 Even if Washington opts for more limited responses, the developments will provoke knee-jerk reactions from Erdogan. His erratic choices will also fuel concerns about risks of major Turkish overreach in Syria and a conflict with Greece or Cyprus over contested waters. None of these moves will earn Erdogan points at home, at a time when a tanking lira and runaway inflation cripple voters' ability to make ends meet.  
If economic conditions deteriorate faster, Erdogan could be forced into holding early elections this year, exacerbating the above risks. Given Turkey's institutional weakness and the potential for democratic backsliding and violence, snap polls would risk plunging the country into chaos and further consolidate its place as the preeminent emerging market basket case.