This week's superforecast
Will the UK hold a snap general election before 1 February 2020?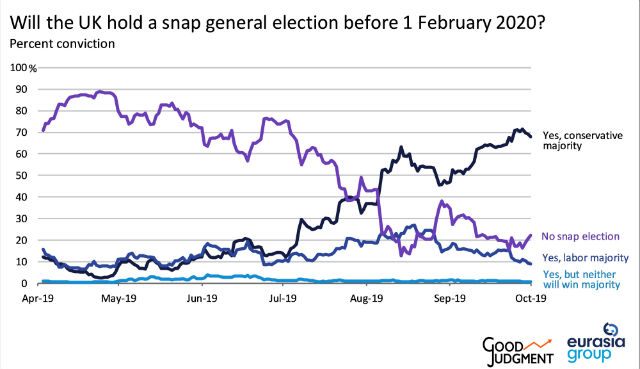 Good Judgment's Superforecasters currently predict a 78% chance that the United Kingdom will hold an early general election before 1 February 2020, and a 22% chance that a snap election will not happen by then. The Superforecasters have raised the odds to 68% that the Conservative Party will win the largest number of seats should a snap election happen.
Last week Prime Minister Boris Johnson's government and the European Union's negotiation team came to an agreement on the UK's exit from the EU. The second reading of the Withdrawal Agreement Bill was approved by parliament this week. However, the programme motion, which aimed to get all stages of the bill completed before 31 October, was not passed after MPs argued that the short timeline did not provide enough time for parliament to debate such an important piece of legislation.
Johnson has proposed an election on 12 December, but it is unclear if he will be able to achieve this without the cooperation of the Labour Party, as an early election under the Fixed-term Parliaments Act requires either a two-thirds majority in favor of one or the government's loss in a confidence vote (where a simple majority against would suffice) and the failure of another potential prime minister to win a confidence vote. It is unlikely that Labour leader Jeremy Corbyn could win such a vote. While Corbyn favors a December election (ideally fought after Brexit to allow him to focus on other issues), the Liberal Democrats, Scottish Nationalist Party, and perhaps up to 100 Labour MPs are likely to prefer a longer period of discussion on the Withdrawal Agreement Bill before elections.
The EU on Friday agreed to offer the UK a Brexit extension to see if all parts of Johnson's withdrawal bill are approved by then. However, a final EU decision on the length of the extension is delayed to next week. A three-month delay until 31 January 2020 is possible, as is a shorter delay until 15 or 30 November. Eurasia Group's current in-house view puts the odds of a pre-Brexit early election at 55%, the odds of Johnson's deal passing parliament at 25%, and the odds of a national unity government (a consequence of Johnson losing a confidence vote and an alternate prime minister other than Corbyn winning one) at 20%.
To learn more, read Boris Johnson's Brexit gamble might take the UK back to square one and *Brexit in our Top Risks 2019 report.