This week's superforecast
Will Canada extradite Meng Wanzhou to the United States in 2019?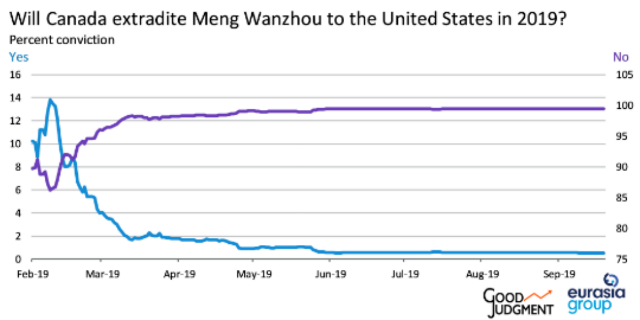 Good Judgement's Superforecasters currently predict a 0.5% chance that Canada will approve the US Department of Justice's (DoJ) extradition request for Huawei's CFO Meng Wanzhou by the end of 2019. The Superforecasters have become less optimistic about Meng's extradition since February 2019 due to the lengthy judicial process.
On 1 December 2018, Meng was arrested at Vancouver International Airport by Canadian authorities at the request of the United States. On 28 January 2019, the DoJ charged Meng with numerous cases of financial fraud related to the alleged involvement of a Huawei affiliate with Iran in violation of US sanctions law. The eight-day extradition proceedings for Meng began this week in British Columbia's Supreme Court and centered on the legality of her three-hour detention before authorities officially arrested her. The extradition hearing itself is scheduled to begin in January 2020 and is likely to extend until November.
Meng's case has been linked to US trade talks by President Donald Trump and some US officials, but other law enforcement officials have stressed that there is no formal linkage. US and Chinese lead negotiators resume face-to-face talks next week. Meng's situation and the status of Huawei, currently on the US Commerce Department Entity List, will not be on the agenda.
Beijing would like to see Meng released, Huawei removed from the Entity List, and an end to the US campaign to convince allies and other countries to ban Huawei equipment. Some licenses for US suppliers to Huawei could be approved as part of a limited deal coming out of the current round of negotiations, but the charges against Meng are not likely to be dropped, and there is little chance Huawei will be fully removed from the Entity List in the near term.
To learn more, watch Ian Bremmer's appearances on Fox Business and Bloomberg to talk about Huawei, and check out Politics in Pictures: A visual guide to US-China trade tensions.