This week's superforecast
Who will be the 2020 Democatic nominee for US president?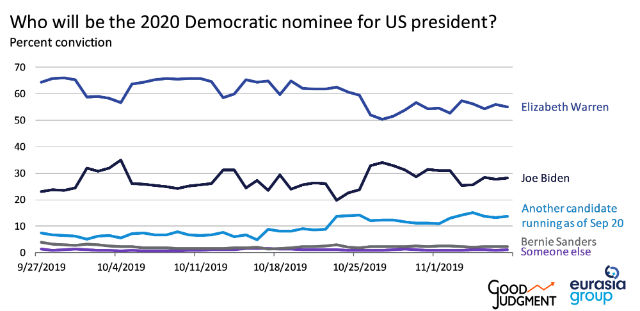 The Superforecasters predict that there is a 55% chance Elizabeth Warren will be the Democratic Party's 2020 nominee. This is down from the roughly 66% probability where the forecast had hovered until the middle of October. Since then Joe Biden's and Pete Buttigieg's chances have risen on stronger polling numbers, especially in early primary states.
The Superforecasters put Bernie Sander's chances at just 3%. Sanders currently is polling between 15-20% nationwide, putting him in third behind Warren and Biden.
However, betting markets put Sanders' odds of success at equal or lesser than Buttigieg. Mayor Pete has turned more aggressive over the past month in a bid to rise into the first tier of candidates and pull moderate votes from Biden.
Eurasia Group analysis puts Warren as the favorite to capture the nomination (a 40% probability), with Biden second-most likely (30%). We have a collective 30% odds on another candidate from the rest of the field.
For more on this, read Democrats face dilemma on trade ahead of 2020.