This week's superforecast
Before 1 November 2019, will the United Kingdom leave the European Union?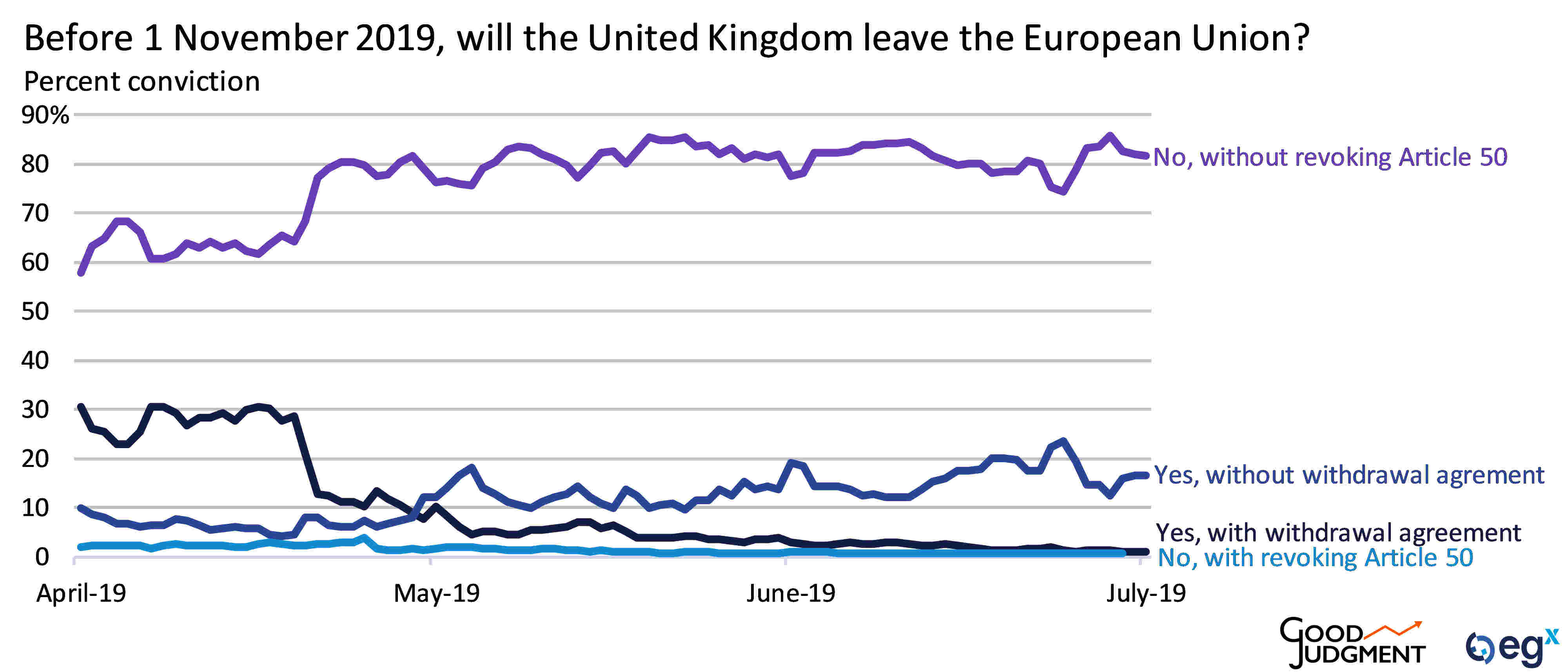 The Superforecasters assign an 81.7% chance that the UK will still be in the EU on 31 October without having revoked its invocation of Article 50.
Former Foreign Secretary Boris Johnson overwhelmingly won the backing of the Conservative Party's members and replaced Theresa May as prime minister. Jeremy Hunt's more moderate profile (he backed Remain in the 2016 referendum) was increasingly at odds with the party's membership. Johnson has picked a cabinet with many leave-voting heavyweights, sparking fears he would pursue a no-deal, but Johnson seems committed to a "two-track" strategy. Johnson will accelerate preparations for a no-deal exit while heaping pressure on the EU for an alternative deal.
Johnson will have very limited time to reach, let alone prepare, an alternative agreement with the EU before the 31 October deadline as he will be constrained by the EU's reorganization and both the EU and UK's recess periods. In private, some Johnson allies admit the 31 October red line is less hard than Johnson is ready to admit. Nonetheless, it remains unclear how Johnson would find an opening for an alternative agreement. Johnson could be convinced to push a long transition period that goes beyond December 2022, allowing for the preparation of a free-trade agreement, but the EU would only very reluctantly accept to renegotiate. A temporary backstop would be a very hard pill to swallow for the EU. Ultimately an alternative deal seems less likely than a no-deal.
The option of a snap election remains. The parliament will likely block no-deal, perhaps even risking a vote of no confidence in Johnson (although Tories remain wary of letting Jeremy Corbyn into office). Johnson could also take the initiative and force a snap election in a bid to increase his majority and have more Johnson-compatible MPs.