This week's superforecast
When will Donald Trump cease to be president of the United States?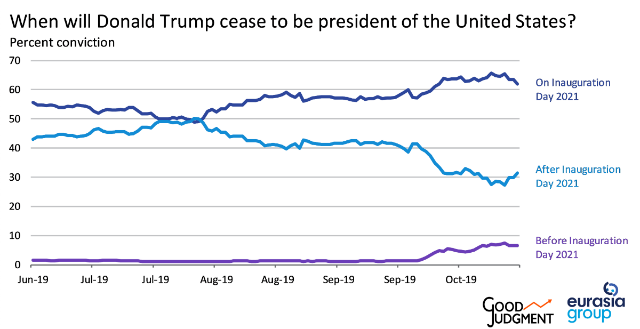 Good Judgment Inc.'s Superforecasters currently predict a 62% chance that Donald Trump's last day as president of the United States will be Inauguration Day 2021, a 31.4% chance that he will cease to be president after Inauguration Day, and a 6.5% chance of his term ending before Inauguration Day as a result of the current impeachment process. The Superforecasters have raised odds of a succesful impeachment since the Ukraine scandal broke.
An 8 October letter from White House Counsel Pat Cipollone signals a new approach from the Trump administration to the impeachment inquiry, essentially declaring war on the effort and refusing all participation with it. In Eurasia Group's view, this increases to 85% from 75% the chances that the House will vote to impeach President Trump and makes it likely that a charge of contempt of Congress and/or obstruction of justice will be one of the articles of impeachment the House ultimately approves.
Democrats' efforts to press their case for documents and testimony through the courts will probably be difficult and slow. Although Democrats will protest a likely line vote absolving President Trump, a quick impeachment trial could provide breathing room for them to refocus on popular electoral issues such as healthcare. Efforts to force disclosure in the courts can proceed alongside impeachment, but an impeachment article based on obstruction is the more likely near-term response. Obstruction will likely be only one of several articles of impeachment, alongside charges of abuse of power related to the Ukraine case.
The White House's strategy so far likely aims at forcing the Democrats to make their case for impeachment at least partially over an obstruction charge. The rationale behind this is that the political terrain could be better off with an obstruction charge than giving Democrats additional ammunition on Ukraine. That said, Eurasia Group continues to hold our low odds—only 10%—that the president will be removed from office by the Senate if successfully impeached by the House.
To learn more, watch Impeachment inquiry a serious political risk for Democrats, says Eurasia Group's Wright. Read our superforecaster from last month on the same topic, our previous Superforecaster on 2019 Top Risk #5: The US at home, and What happens next with Trump, Ukraine, and impeachment.