This week's superforecast
When will Donald Trump cease to be president of the United States?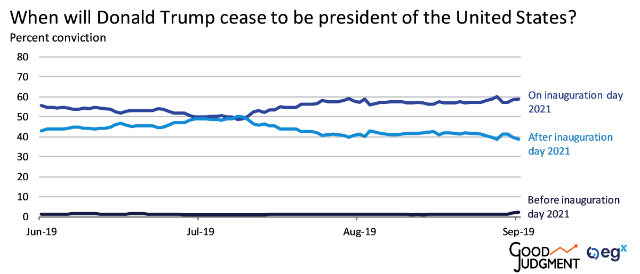 The Superforecasters currently assign a 58.8% probability that US President Donald Trump will lose power on Inauguration Day in 2021, with a 38.8% probability that he will lose power after Inauguration Day and only 2.4% probability that it will happen before the inauguration. The Superforecasters have become slightly more certain that Trump's presidency will not extend beyond Inauguration Day 2021 in recent weeks.
The news cycle has been dominated this week by reports of the president's phone call with the newly elected Ukrainian President Volodymyr Zelensky. Last week, the Wall Street Journal reported that a whistleblower had submitted a complaint alleging that Trump had repeatedly pressured the leader of Ukraine to conduct investigations into the business dealings of former Vice President Joseph Biden's son within the country. The whistleblower claims that Trump used language connecting Zelensky's cooperation on this matter with the continued deliverance of United States military and economic aid.
On Tuesday afternoon, Speaker of the House Nancy Pelosi announced that an official impeachment inquiry would begin into the incident, escalating the ability of investigators to acquire relevant documents and schedule Congressional hearings, such as the one which occurred Thursday morning with acting Director of National Intelligence Joseph Maguire. Reportedly, the director threatened to resign if he was not allowed to testify.
Betting markets and political analysts believe the chance of Trump being impeached has significantly increased. Eurasia Group's team puts the odds of the House passing articles of impeachment at 75%. If this were to occur, a trial would take place in the Senate; if a supermajority of senators found the president guilty of those accusations, he would be forced to vacate the office of the president.
To learn more, watch Impeachment inquiry a serious political risk for Democrats, says Eurasia Group's Wright, and read our previous Superforecaster on 2019 Top Risk #5: The US at home and What happens next with Trump, Ukraine, and impeachment.