This week's superforecast
When will Nicolas Maduro cease to be president of Venezuela?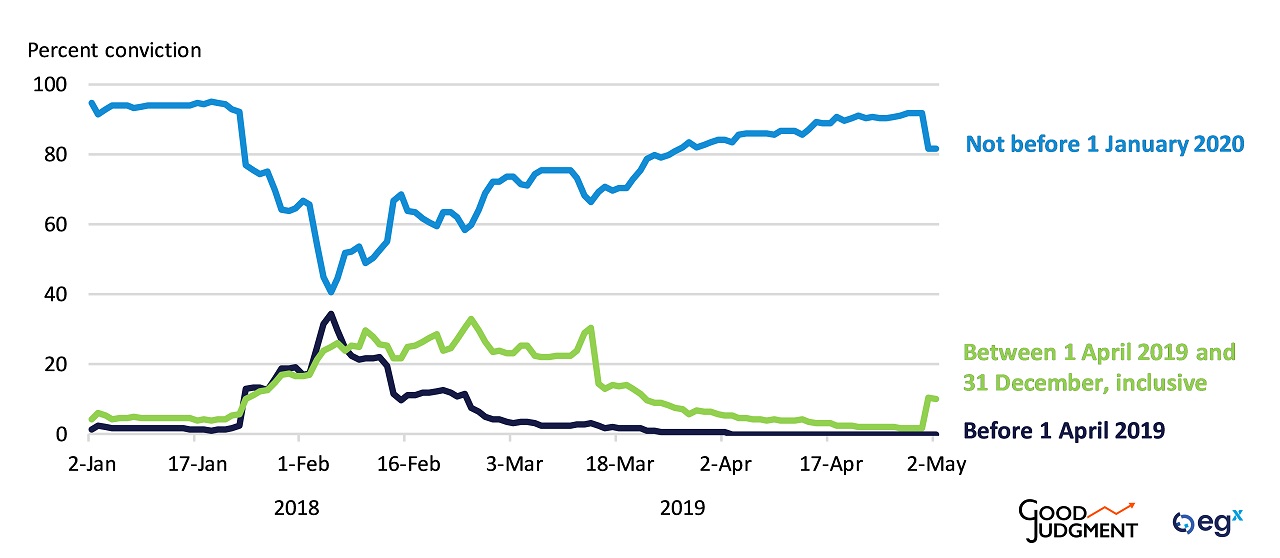 The Superforecasters currently assign an 82% probability that Venezuelan President Nicolas Maduro will not vacate his position before 1 January 2020.
The probability of Maduro holding throughout 2019 has increased over the past months. National Assembly President Juan Guaido lost the momentum he had early this year after he was recognized acting president by the US, most of Western Europe, and most of Latin America. The coup attempt on 30 April only slightly dented the probability of Maduro staying in office throughout 2019.
Guaido's gambit with his call for the army to rebel against Maduro and for the population to protest against the regime has largely failed, leaving Maduro in a stronger position as it proved that the security apparatus remains largely loyal. Maduro will likely arrest or exile Guaido, calling the US bluff on interventionism, but even if Guaido remains free, this week's fiasco will divide the opposition on the strategy to adopt amid a discouraged population.
New US sanctions (including on Venezuelan sponsors such as Russia or Cuba, which should see the embargo tightened) could further squeeze Maduro's cash flow, but his allies will still likely prefer diminished economic returns to a risky transition. This leaves foreign military intervention as the most likely remaining mechanism for regime change, but it seems unlikely the US will choose this path given Donald Trump's anti-interventionist platform coupled with the army's and militias' staunch support for the regime.