This week's superforecast
Before 1 February 2020, will the United Kingdom hold a snap general election?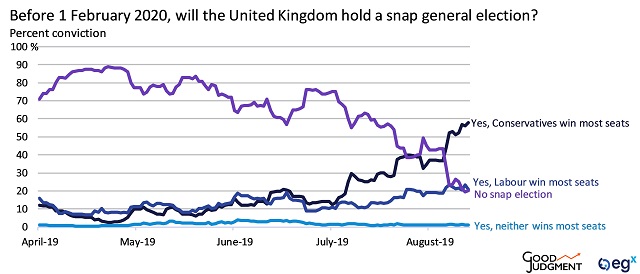 The Superforecasters currently assign a 79.8% probability to the UK holding a snap general election by 1 February 2020, with a 58.0% probability that the Conservatives would win the most seats in that vote and a 20.8% probability that the Labour Party would win the most seats.
This week in Westminster Boris Johnson's slim Conservative parliamentary majority fell apart and the House of Commons approved the bill tabled by Labour's Hilary Benn calling for a three-month extension of Brexit to 31 January, 2020 if the UK has neither reached an agreement with the EU or approved a "no-deal" exit by the 31 October deadline.
The defeat of the Johnson government on several key legislative actions and the loss of its majority reflect wide divisions within the Conservative Party over how to manage Brexit; it could also indicate peaking influence for hardcore no-deal Brexiteers.
In the event of an election, current polling trends favor the Conservative Party, which has gained at the expense of the Brexit Party in recent months. However, it is not guaranteed that all Conservative members would side with Boris Johnson's no-deal Brexit strategy, suggesting that the UK could continue to muddle through Brexit uncertainty even with a new parliament and government.
Read *Brexit in our Top Risks for 2019 report and British Prime Minister Boris Johnson has suspended the UK's parliament. What happens next? to learn more.