Back
Superforecaster Fridays: How many total cases of novel coronavirus will the WHO report as of 20 March 2020?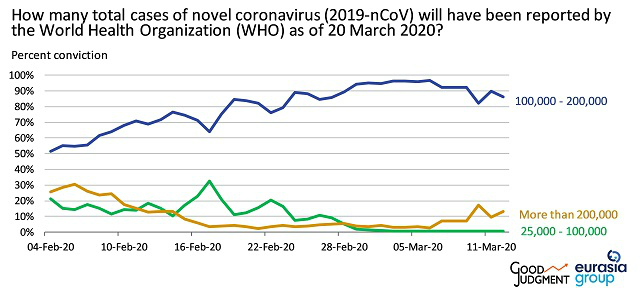 The Superforecasters currently put an 86% probability on the total number of novel coronavirus cases reported by the WHO hitting between 100,000 and 200,000 on 20 March 2020, down from its peak of 96% in early March. Meanwhile, the conviction that the reported cases will reach beyond 200,000 has surged to 13% following the WHO's pandemic declaration.
The WHO reported a total of 125,288 cases as of 12 March, up approximately 7,000 from the previous day and 5,000 the day before that. At this rate, the total number of reported cases would reach around 190,000 by 20 March. But the continued spread of the virus, coupled with expanded testing activities, easily could see the rate of new cases rise more drastically, eclipsing the 200,000 mark by 20 March.
US President Donald Trump on Wednesday announced a 30-day ban on non-US citizens coming to the United States from 26 Schengen Area European countries, in the latest bid to halt new case importation. Despite the political popularity of travel bans, the absence of substantial fiscal stimulus and effective mitigation measures, as well as the lack of coordination with the EU, have precipitated broader market frustration.
European authorities have moved forward with interest rate and fiscal packages, but these moves also have failed to boost markets, as expectations that the virus outbreak will cause a global recession mount.
Learn more: