This week's superforecast
Will the Law and Justice Party (PiS) list win an absolute majority in the Sejm in Poland's next parliamentary election?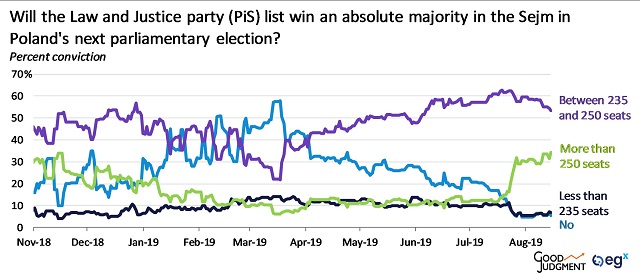 The Superforecasters assign a 5.5% probability that the Law and Justice Party (PiS) will not win an absolute majority, down from a peak of 58.0% in mid-March of this year.
Given the pressure from the far-right, PiS Chairman Jaroslaw Kaczynski will likely step up conservative and anti-immigration discourse, given that European Parliament elections showed that nationalist rhetoric does not cost PiS its moderate voters who are satisfied with higher welfare spending.
The opposition may organize into three main blocs to challenge the incumbents; left-wing parties Wiosna (Spring), SLD (Democratic Left Alliance), and Razem have announced that they will run as a "party committee" called KW Lewica (Electoral Committee Left), which will only need 5% of the vote to win seats. They chose this platform after it became clear that the biggest opposition party Civic Platform (PO) would only work with the liberal Modern Party (Nowoczesna).
PiS is likely to secure a majority come October and will maximize its appeal by extending a generous social welfare package ahead of the vote. If this victory occurs, it will represent a repeat absolute majority after the party's 235-seat performance in 2015 and will see Poland continue its current streak of Euroskepticism, nationalism, and Atlanticism.
Look at
Politics in Pictures: a visual guide to European Parliament elections
and read
5 things you need to know about this week's European Parliament elections
.